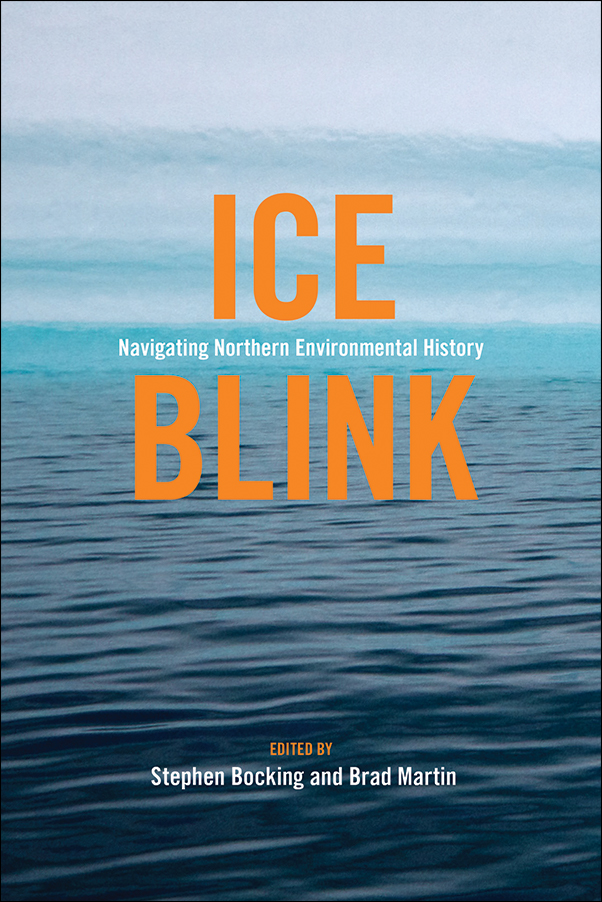 Ice Blink: Navigating Northern Environmental History
---
Edited by Stephen Bocking and Brad Martin
$41.95 CAD / $41.95 USD (S)
532 pages, 34 illustrations
6 x 9 inches
978-1-55238-854-9 (Paperback)
978-1-55238-856-3 (Institutional PDF)
978-1-55238-857-0 (ePub)
978-1-55238-858-7 (mobi)
January 2017
About the Book
Northern Canada is unique, complex, and contested. Ice Blink explores critical questions of the study of the North, paying special attention to Indigenous politics, security and sovereignty, and environmental issues.
Northern Canada's distinctive landscapes, its complex social relations and the contested place of the North in contemporary political, military, scientific and economic affairs have fueled recent scholarly discussion. At the same time, both the media and the wider public have shown increasing interest in the region. This timely volume extends our understanding of the environmental history of northern Canada—clarifying both its practice and promise, and providing critical perspectives on current public debates.
Ice Blink provides opportunities to consider critical issues in other disciplines and geographic contexts. Contributors also examine whether distinctive approaches to environmental history are required when studying the Canadian North, and consider a range of broader questions. What, if anything, sets the study of environmental history in particular regions apart from its study elsewhere? Do environmental historians require regionally-specific research practices? How can the study of environmental history take into consideration the relations between Indigenous peoples; the environment, and the state? How can the history of regions be placed most effectively within transnational and circumpolar contexts? How relevant are historical approaches to contemporary environmental issues?
Scholars from universities in Canada, the United States, and Britain contribute to this examination of the relevance of historical study for contemporary arctic and sub–arctic issues, especially environmental challenges, security and sovereignty, indigenous politics and the place of science in northern affairs. By asking such questions, the volume offers lessons about the general practice of environmental history and engages an international body of scholarship that addresses the value of regional and interdisciplinary approaches. Crucially, however, it makes a distinctive contribution to the field of Canadian environmental history by identifying new areas of research and exploring how international scholarly developments might play out in the Canadian context.
About the Editors
Stephen Bocking is a Professor of Environmental History and Policy in the Trent School of the Environment at Trent University.
Brad Martin is the Dean of Faculty of Education, Health and Human Development at Capilano University.
With Contributions By: Tina Adcock, Stephen Bocking, Emilie Cameron, Hans M. Carlson, Marionne Cronin, Matthew Farish, Arn Keeling, P. Whitney Lackenbauer, Tina Loo, Paul Nadasdy, Jonathan Peyton, Liza Piper, John Sandlos, and Andrew Stuhl
Praise for Ice Blink
Ice Blink makes an invaluable contribution to the modern environmental history of northern Canada
—Ted Binnema, Canadian Journal of History
Ice Blink gains momentum as it becomes more empirically grounded and rich in insight, making it a valuable resource for Canadians and scholars who wish to learn more about the breadth and complexity of the issues experienced broadly across the Canadian North.
—Gabrielle A. Slowey, Canadian Historical Review
Well written . . . refreshingly free of jargon. A good read for northern enthusiasts.
—Tony Gaston, The Canadian Field-Naturalist
Table of Contents

Introduction

1. Navigating Northern Environmental History

Stephen Bocking

Part 1: Forming Northern Colonial Enviornment

2. Moving through the Margins: The "All-Canadian" Route to the Klondike and the Strange Experience of the Teslin Trail
Jonathan Peyton

3. Thee Experimental State of Nature: Science and the Canadian Reindeer Project in the Interwar North

4. Shaped by the Land: An Envirotechnical History of a Canadian Bush Plain
Marionne Cronin

5. Many Tiny Traces: Antimodernism and Northern Exploration Between the Wars
Tina Adcock

Part 2: Transformations and the Modern North

6. From Subsistence to Nutrition: The Canadian State's Involvement in Food and Diet in the North, 1900-1970
Liza Piper

7. Hope in the Barrenlands: Northern Development and Sustainability's Canadian History
Tina Loo

8. Western Electric Turns North: Technicians and the Transformation of the Cold War Arctic
Matthew Farish and P. Whitney Lackenbauer

Part 3: Environmental History and the Contemporary North

9. "That's the Place Where I Was Born": History, Narrative Ecology, and Politics in Canada's North
Hans M. Carlson

10. Imposing Territoriality: First Nation Land Claims and the Transformation of Human-Environment Relations in the Yukon

Paul Nadasy

11. Ghost Towns and Zombie Mines: The Historical Dimensions of Mine Abandonment, Reclamation and Redevelopment in the Canadian North
Arn Keeling and John Sandlos

12. Toxic Surprises: Contaminants and Knowledge in the Northern Environment
Stephen Bocking

13. Climate Anti-Politics: Scale, Locality, and Arctic Climate Change
Emilie Cameron

Conclusion

14. Encounters in Northern Environmental History

Stephen Bocking

Contributors

Index