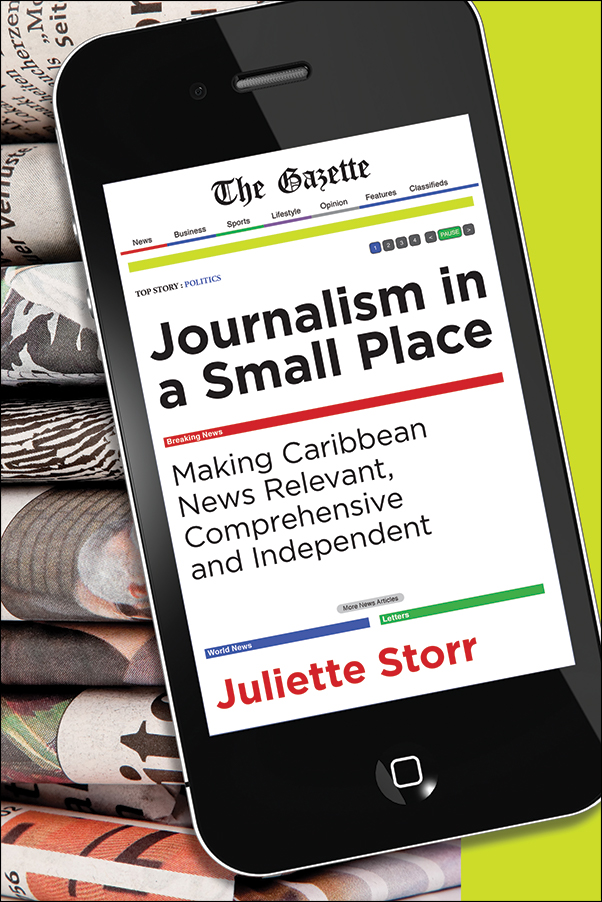 Journalism in a Small Place: Making Caribbean News Relevant, Comprehensive and Independent
---
Juliette Storr
$34.95 CAD / $34.95 USD (S)
294 pages, 2 illustrations
6 x 9 inches
978-1-55238-849-5 (Paperback)
978-1-55238-851-8 (Institutional PDF)
978-1-55238-852-5 (ePub)
978-1-55238-853-2 (mobi)
October 2016
About the Book
Journalism has a powerful impact on the ways social, political, and cultural ideas are communicated and understood. Professor and journalist Juliette Storr illuminates the changes and challenges of journalism in the Caribbean in this fascinating study.
Journalism in a Small Place explores the changes and challenges in journalism and communication in the Caribbean in the twenty-first century. Tracing the history of media in the English speaking Caribbean, this book provides insight into the development of these industries from their inception under British imperial rule to their current focus on advancing national development in the post-independence period.
The influence of US media on media content and cultural tastes, and the lingering effects of colonialism on media are also investigated, drawing on globalization theories of hybridity. Interviews with journalists, editors, and media owners in English speaking Caribbean countries provide firsthand insight into the profession and practice of journalism in the region, highlighting the social and cultural context in which the media industries operate.
Additionally, this book describes the current economic success of Caribbean journalism and the factors driving its new trends. It provides an overview of the current state of Caribbean journalism as it reflects on these questions: What is the purpose of journalism in small Caribbean countries? What are the challenges of practicing journalism in the Caribbean in the twenty-first century? What is the future of journalism in the Caribbean?
In response, Storr develops a theoretical and practical response to concerns of professional ethics, responsible performance, and the training and education of journalists in the region. In doing so, Journalism in a Small Place elucidates the impact of journalism and communication on the social, political, economic and cultural aspects of Caribbean people's lived experiences, and journalism's power to promote and effect social change.
About the Author
Juliette Storr is an Associate Professor of Communication Arts & Sciences at Pennsylvania State University, Penn State Beaver Campus. Additionally, Storr has worked as both a broadcast journalist and newspaper reporter in the Bahamas.
Praise For Journalism in a Small Place
Storr's roots in journalism are on display throughout the book. She is interested not only in the economic, technological, and political context of journalism in the Caribbean but in journalism practice, performance, training, and education . . . Her interviews show journalists aware of the challenges and struggling mightily to change them. The journalists are frank and forthright about their position. Ultimately, Storr leaves us with respect for the labours of Caribbean journalists and shows us the difficulty and dignity of doing "responsible and effective journalism" in a small place.
—Jack Lule, Journal of Communication
Table of Contents

Acronyms
Acknowledgements
Preface

Part I

Journalism and Media in the Caribbean
Practicing Journalism in Small Places: National and Regional Implications
Caribbean Journalism's Media Economy: Advancing Democracy and the Common good>

Part II

Caribbean Journalism: Comprehensive and Proportionate
Caribbean Journalism: Relevant and Engaging
Caribbean Journalism: Maintaining Independence
The Future of Caribbean Journalism

Notes
Bibliography
Index