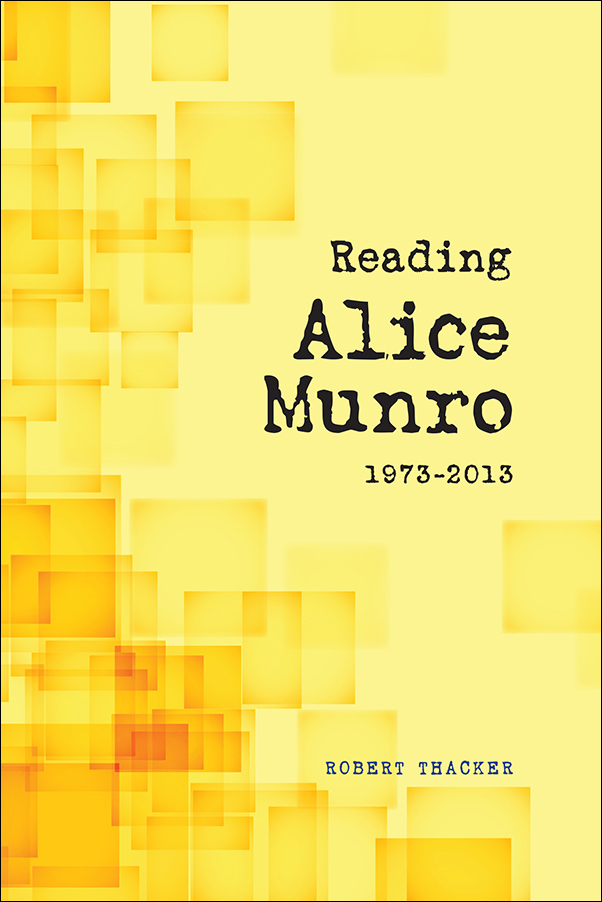 Reading Alice Munro, 1973-2013
---
Robert Thacker
$34.95 CAD / $34.95 USD
320 pages
6 x 9 inches
978-1-55238-843-3 (mobi)
978-1-55238-839-6 (Paperback)
978-1-55238-841-9 (Institutional PDF)
978-1-55238-842-6 (ePub)
February 2016
About the Book
The world's leading scholar of Alice Munro presents a critical overview of her career from Munro's emergence as a writer in the 1970s to her 2013 Nobel Prize in Literature.
In Reading Alice Munro, 1973-2013, the world's leading Munro scholar offers a critical overview of Alice Munro and her writing spanning forty years. Beginning with a newly written overarching introduction, featuring directive interleaved commentaries addressing chronology and contexts, ending with encompassing afterword, this collection provides a selection of essays and reviews that reflect their times and tell the story of Munro's emergence and recognition as an internationally acclaimed writer since the 1970s.
Acknowledging her beginnings and her persistence as a writer of increasingly exceptional short stories, and just short stories, it treats her career through Thacker's criticism up to her fourteenth collection, Dear Life (2012), and to the 2013 Nobel Prize in Literature. Altogether, this book encompasses the whole trajectory of Munro's critical presence while offering a singularly informed retrospective perspective.
About the Author
Robert Thacker is a professor of Canadian Studies and English at St. Lawrence University. He is the author of Munro's biography Alice Munro: Writing Her Lives (2005, revised 2011) and the editor of The Rest of the Story: Critical Essays on Alice Munro (1999).
Praise for Reading Alice Munro, 1973-2013

Thacker is distinguished among Munro critics  . . .  a valuable scholarly resource.

—Sara Jamieso, University of Toronto Quarterly

Epitomizes the value of scholarly dedication and of single-author studies: Thacker's own is a source of considerable inspiration and it is doubly refreshing to see how his voice grew even as Munro's did . . . Thacker and the University of Calgary Press should be applauded for this valuable contribution to scholarship.

—Tom Ue, British Journal of Canadian Studies

[This] is, in effect, a reassessment of a scholarly life—a professional autobiography in critical essays and reviews—devoted to a writer whose persistent concern was the act of reassessment.

—Lorraine York, Canadian Literature
Table of Contents
Acknowledgements
Introduction: Alice Munro's "Approach and Recognition"
Part One—Narrative Techniques, Forms, and Critical Issues: Establishing a Presence
Clear Jelly: Alice Munro's Narrative Dialectics (1983)
Connection: Alice Munro and Ontario (1984) )
Critical Interlude: Conferring Munro (1987) )
Munro's Progress: A Review of The Progress of Love (1987) )
"So Shocking a Verdict in Real Life": Autobiography in Alice Munro's Stories (1988) )
Critical Interlude: Go Ask Alice: The Progress of Munro Criticism (1991)
Part Two—What the Archives Reveal: Reading a Deepening Aesthetic
Alice Munro's Willa Cather (1992) )
Alice Munro and the Anxiety of American Influence (1994) )
Alice Munro, Writing "Home": Seeing This Trickle in Time 1998) )
Critical Interlude: What's "Material"? The Progress of Munro Criticism, Part 2 (1998) )
Mapping Munro: Reading the "Clues" (1999) )
Part Three—Understanding the Oeuvre
Alice Munro's Ontario (2007) )
A "Booming Tender Sadness": Alice Munro's Irish (2008) )
No Problem Here: A Review of Too Much Happiness (2009) )
Critical Interlude: Alice Munro, Critical Reception (2013) )
Afterword: " A Wonderful Stroke of Good Fortune for Me": Reading Alice Munro, 1973-2013
Notes)
Works Cited)
Index