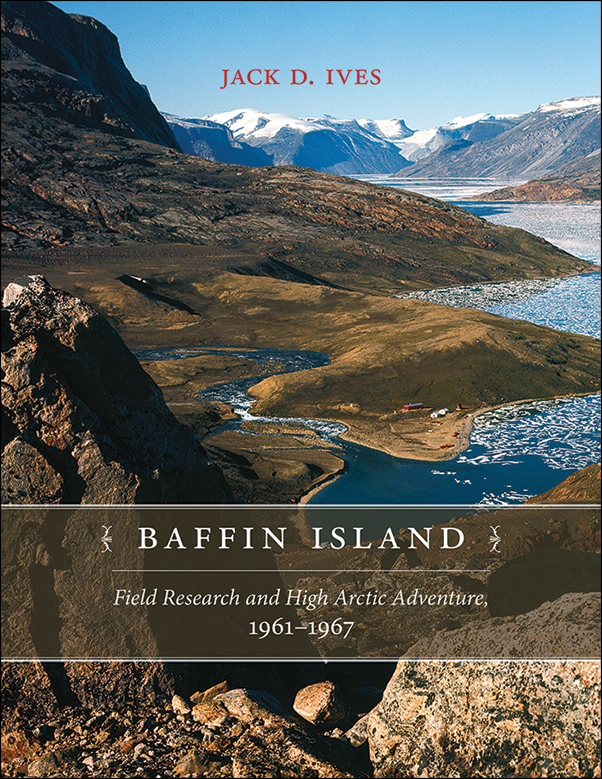 Baffin Island: Field Research and High Arctic Adventure, 1961-67
---
Jack D. Ives
$39.95 CAD / $39.95 USD (T)
248 pages, 102 illustrations
9 x 11 inches
978-1-55238-829-7 (Paperback)
978-1-55238-831-0 (Institutional PDF)
978-1-55238-832-7 (ePub)
978-1-55238-833-4 (mobi)
March 2016
About the Book
High arctic adventure and the thrill of scientific discovery combine in Jack D. Ives remarkable tales of the Golden Age of research on Baffin Island. Richly illustrated in full colour throughout.
A geographer with extensive research experience in the Canadian North, Jack D. Ives has written a lively and informative account of several expeditions to Baffin Island during the "golden age" of federal research.
In the 1960s, scientists from the Geographical Branch of Canada's Department of Energy, Mines, and Resources travelled to Baffin to study glacial geomorphology and glaciology. Their fieldwork resulted in vastly increased knowledge of the Far North-from its ice caps and glaciers to its lichens and microfossils.
Drawing from the recollections of his Baffin colleagues as well as from his own memories, Ives takes readers on a remarkable adventure, describing the day-to-day experiences of the field teams in the context of both contemporary Arctic research and bureaucratic decision making. Along the way, his narrative illustrates the role played by the Cold War-era Distant Early Warning Line and other northern infrastructure, the crucial importance of his pioneering aerial photography, the unpredictable nature of planes, helicopters, and radios in Arctic regions, and of course, the vast and breathtaking scenery of the North.
Baffin Island encompasses both field research and High Arctic adventure. The research trips to Baffin between 1961 and 1967 also served as a vital training ground in polar studies for university students; further, they represented a breakthrough in gender equality in government-sponsored science, thanks to the author's persistence in having women permitted on the teams.
The book contains a special section detailing the subsequent professional achievements of the many researchers involved (in addition to the later career moves of Ives himself) and a chapter that delves deeper into the science behind their fieldwork in the North. Readers need not be versed in glaciology, however. Ives has produced a highly readable book that seamlessly combines research and adventure.
About the Author:
Jack D. Ives is a Professor of Geography and Environmental Studies at Carleton University and a Senior Advisor of Mountain Ecology and Sustainable Development at United Nations University.
Praise for Baffin Island:
This book tells the story of expeditions to central Baffin in the years from 1961 to 1967 – and what a great story it is. The events of each year are laid out in an entertaining and informative manner. We learn about the difficult negotiations over financial support back in Ottawa, the exciting (and hair-raising) trips into the field by float plane and helicopter, and the remote field camps with all their charms and challenges . . . Ives has a great knack for recounting his experiences and motivations in an entertaining and engaging manner, and the text is generously illustrated with many fabulous photographs that he took. These serve to bring the wonder and adventure of it all to life. And it really was a great adventure.
—Raymond S. Bradley, Arctic, Antarctic, and Alpine Research
Table of Contents

Foreword by the Honourable Peter Adams
Acknowledgements

Introduction: The Context of Geographical Research in Canada's Arctic in the 1960s
Note on Place Names

Chapter 1. Baffin Island: The Place and the Research
Chapter 2. Reconnaissance 1961: Learning about Airborne Support
Chapter 3. Building the Team and Developing Credibility
Chapter 4. Baffin 1962: Ice Mining on the Barnes Ice Cap
Chapter 5. Expanding Baffin Research and Wider Reconnaissance, 1963
Chapter 6. Initiatives and Growths in Baffin Operations, 1936–1964
Chapter 7. Glaciology in the Rockies Added to Baffin Studies, 1965
Chapter 8. Summit Experiences and East Coast Research, 1966
Chapter 9. Last Year of Baffin Island Activities by the Geographical Branch, 1966–1967
Chapter 10. Career Development of Members of the Field Team
Chapter 11. Assessment of the Scientific Result

Glaciers and Glacier Landforms
Notes
References
Appendix A: Major Publications Influenced by the Baffin Island Expeditions
Appendix B: Table of Abbreviations
Index
Awards
SILVER MEDAL, PubWest Design Awards: Historical or Biographical Book | 2017