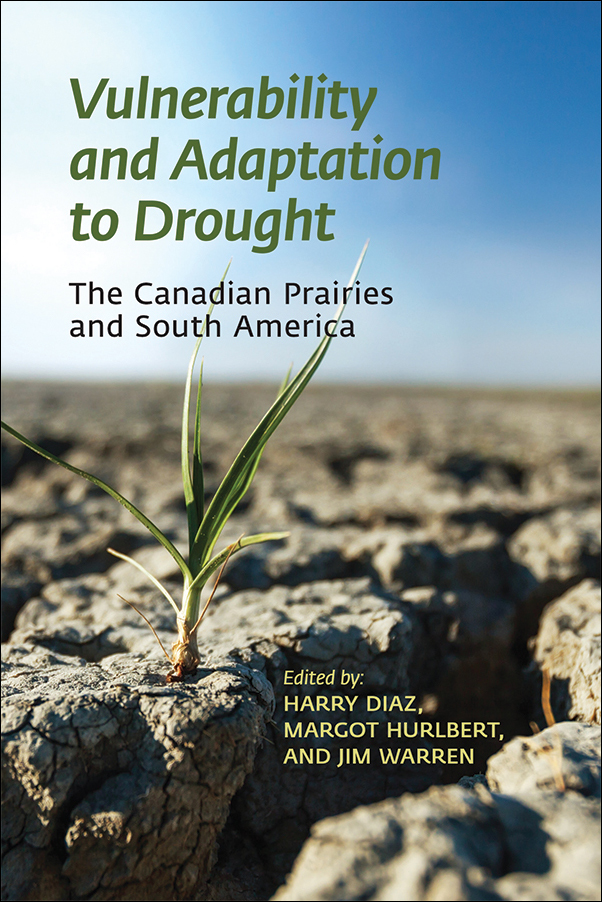 Vulnerability and Adaptation to Drought: The Canadian Prairies and South America
---
Editor Harry Diaz, Margot Hurlbert, and Jim Warren
$34.95 CAD / $34.95 USD
384 pages, 57 illustrations
6 x 9 inches
978-1-55238-819-8 (Paperback)
978-1-55238-821-1 (Institutional PDF)
978-1-55238-822-8 (ePub)
978-1-55238-823-5 (mobi)
July 2016
About the Book
Although there is considerable historical literature describing the social and economic impact of drought on the prairies in the 1930s, little has been written about the challenges presented by drought in more contemporary times. The drought of 2001-02 was, for example, the most recent large-area, intense, and prolonged drought in Canada and one of Canada's most costly natural disasters in a century.
Vulnerability and Adaptation to Drought on the Canadian Prairies describes the impacts of droughts and the adaptations made in prairie agriculture over recent decades. These adaptations have enhanced the capacity of rural communities to withstand drought. However, despite the high levels of technical adaptation that have occurred, and the existing human capital and vibrant social and information networks, agricultural producers in the prairie region remain vulnerable to severe droughts that last more than a couple of years.
Research findings and projections suggest that droughts could become more frequent, more severe, and of longer duration in the region over the course of the 21st century. This book provides insights into the conditions generating these challenges and the measures required to reduce vulnerability of prairie communities to them. This volume develops a greater understanding of the social forces and conditions that have contributed to enhanced resilience, as well as those which detract from successful adaptation and examines drought through an interdisciplinary lens encompassing climate science and the social sciences
Harry Diaz is a Professor of Sociology and Social Studies and former Director of the Canadian Plains Research Center (CPRC) at the University of Regina. His fields of research include adaptation and vulnerability to climate change, water scarcities, and environmental governance. He has participated in several projects dealing with the impacts of climate on the rural sector in Canada and Latin America.
Margot Hurlbert is an Associate Professor jointly appointment in the Department of Justice Studies and Department of Sociology and Social Studies at the University of Regina. Her fields of research include adaptive governance, water – energy – food nexus, social learning and community engagement. She has participated in several projects dealing with the impacts of climate and institutional governance in Canada and Latin America.
James Warren is a policy and communications consultant specializing in water governance and management issues. He lectures in environmental sociology and management communications at the University of Regina.
With Contributions By: Jose Armando Boninsegna, Barrie Bonsal, Darrell Corkal, Amber Fletcher, Monica Hadarits, Tom Harrison, Margot Hurlbert, Samantha Kerr, Erin Knuttila, Suren Kulshreshta, Gregory Marchildon, Elma Montana, Bruce Morito, Jeremy Pittman, Alejandro Rojas, David Sauchyn, Paula Santibanez, A.Unvoas, Johanna Wandel, James Warren, Virginia Wittrock, and Elaine Wheaton
Praise for Vulnerability and Adaptation to Drought:
The challenge that this book addresses—how to deal with drought on the Canadian Prairies given our uncertain climatic future—is of national and international importance. The authors gathered here include many leading experts, and their perspectives on the bio-physical, economic, historical, and social dimensions of Prairie drought are essential reading on the subject.
—Robert McLeman, Wilfrid Laurier University
Table of Contents

Introduction

Harry Diaz, Margot Hurlburt, and Jim Warren

Part 1: Framing the Book

Chapter 1: Drought and Vulnerability, A Conceptual Approach
Johanna Wandel, Harry Diaz, Jim Warren, Monica Hadarits, Margot Hurlburt, and Jeremy Pittman

Part 2: Past and Future Drought: Lessons from Climate Science

Chapter 2: Canadian Prairies Drought from a Paleoclimate Perspective
David Sauchyn and Samantha Kerr

Chapter 3: Future Possible Droughts
Elaine Wheaton, David Sauchyna, and Berry Bonsal

Part 3: Dealing with Prairie Droughts: Crises and Adaptive Resources

Chapter 4: The Impacts of the 2001-2 Drought in Rural Alberta and Saskatchewan, and Canada
Suren Kulshreshtha, Elaine Wheaton, and Virginia Wittrock

Chapter 5: The "Min Till" Revolution and the Culture of Innovation
Jim Warren

Chapter 6: The Troubled State of Irrigation in Southwester Saskatchewan: The Effects of Climate Variability and Government Offloading on Vuldernabule Community
Jim Warren

Chapter 7: Gendering Change: Canadian Farm Women Respond to Drought
Amber J. Fletcher and Erin Knuttila

Part 4: Governance Systems for Prairie Drought and Water Management

Chapter 8: Drought and Public Policy in the Palliser Triangle: The Historical Perspective
Gregory P. Marchildon

Chapter 9: The Governance of Droughts
Margot Hurlburt

Chapter 10: Water Governance in the Prairie Provinces
Margot Hurlburt

Part 5: Strategic Planning and Drought

Chapter 11: Values Analysis as a Decision Support Tool to Manage Vulnerability and Adaptation to Drought
Darrell R. Corkal, Bruce Morito, and Alejandro Rojas

Chapter 12: Bridging Knowledge Systems for Drought Preparedness: A Case Study for the Swift Current Creek Watershed (Canada)
Jeremy Pittman, Darrel R. Corkal, Monica Hadarits, Tom Harrison, Margot Hurlburt, and Arlene Unvoas

Part 6: Learning from Other Experiences

Chapter 13: Drought Risks and Opportunities in the Chilean Grape and Wine Industry: A Case Study of the Maule Region
Monica Hadarits, Paula Santibáñez, and Jeremy Pittman

Chapter 14: Drought in the Oasis of Central Western Argentina
Elma Montaña and José Armando Boninsegna

Part 7: Concluding Remarks

Conclusion
Margot Hurlbert, Harry Diaz, and Jim Warren

Index