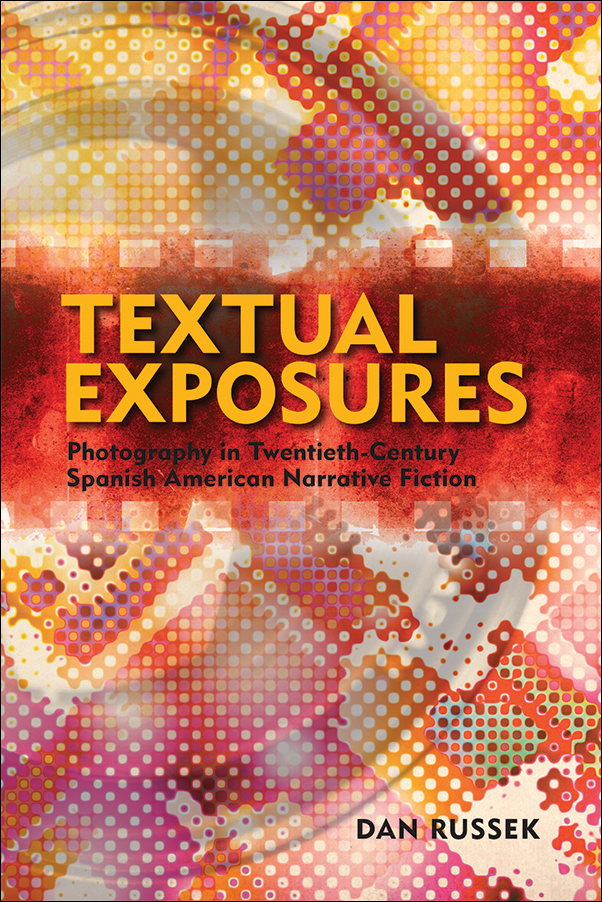 Textual Exposures: Photography in Twentieth Century Spanish American Narrative Fiction
---
Dan Russek
$34.95 CAD / $34.95 USD
240 pages, 17 Illustrations
6 x 9 inches
978-1-55238-787-0 (mobi)
978-1-55238-783-2 (Paperback)
978-1-55238-785-6 (Institutional PDF)
978-1-55238-786-3 (ePub)
May 2015
About the Book
Scholar Dan Russek draws on close reading to discover how Spanish American narrative fiction in the twentieth century has registered the power, and the limitations, of photography, and how these texts critically reflect on the media environment in which they were created.
Textual Exposures examines how twentieth-century Spanish American literature has registered photography's powers and limitations, and the creative ways in which writers of this region of the Americas have elaborated in fictional form the conventions and assumptions of this medium.
While the book is essentially a study of literary criticism, it also aims to show how texts critically reflect upon the media environment in which they were created. The writings analyzed enter a dialogic relation with visual technologies such as the x-ray, cinema, illustrated journalism, and television. The study examines how these technologies, historically and aesthetically linked to the photographic medium, inform the works of some of the most important writers in Latin America.
Methodologically, the close readings of the texts centre on the figure of ekphrasis (defined as the verbal representation of a visual representation). The book is concerned with the thematic, symbolic, structural and cultural imprints photography leaves in narrative texts. Author Dan Russek takes an immanent approach, reading the selected texts according to their own specificities and making the relevant thematic and structural connections between them drawing from a variety of sources in the fields of literary criticism and theory and history of photography.
About the Author
Dan Russek is an associate professor in the Department of Hispanic and Italian Studies at the University of Victoria, where he has taught since 2004. He earned his M.A. (Comparative Literature) from the Universidad Nacional Aut-noma de México (UNAM) and completed his Ph.D. in Comparative Literature at the University of Chicago. His fields of research include the links between literature and the visual arts and media, urban studies and aesthetics. Besides his academic publications, Russek has published literary essays and a book of poetry in Spanish.
Praise for Textual Exposures
Russek's focus enables productive re-readings of well-known texts . . . This book's thoughtful explorations of literary ekphrasis preserve, as in a snapshot, the memory of the relatively brief epoch in which photography—or, better, the delay inherent in the development and revelation of photographic film—still had the power to surprise and shock.
-—Jon Beasley-Murray, Bulletin of Spanish Visual Studies
Table of Contents

Acknowledgements
Introduction

Uncanny Visions: Ruben Dario, Julio Cortazar, and Salvado Elizondo

Family Portraits: Horacio Quiroga, Juan Rulfo, Silvina Ocamp, and Virgilio Pinera

Politics of the Image: Julio Cortazar and Tomas Eloy Martinez

Conclusion
Bibliography
Notes
Index