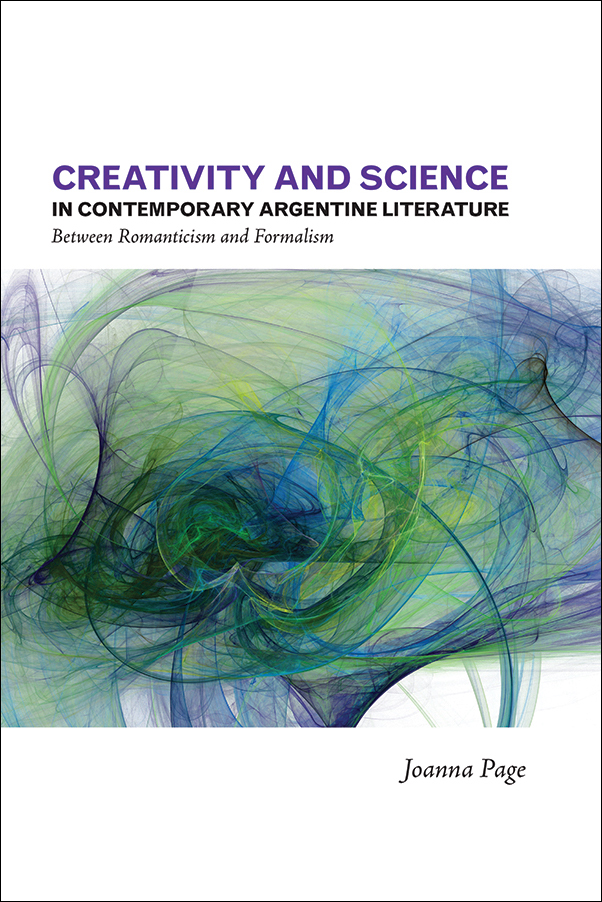 Creativity and Science in Contemporary Argentine Literature: Between Romanticism and Formalism
---
Joanna Page
$34.95 CAD / $41.95 USD (S)
304 pages
6 x 9 inches
978-1-55238-772-6 (ePub)
978-1-55238-773-3 (mobi)
978-1-55238-732-0 (Paperback)
978-1-55238-771-9 (Institutional PDF)
February 2014
About the Book

Latin American science fiction, cyberfiction, and representations of science and technology in Latin American literature and cinema are examined from interdisciplinary perspectives in this bold and insightful analysis.

Creativity and Science in Argentine Literature adds new understanding to the growing body of interdisciplinary work on the relationship between literature and science in postmodern culture.
Joanna Page examines how contemporary fiction and literary theory in Argentina consistently employ theories and models from mathematics and science to probe the nature of innovation and evolution in literature. Theories of incompleteness, uncertainty, and chaos are often mobilized in European and North American literary and philosophical texts as metaphors for the inadequacy of our epistemological tools to probe the world's complexity.
However, in recent Argentine fiction, these generalizations are put to very different uses: to map out the potential for artistic creativity and regeneration in times of crisis. Page focuses on texts by contemporary Argentine writers Ricardo Piglia, Guillermo Mart'nez and Marcelo Cohen, which draw on theories of formal systems, chaos, emergence, and complexity to counter proclamations of the end of philosophy or the exhaustion of literature in the postmodern era.
This book makes a significant contribution to our understanding of how newness and creativity have been theorized, tracing often unexpected relationships between thinkers such as Nietzsche, Deleuze, and the Russian Formalists. It is also the first time that a major study in English has been published on the work of Mart'nez, Piglia, or Cohen.
About the Author
Joanna Page is a senior lecturer in Latin American Cultural Studies at the University of Cambridge. She is the author of Crisis and Capitalism in Contemporary Argentine Cinema (2009) and the co-editor of Visual Synergies in Fiction and Documentary Film from Latin America (2009).
Praise for Creativity and Science in Contemporary Argentine Literature: 
An immensely stimulating and insightful analysis of complex and multi-faceted literary works.
—Hugh Hazelton, University of Toronto Quarterly
It is commendable that Page has taken on a multidisciplinary approach to seek alternatives to think anew creativity's potential beyond the postmodern… a welcome engagement with the debates keeping the humanities and sciences apart.
—Juan G. Ramos, MLN
Stimulating . . . an important theoretical reflection on the relationship between science and literature
—Eduoardo Balletta, Journal of Latin American Studies 
Table of Contents

Acknowledgements

Introduction: Countering Postmodern Apocalypticism

1. The Science of Literary Evolution: Between Romanticism and Formalism

A Postmodern Prometheus: innovation and Tradition in Literature

Martinez
Non-Linearity, topology, turbulence, and other (Formalist) models of literary renewal

2. Allegories of Reading in an Age of Immanence and Unvertainty

Serial polysemia: Crimes of Logic

Interpretation and interpretosis in an immanent world

Literature: the laboratory of the future

3. Mathematics and Creativity

Crative contradictions and them athematics of postmodern thought

Post-Romantic pinciples of creativity in a self-organizing universe

4. Machines, Metaphors, and Multiplicity: Creativity beyond the Individual

Post-Romantic writing machines

Entropy and metaphor

Conclusion: Literature and Science, Neither One Culture Nor Two

Bibliography

Notes

Index