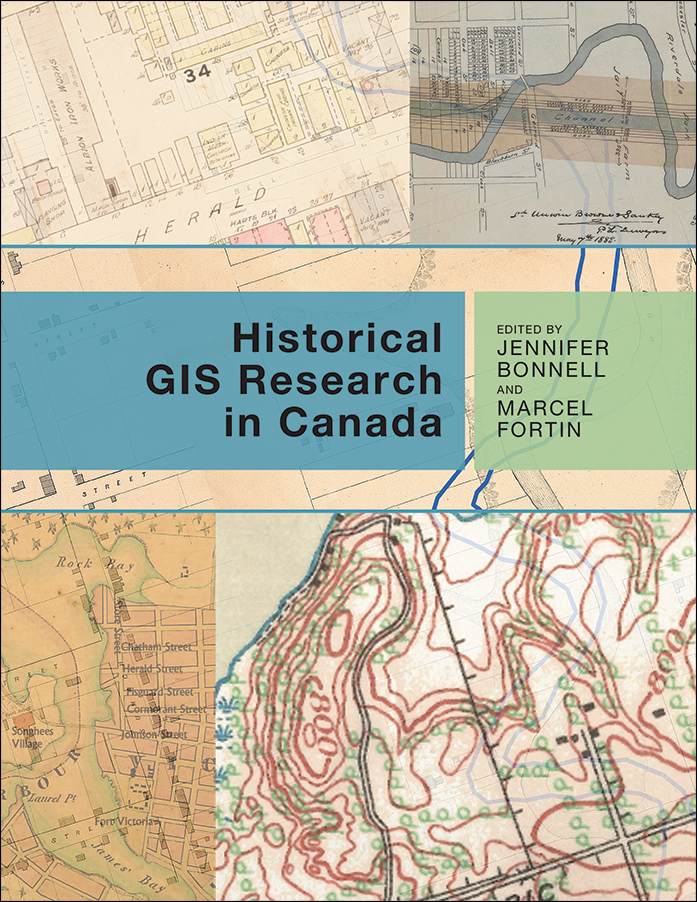 Historical GIS Research in Canada
---
Edited by Jennifer Bonnell and Marcel Fortin
$39.95 CAD / $45.95 USD (S)
344 pages, 121 illustrations
8.5 x 11 inches
978-1-55238-708-5 (Paperback)
978-1-55238-744-3 (Institutional PDF)
978-1-55238-750-4 (ePub)
January 2014
About the Book
Discover the incredible potential of Historical Geographic Information Systems for academic inquiry in this exploration of new trends in historical research.
Fundamentally concerned with place, and our ability to understand human relationships with environment over time, Historical Geographic Information Systems (HGIS) as a tool and a subject has direct bearing for the study of contemporary environmental issues and realities.
To date, HGIS projects in Canada are few and publications that discuss these projects directly even fewer. Historical GIS Research in Canada brings together projects in historical geography, social and cultural history, and environmental history from across Canada's diverse regions to showcase the groundbreaking work being done by scholars today, and of the particular opportunities and challenges of HGIS approaches.
Covering projects on topics including religion and ethnicity, migration, Indigenous land practices, neighborhood building and rebuilding, and more, Historical GIS Research in Canada celebrates the power of new approaches and of collaboration for historical research. Exploring new trends in historical research, it is an essential resource for anyone interested in the cross-disciplinary possibilities of HGIS.
About the Editors
Jennifer Bonnell is an assistant professor in the Department of History at York University.
Marcel Fortin is the Map and GIS librarian at the University of Toronto's Map and Data Library. He is also a sessional lecturer in both the Geography Department and the Faculty of Information at the University of Toronto.
With Contributions By: Colleen Beard, Stephen Bocking, Jennifer Bonnell, Jim Clifford, Joanna Dean, Francois Dufaux, Patrick A. Dunae, Marcel Fortin, Jason Gilliland, William M. Glen, Megan Harvey, Matthew G. Hatvany, Sally Hermansen, Andrew Hinson Lafreniere, John S. Lutz, Joshua D. MacFadyen, Daniel Macfarlane, Jennifer Marvin, Cameron Metcalf, Byron Moldofsky, Sherry Olson, Jon Pasher, Daniel Rueck, R. W. Sandwell, Henry Yu, and Barbara Znamirowski
Praise for Historical GIS in Canada
The book succeeds brilliantly in its aims. The production is of the highest quality, with a clear layout of text and illustrations, an unambiguous editing, and the superb quality of the many coloured maps and diagrams.
—Ken Atkinson, British Journal of Canadian Studies
Significantly raises the bar . . . The contributors to this volume have made a stunning case for the use of spatial history to better understand the interactions between people and place in Canada's past.
—Ken Sylvester, The Canadian Historical Review
Historical GIS Research in Canada offers an approachable yet expansive introduction to HGIS and the ways in which it is being used in Canadian historiography.
—Jessica DeWitt, Network in Canadian History & Environment
A wonderful collection of thirteen essays . . . a confident assertion of promise realized.
—Deryck Holdsworth, BC Studies
The editors of Historical GIS Research in Canada do a masterful job of highlighting the obstacles of HGIS while offering perspective of the state of the science . . . I look forward to future publications by these editors to see more of what HGIS has to offer and what answers it can provide.
—Christine Delbridge, MIRCS Review
A valuable contribution to the literature on HGIS.
—Ian Gregory, The Public Historian
Table of Contents

Acknowledgements

Introduction

1. Turning Space Inside Out: Spatial History and Race in Victorian Victoria
John S. Lutz, Patrick A. Duane, Jason Gilliand, Don Lafreinere, and Megan Harvey

2. Mapping the Welland Canals and the St. Lawrence Seaway with Google Earth
Colleen Beard, Daniel Macfarlane, and Jim Clifford

3. Reinventing the Map Library: The Don Valley Historical Mapping Project
Jennifer Bonnell and Marcel Fortin

4. The Best Seat in the House: Using Historical GIS to Explore Religion and Ethnicity in Late-Nineteenth Century Toronto
Andrew Hinson, Jennifer Marvin, and Cameron Metcalf

5. Stories of People, Land, and Water: Using Spatial Technologies to Explore Regional Environmental History
Stephen Bocking and Barbara Znamirowski

6. Mapping Ottawa's Urban Forest, 1928-2005
Joanna Dean and Jon Pasher

7. "I do not know the boundaries of this land, but I know the land which I worked": Historical GIS and Mohawk Land Practices
Daniel Rueck

8. Rebuilding a Neighbourhood of Montreal
Francois Dufaux and Sherry Olson

9. Growth and Erosion: A Reflection on Salt Marsh Evolution in the St. Laurence Estuary using HGIS
Matthew G. Hatvany

10. Top-Down History: Deliniating Forests, Farms and the Census of Agricultural on Prince Edward Island Using Aerial Photography, ca. 1900-2000
Joshua D. MacFayden and William M. Glen

11. The Irony of Discrimination: Mapping Historical Migration Using Chinese Head Tax Data
Sally Hermansen and Henry Yu

12. Mapping Fuel Use in Canada: Exploring the Social History of Canadian's Great Fuel Transformation
R.W. Sandwell

13. Exploring Historical Geography Using Conesus Microdata: The Canadian Century Research Infrastructure (CCRI) Project
Byron Moldofsky

Appendix AL Historical GIS Studies in Canada
Select Bibliography
Notes on Contributors

Index