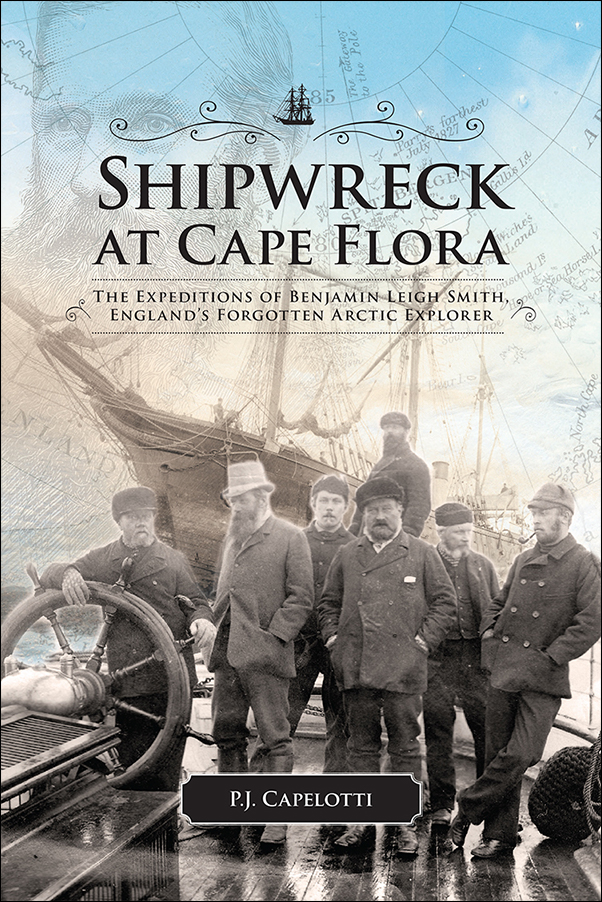 Shipwreck at Cape Flora: The Expeditions of Benjamin Leigh Smith, England's Forgotten Arctic Explorer
---
P.J. Capelotti
$39.95 CAD / $41.95 USD
300 pages, 52 illustrations
978-1-55238-705-4 (Paperback)
978-1-55238-713-9 (Institutional PDF)
978-1-55238-714-6 (ePub)
March 2013
About the Book
Gripping tales of survival, exploration, and discovery are told with humour and panache in the ripped-from-the-archives story of Benjamin Leigh Smith, England's forgotten Arctic explorer.
Benjamin Leigh Smith discovered and named dozens of islands in the Arctic but published no account of his pioneering explorations. He refused public accolades and sent stand-ins to deliver the results of his work to scientific societies. Yet, the Royal Geographic Society's Sir Clements R. Markham referred to him as a polar explorer of the first rank.
Traveling to the Arctic islands that Leigh Smith explored and crisscrossing England to uncover unpublished journals, diaries, and photographs, archaeologist and writer P. J. Capelotti details Leigh Smith's five major Arctic expeditions and places them within the context of the great polar explorations in the nineteenth century.
About the Author
P. J. Capelotti is associate professor of anthropology at Penn State University, Abington College. He is the author of more than a dozen books and his research has taken him several times to Svalbard and Franz Josef Land and twice to the North Pole.
Praise for Shipwreck at Cape Flora
Peter Capelotti has done a remarkable job in pulling together the rather slender sources for Leigh Smith's life and voyages into a coherent narrative that benefits from its author's deep familiarity with the wider background of exploration, geographical theory, and social history of his subject's time
—Jonathan Dore, The Arctic Book Review
These are gripping tales of the sea, and of survival against the odds, which Capelotti, working from unpublished journals and diaries, recounts with enthusiasm and panache, while preserving the abundant subtle humour and typically English understatement of the original sources. A seasoned Arctic traveller himself, the author's empathy with the explorer shines through every page, detecting in Leigh Smith something of a kindred spirit and allowing us for the first time to see inside the complex mind of this reclusive and most neglected pioneer.
—Raymond John Howgego, International Journal of Maritime History
Shipwreck at Cape Flora treats a fine subject and provides a good biography of Benjamin Leigh Smith, for which the author deserves thanks.
—Nel Cane, Arctic Antarctic, and Alpine Research
Shipwreck at Cape Flora in the Media
Benjamin Leigh Smith: The Forgotten Explorer of the Frozen North, BBC News
Table of Contents

List of Figures
Prologue: Twilight

Benjamin Leigh Smith and His Times, 1828-1871
Expedition One: Svalbard, 1871
Expedition Two: Jan Mayen and Svalbard, 1872
Expedition Three: Svalbard, 1873
The Awakening to a New Life, 1974-1879
Expedition Four: Franz Josef Land, 1880
Expedition Five: Franz Josef Land, 1881-1882
Benjamin Leigh Smith and His Times, 1883-1913

Acknowledgements
Notes
Appendices
Select Bibliography
Index
Awards
SHORTLISTED, BPAA Alberta Book Publishing Award for Scholarly and Academic Book | 2014