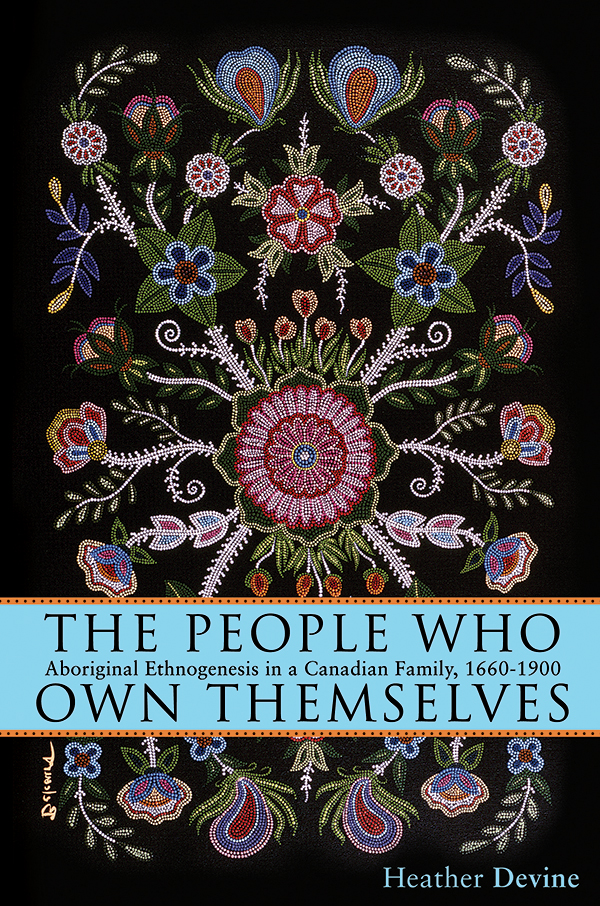 The People Who Own Themselves: Aboriginal Ethnogenesis in a Canadian Family, 1660-1900
---
Heather Devine
$39.95 CAD / $45.95 USD
358 pages, 25 pages
6 x 9 inches
978-1-55238-660-6 (Paperback)
978-1-55238-426-8 (Institutional PDF)
May 2012
About the Book
Innovative, highly multidisciplinary, and award-winning, this book traces 250 years of history to tell the story of the Desjarlais family and of the search for a Métis identity.
The search for a Métis identity and what constitutes that identity is a key issue facing many Indigenous people of mixed ancestry today. The People Who Own Themselves reconstructs 250 years of Desjarlais family history across a substantial area of North America, from colonial Louisiana, the St. Louis, Missouri, region, and the American Southwest to Red River and Central Alberta. In the course of tracing the Desjarlais family, social, economic, and political factors influencing the development of various Indigenous ethnic identities are discussed.
With intriguing details about Desjarlais family members, this book offers new, original insights into the 1885 Northwest Rebellion, focusing on kinship as a motivating factor in the outcome of events. With a unique how-to appendix for Métis genealogical reconstruction, this book will be of interest to Métis wanting to research their own genealogy and to scholars engaged in the reconstruction of Métis ethnic identity.
Appendix 3: Genealogical Charts may be found at this link.
About the Author
Heather Devine is an associate professor in the Department of History at the University of Calgary and is a researcher in various fields, including Canadian Native history, Western Canadian ethnic history, museum and archival studies, and public history.
Praise for The People Who Own Themselves
Devine has placed herself a leader in the new discipline of prospography . . . [she] is the first academic to come close to describing why the Métis Nation arose on the Northern Great Plains.
—Frits Pannekoek, Great Plains Quarterly
A strong piece of academic scholarship that proposes an innovative and highly multidisciplinary approach. From a useful glossary of terms to detailed appendices and notes, this book provides insights for students and teachers alike and will undoubtedly prompt a reassessment of our historical understanding of the fur trade, Aboriginals, and the West.
—Robert Engelbert, Histoire sociale / Social History
Table of Contents

Illustrations
Preface
Definitions
Acknowledgements

Approaching the Stories of the Desjarlais Family: Methods and Goals
Data Collection and Analysis
Conclusion

The Social Contexts of Europe and New France
The Psychological Terrain of Early Modern Europe
Enter Jean-Jacques De Gerlaise
Les Desjarlais and the Fur Trade Prior to the Conquest
Conclusion

From the St. Lawrence to St. Louis: The Desjarlais Migration to the Mississippi and Beyond
The Fur Trade of the Mississippi Valley
Marriage as Business: The Robidoux Family
Conclusion

The Emergence of Freemen in Rupert's Land
The Desjarlais in Rupert's Land
The Dispersion of the Desjarlais Freeman Band
The Social Dynamics of Boreal Forest Hunting Bands
Conclusion

Migration and Retrenchment: 1821-1869
The Establishment of Missions at Red River
The Emergence of Metis Populations in the Athabasca Region
The Struggle for Free Trade
Conclusion

Treaties and Rebellion
The Onset of the Rebellion of 1885
Conclusion

Some Difficult Choices: The Desjarlais after 1885
The Aftermath of the Rebellion
Conditions in Assiniboia and Saskatchewan
Northern Alberta After 1885
The Transition to Settlement in Northern Alberta
St. Paul des Metis
Treaty Number Eight
The Promised Land
Conclusion

The People Who Own Themselves

Appendix 1: A Note on Sources
Parish Records
Scrip
Indian Affairs Documents
The Desjarlais Family in the Records
Conclusion

Appendix 2: Naming Practices
Name Variations: Spelling and the Problem with "dit"
Aboriginal Naming Practices
Conclusion

Appendix 3: Genealogical Charts

Notes
Bibliography
Primary Sources
Published Primary Sources
Secondary Sources
Index
Awards
WINNER, FHSS Harold Adams Innis Prize | 2005