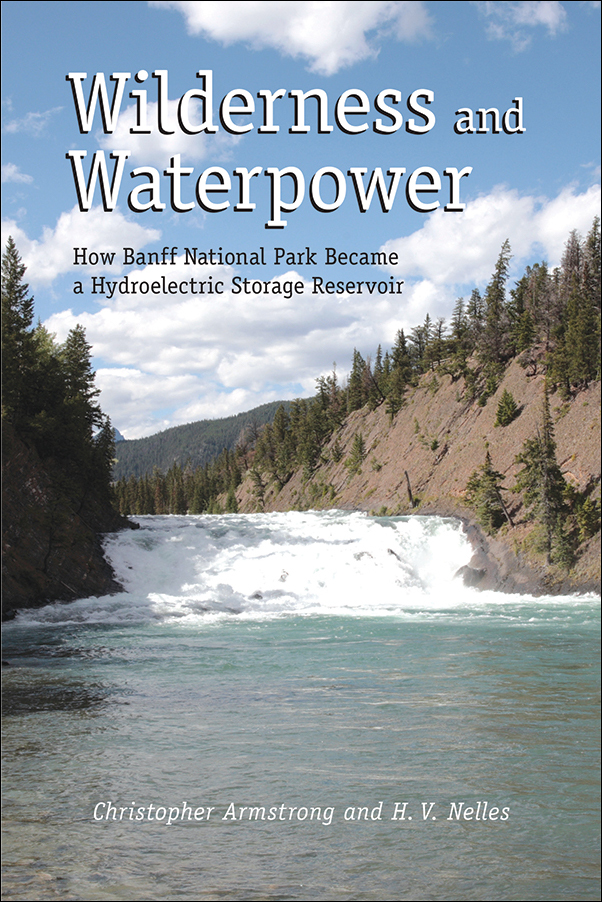 Wilderness and Waterpower: How Banff National Park Became a Hydroelectric Storage Reservoir
---
By Christopher Armstrong and H. V. Nelles
$34.95 CAD / $41.95 USD
272 pages, 43 illustrations
6 x 9 inches
978-1-55238-634-7 (Paperback)
978-1-55238-636-1 (Institutional PDF)
978-1-55238-637-8 (ePub)
February 2013
About the Book
Alberta's need for electricity deeply affected and shaped Banff National Park. This is a story of the quest to balance hydroelectric demand with entrepreneurial greed, and of the importance of water for tourism, rural electrification, and the diversion to coal-powered electricity.
This engaging book explores how the need for electricity at the turn of the century affected and shaped Banff National Park. Today's conservationists and energy researchers will find much to think about in this tale of Alberta's early need for electricity, entrepreneurial greed, debates over Indigenous ownership of the river, moving park boundaries to accommodate hydro-electric initiatives, the importance of water for tourism, rural electrification, and the ultimate diversion to coal-produced electricity.
It is also a lively national story, involving the irrepressible and impetuous Max Aitkin (later Lord Beaverbook), R.B. Bennett (local legal advisor and later prime minister), and a series of local politicians and bureaucrats whose contributions confuse and conflate issues along the way.
About the Authors
Christopher Armstrong is an Emeritus Professor in the Department of History at York University. His numerous books on Canadian history have won critical acclaim.
H.V. Nelles is the L.R. Wilson Professor of Canadian History at McMaster University and a Distinguished Research Professor Emeritus at York University. He is the unprecedented two-time recipient of the Sir John A. Macdonald Prize for the best book in Canadian History.
Praise for Wilderness and Waterpower
Wilderness and Waterpower offers a new perspective of park development . . . [it] will expand reader's knowledge on a variety of historical issues from parks development, utility control and ownerships, political struggles, and the evolving meanings and understanding of nature and/or wilderness in an increasingly metropolitan area.
—Heather Green, Network in Canadian History and Environment
Wilderness and Power undertakes a minute reconstruction of the business and political decisions surrounding the extension of the hydroelectric system of Calgary Power Company, cast within a narrative structured around the tensions between path dependence and policy hardening.
—Stéphane Castonguay, Technology and Culture
Table of Contents

Introduction

Chapter 1. Water Falls

Chapter 2. Power Struggle

Chapter 3. Doubling Down

Chapter 4. Downstream Benefits

Chapter 5. Selling Scenery

Chapter 6. Political Logic

Chapter 7. Minnewanka Redux

Chapter 8. War Measures

Chapter 9 Public Power

Chapter 10. Reversing Rivers

Chapter 11. Leaving the Bow

Chapter 12. Conclusion

Appendix
Notes
Index
Awards
SHORTLISTED, BPAA Alberta Book Publishing Award for Scholarly and Academic Book | 2014
SHORTLISTED, FHSS Canada Prize in the Social Sciences | 2014