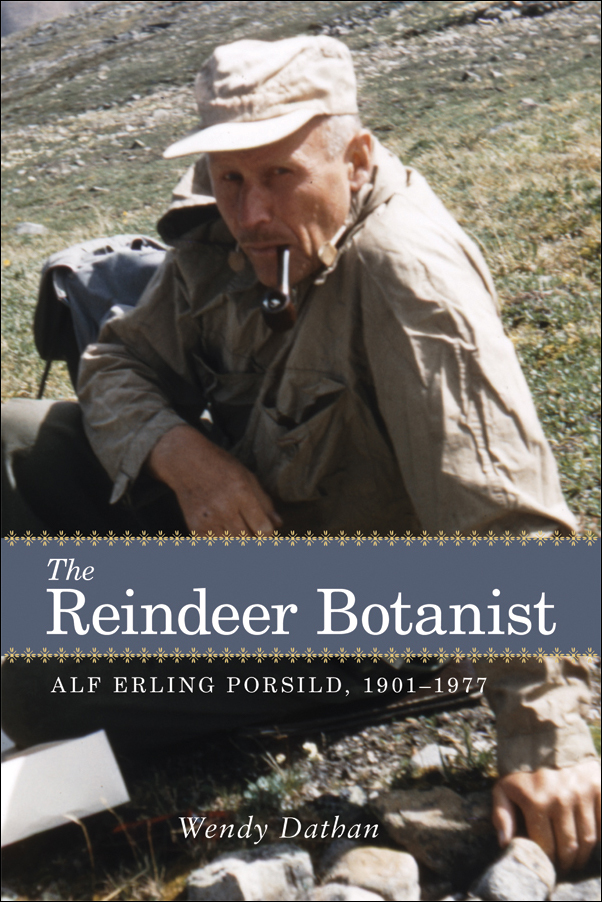 The Reindeer Botanist: Alf Erling Porsild, 1901-1977
---
Wendy Dathan
$44.95 CAD / $51.95 USD
748 pages, 87 illustrations
6 x 9 inches
978-1-55238-588-3 (Institutional PDF)
978-1-55238-589-0 (ePub)
978-1-55238-586-9 (Paperback)
November 2012
About the Book
Winner of the Canadian History Association CLIO Award for The North and BPAA Award for Best Academic Book.

This well-researched book is the first biography of one of Canadas most remarkable botanists. Alf Erling Porsild (1901-1977) grew up on the Arctic Station in West Greenland and later served as curator of botany at the National Museum of Canada. He collected thousands of specimens, greatly enlarging the National Herbarium and making it a superb research centre.
For nearly twenty years, Porsild studied reindeer activities in Alaska and the Northwest Territories as part of the Reindeer Project designed to encourage grazing animal husbandry among aboriginal peoples. He published extensively, and his meticulous research and observations have particular relevance today with the growing concern over global warming in the Arctic.
About the Author
Wendy Dathan studied botany at McGill University and eventually worked as Assistant/Acting Curator at the McGill Herbarium and thereafter began her research on Porsild for her masters thesis on his Canadian Reindeer Project years.
Praise for The Reindeer Botanist
A thoroughly researched, clearly executed portrait of a man whose life, in the words of one of his colleagues, "was a saga of unique experiences and accomplishments—an inspiration to all those who have faith in the capacities of an individual human mind"
—Bathsheba Demuth, H-Environment
In The Reindeer Botanist we get all of the fascinating details.
—David F. Murray, Arctic, Antarctic, and Alpine Research
Dathan's book is a truly monumental effort, and a great service to the botanical community of Canada.
—Tyler William Smith, The Canadian Field-Naturalist
The final word on The Reindeer Botanist is that it is well worth reading.
—Maura C. Flannery, Archives of Natural History
Table of Contents

Abbreviations
Foreword by Irwin M. Brodo
Preface
Introduction

Part One: Reindeer Survey/Exploration, 1901-1928

Greenland Beginnings
Malte and the National Herbarium
Call of the Northwest
In Search of Reindeer
Little Diomede to Kotzebue Sound
Coastal Alaska by Dogsled
Travelling Alone: An Accident and its Consequences
Mail Time in Aklavik
Schooner Travel on the Arctic Coast
Return to Aklavik
Completing the 1927 Reconnaissance
Looking Back and Foreword
Winter Trail to Great Bear Lake
Dease Arm and the Northeast Barrens
Changing Tides and Seasons
Of Ice and "Flies" and Miserable Dogs
McTavish Arm and Conjuror Bay
End of the Investigation

Part Two: Canada's Reindeer Herd, 1929-195

Results of the Survey
"The Best Laid Plans"
Field Reports, 1930
Sad News and Summer in Scandinavia
Destination Reindeer Station
The Drive Continues
The End of the Project

Part Three: The National Herbarium in Peace and War, 196-1977

The National Herbarium
"Publish or Perish"
Rumbles on the Horizon
The Problem of Greenland
Consular Greenland
Herbarium Interlude
Greenland's War of Nerves
Uncertainties in Wartime Ottawa
Acting Consuls Dunbar and Porslid
Last Consular Year
Road to the Yukon
The Year the War Ended
Postwar Settlement
The "Old Man" of the Herbarium
Storm Over the Arctic
Study Year in Europe
Rocky Mountains and Hudson Bay Lowlands
Ninth International Botanical Congress
The Last Years

Epilogue: Closing the Circle

Notes
Sources and Acknowledgements
Selected References
Index
Awards
WINNER, CHA CLIO Prize - The North | 2013
WINNER, BPAA Alberta Book Publishing Award for Scholarly and Academic Book | 2013