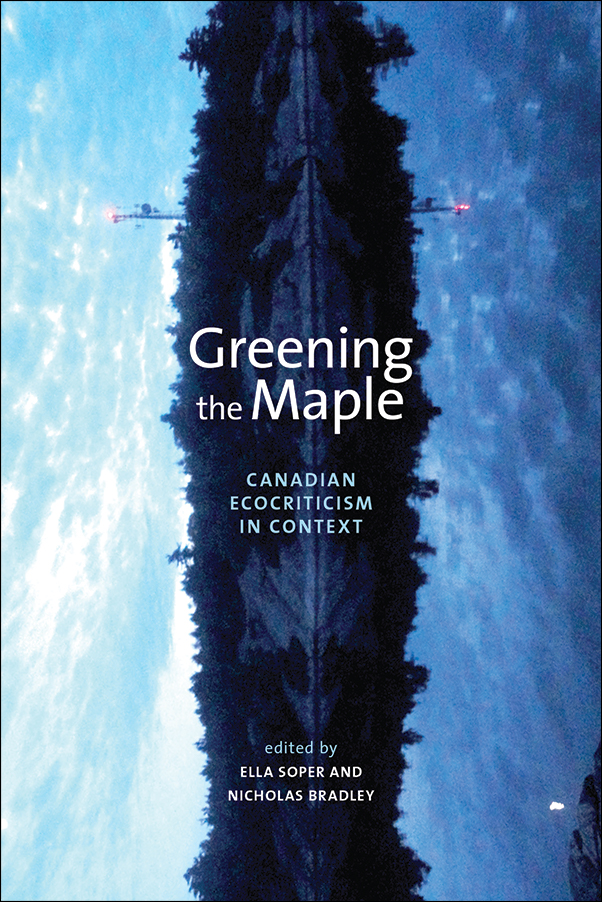 Greening the Maple: Canadian Ecocriticism in Context
---
Edited by Ella Soper and Nicholas Bradley
$44.95 CAD / $51.95 USD (S)
624 pages
6 x 9 inches
978-1-55238-546-3 (Paperback)
978-1-55238-547-0 (Institutional PDF)
978-1-55238-549-4 (ePub)
November 2013
About the Book
Ecocriticism can be described in very general terms as the investigation of the many ways in which culture and the environment are interrelated and conceptualized. Ecocriticism aspires to understand and often to celebrate the natural world, yet it does so indirectly by focusing primarily on written texts. Hailed as one of the most timely and provocative developments in literary and cultural studies of recent decades, it has also been greeted with bewilderment or scepticism by those for whom its aims and methods are unclear. This book seeks to bring into view the development of ecocriticism in the context of Canadian literary studies. Selections include work by Margaret Atwood, Northrop Frye, Sherrill Grace, and Rosemary Sullivan.
Ella Soper is a lecturer in the Department of English and Drama at the University of Toronto Mississauga, in the Department of English at University of Toronto Scarborough, and in the Faculty of Environmental Studies at York University.
Nicholas Bradley is an Assistant Professor in the Department of English at the University of Victoria.
With Contributions By: Margaret Atwood, Pamela Banting, D.M.R. Bentley, Carrie Dawson, Misao Dean, Adam Dickinson, Northrop Frye, Sherrill E. Grace, Nelson Gray, Gabriele Helms, Linda Hutcheon, Jenny Kerber, Cheryl Lousley, Travis V. Mason, Linda Morra, Heather Murray, Susie O'Brien, Stephanie Posthumus, Laurie Ricou, Elise Salaun, Catriona Sandilands, Rosemary Sullivan, and Rita Wong
Praise for Greening the Maple:
Greening the Maple is a must-read for those interested in literature and the environment. The collection demonstrates the uniqueness and worth of Canadian ecocriticism and its various origins and trajectories.
—Alec Follett, Alternatives Journal
A fascinating overview of Canadian critical engagement with nature.
—Marinette Grimbeek, European Journal of Literature, Culture, and Environment
If a good anthology is one that both lays the foundation and opens the door, Greening the Maple fits the bill. This landmark volume demonstrates that ecocriticism in Canada is well established and is also ripe for questioning and extending.
—Paul Huebener, University of Toronto Quarterly
Table of Contents

Acknowledgements

Introduction: Ecocriticism North of the Forty–ninth Parallel
Ella Spoer and Nicholas Bradley

Section 1: Nature and Nation: Before and Beyond Thematic Criticism

Chapter 1: Selections from The Busch Garden: Essays on the Canadian Imagination (1971)
Northrop Frye

Chapter 2: Selections from Survival: A Thematic Guide to Canadian Literature (1972)
Margaret Atwood

Chapter 3: La Forêt or the Winlderness as Myth (1987)
Rosemary Sullivan

Chapter 4: Quest for the Peaceable Knowledge: Urban/Rural Codes in Roy, Laurence, and Atwood (1984)
Sherrill E. Grace

Chapter 5: Women in the Wilderness (1986)
Heather Murray

Section 2: The Emergence of Ecocriticism in Canada

Chapter 6: "Along the Line of Smoky Hills": Further Steps towards an Ecological Poetics (1990)
D.M.R. Bentley

Chapter 7: So Big about Green (1991)
Laurie Ricou

Chapter 8: So Unwise about Green (1996)
Laurie Ricou

Chapter 9: Eruptions of Postmodernity: The Postcolonial and the Ecological (1993)
Linda Hutcheon

Chapter 10: Contemporary Canadian Poetry from the Edge: An Exploration of Literary Ecocriticism (1995)
Gabriele Helms

Chapter 11: Nature's Nation, National Natures? Reading Ecocriticism in a Canadian Context (1998)
Susie O'Brien

Section 3: Reading Canadian Landscapes

Chapter 12: Nature Trafficking: Writing and Environment in the Western Canada–U.S. Borderlands
Jenny Kerber

Chapter 13: Calypso Trails: Botanizing on the Bruce Peninsula (2010)
Catriona Sandilands

Chapter 14: Knowledge, Power, and Place: Environmental Politics in the Fiction of Matt Cohen and David Adams Richards
Cheryl Lousley

Section 4: Environments and Cross–Cultural Encounters

Chapter 15: Canadian Art according to Emily Carr: The Search for Indigenous Expression (2005)
Linda Morra

Chapter 16: "Mon pays, ce n'est pas un pays, c'est l'hiver": Literary Representations of Nature and Ecocritical Thought in Quebec
Stephanie Posthumus and Élise Salaün

Chapter 17: Decolonization: Reading Asian and First Nations Relations in Literature (2008)
Rita Wong

Section 5: Neighbours Unknown: Animals in Canadian Literature

Chapter 18: Selections from Survival: A Thematic Guide to Canadian Literature (1972)
Margaret Atwood

Chapter 19: Political Science: Realism in Robert's Animal Stories (1996)
Misano Dean

Chapter 20: The "I" in Beaver: Sympathetic Identification in the Self–Representation in Grey Owl's Pilgrims of the Wild (2007)
Carrie Dawson

Chapter 21: The Ontology and Epistemology of Walking: Animality in Karsten Huer's Being Caribou: Five Months on Foot with an Arctic Herd
Pamela Banting

Section 6: In Full Bloom: New Directions in Canadian Theory

Chapter 22: Poetics of the Semiosphere: Pataphysics, Biosemiotics, and Imaginary Solutions for Water (2011)
Adam Dickinson

Chapter 23: Literature and Geology: An Experiment in Interdisciplinary Comparative Ecocriticism
Travis V. Mason

Chapter 24: The Dwelling Perspective in English–Canadian Drama
Nelson Gray

Afterword: Ecocritical Futures

Ella Soper and Nicholas Bradley

Appendix: Taking Frlight: From Little Grey Birds to The Goose
Liza Sazbo–Jones

Notes

Index