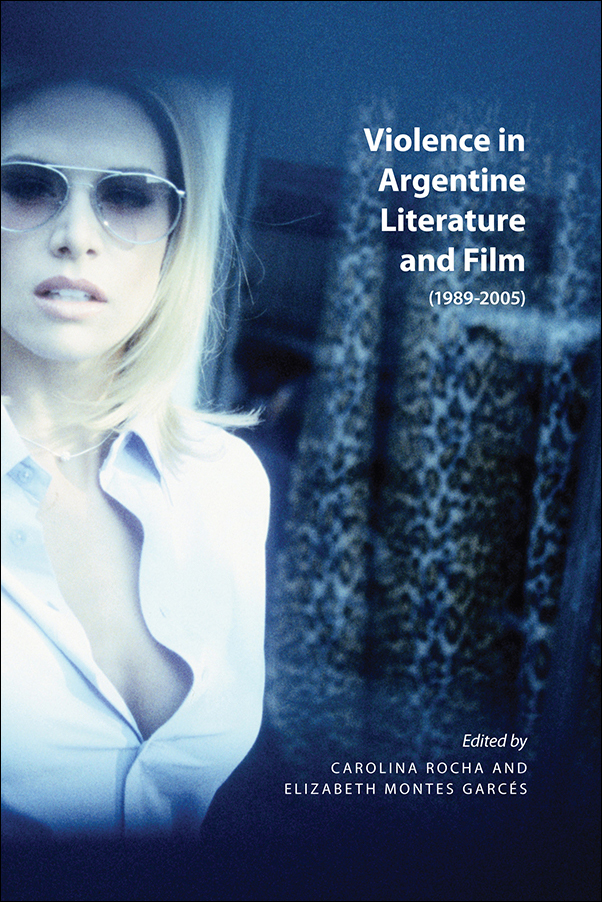 Violence in Argentine Literature and Film (1989-2005)
---
Edited by Carolina Rocha and Elizabeth Montes Garcés
$34.95 CAD / $39.95 USD
286 pages
6 x 9 inches
978-1-55238-504-3 (Paperback)
978-1-55238-505-0 (Institutional PDF)
October 2010
About the Book
An exploration of the depiction of violence in Argentina cultural production asking key questions about the ways violence responds to authoritarianism and cultural upheaval.
Why has violence been a predominant topic in contemporary Argentine literature and film?
Violence in Argentine Literature and Film draws on multiple critical approaches to explore how images of violence and narratives that depict violence are rooted decanted of authoritarianism and cultural upheaval. This collection interpret and analyses the ways violence communicates structural inequalities and lines of fissure in contemporary Argentina.
Examining depictions of violence in Argentine cultural production as multifaceted and complex, this collection explores the body as a site of physical violence, the legacies of authoritarianism, the collapse of the myth of the Argentine nation, and the battles over the definition of social and geographical place. It examines violence as a cause and result of the transformations undergone by the Argentine state, economy, and society.
About the Editors
Carolina Rocha is assistant professor in Spanish at Southern Illinois University Edwardsville. She is co-editor, with Hugo Hortiguera, of Argentinean Cultural Production during the Neoliberal Years.
Elizabeth Montes Garcés is head of the department of French, Italian, and Spanish at the University of Calgary. She is the the editor of Relocating Identities in Latin American Cultures
With Contributions By: Fernando Reati, Myriam Osorio, Elizabeth Montes Garcés, Carolina Rocha, Gabriela Copertari, Beatriz Urraca, Ignacio López-Vicuña, Natalia Jackovkis, Zulema Moret, and Victoria Ruétalo
Praise for Violence in Argentine Literature and Film
A useful document of contemporary criticism . . . this anthology deserves a space (for very different reasons) among required class bibliography, at the university library, and in both the graduate student's and the specialist's bookshelves.
—Verónica Garibotto, Revisita de Estudios Hispánicos
Table of Contents

Acknowledgements
Introduction

The Legacy of the Military Years

Torture and Abuse as a National Art Form: Gustavo Nielsen's Auschwitz
Fernando Reati

Subjection and Injury in El vuelo de la reina by Tomas Eloy Martinez
Myriam Osorio

Desire and Violence in Ana Maria Shua's La muerte como efecto secundario
Elizabeth Montes Garces

Violence and Representation: Postdictatorship Visions in Lita Stantic and Albertina Carri
Ana Forcinito

Paradise Lost

Barbaric Spectacles: Masculinities in Crisis in Popular Argentine Cinema in the 1990s
Carolina Rocha

Far From Heaven: On El cielito, by Maria Vicotria Menis
Gabriela Copertari

An Argentine Context: Civilization and Barbarism in El aura and El custodio
Beatriz Urraca

The Re-Signification of Social and Geographical Spaces

Postnational Boundaries in Bolivia
Ignacio Lopez-Vicuna

Contesting Spaces, Contesting DIscources in Bolivia by Adrian Caetano
Natalia Jackovkis

The Violence of the Site
Zulema Moret

Projecting Buenos Aires Back to the Future: Violence in Argentine Post-Dictatorship Science Fiction Film
Victoria Ruetalo

List of Contributors
Index