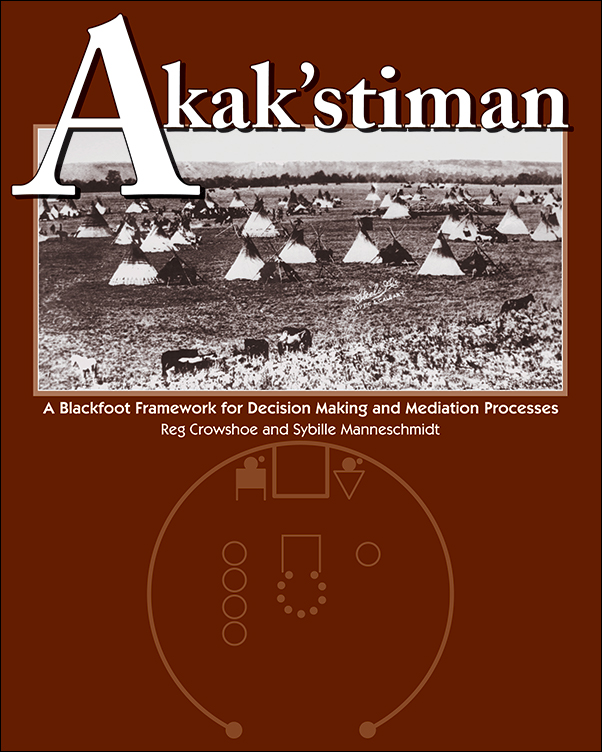 Akak'stiman: A Blackfoot Framework for Decision-Making and Mediation Processes
---
Reg Crowshoe and Sybille Manneschmidt
$19.95 CAD / $19.95 USD (S)
104 pages, 19 illustrations
8 x 10 Inches
978-1-55238-044-4 (Paperback)
978-1-55238-277-6 (Institutional PDF)
March 2002
About the Book
A practical survey of the interfaces of Blackfoot health traditions and European theories of health and healing on the Peigan Reserve that offers a new model for integrated management and practice.
Today, two health structures exist on the Peigan reserve. One is based on Blackfoot culture, and the other is based on European theories of health and healing. Although both methods are used on the reserve, the government only acknowledges the European approach. This book describes Blackfoot healing traditions, their spiritual foundations, and their historical development in great detail.
Akak'stiman shows how Blackfoot healing methods can be integrated with western approaches on the Peigan reserve. Oral evidence from interviews with elders and historical documents bring varying approaches to this timely topic. This book is an important document in the neglected field of Indigenous procedures and philosophies.
About the Authors:
Reg Crowshoe is a well-known Blackfoot ceremonialist who lives on the Peigan reserve in southern Alberta. He is the executive director of the Oldman River Cultural Centre and has pioneered and initiated cross-cultural programs for many organizations and institutions across Western Canada. Reg is the son of the revered Native spiritual leader Joe Crowshoe. He has earned an honorary doctorate in law from the University of Calgary.
Sybille Manneschmidt is a psychologist, international health consultant, author, and rancher. She earned her doctorate from the University of Alberta and has worked with the Peigan nation for twenty years. She is a sessional teacher at the University of Lethbridge.
Praise for Akak'stiman: 
This publication has begun the very difficult task of building the bridge between Aboriginal and non-Aboriginal management practice … There are few books on Aboriginal programming but none that provide a model that is derived from a true, original source. The model proposed in this book is grounded in traditional practice.
—Linda Manyguns, Lawyer
Blackfoot people have been resolving conflicts and making decisions for countless generations. It only makes sense that over this vast time they evolved highly successful methods of social resolution. Fortunately, Crowshoe and Manneschmidt have researched and resurrected this ancient knowledge and made it relevant to modern issues in the Native world. This is an important book; one that is unique in the literature about First Nations.
—Jack Brink, Curator of Archaeology, Provincial Museum of Alberta
This book presents a traditional Blackfoot view of health. More importantly, it offers practical applications of traditional knowledge, that can be used in dealing with aboriginal health issues today.
—Dr. Cathy Scrimshaw, physician in Pincher Creek and on the Peigan Reserve
Table of Contents

Introduction
Summary
Acknowledgements

1. Introduction
Background Information
Methodology

2. History of the Peigan People
Prehistoric Times
Dog Days
Horse Days
Early Contact
Treaty Days
The Early Twentieth Century
Population
Starvation
Epidemics

3. Social Structures
Family and Extended Family
Bands
Tribe
Societies
Leadership
Roles of Men and Women

4. Peigan/Blackfoot Concepts of Sacred Bundles and their Functions
The Natoas (Sun Dance Bundle)
The Beaver Bundle
The Thunder Medicine Pipe Bundle
Societies'' Bundles
Individual or Personal Bundles

5. Transfer Rites

6. The Blackfoot Circle Structure Processes

7. Healing, Health Services, and Health Providers
Traditional Blackfoot Medical Care
Western Medical Services
Canadian Government Health Bureaucracy

8. The Blackfoot Circle Structure Model and its Application Health Administration

9. An Application Mediation Process in Child Protection and Business

10. Conclusion

Appendices
A. Creation Store
B. First Contact Between White Men and Blackfoot
C. Legend of Star Boy (Later, Poia, Scarface)
D. The Elk–Woman
E. Origin of the Long Time Pipe
F. Origin of the Medicine Pipe
G. Loss and Capture of the Thunder Pipe
H. Transfer History of the Small Thunder Medicine Pipe
I. Interview: Bull Horn Doctor

Notes
Bibliography