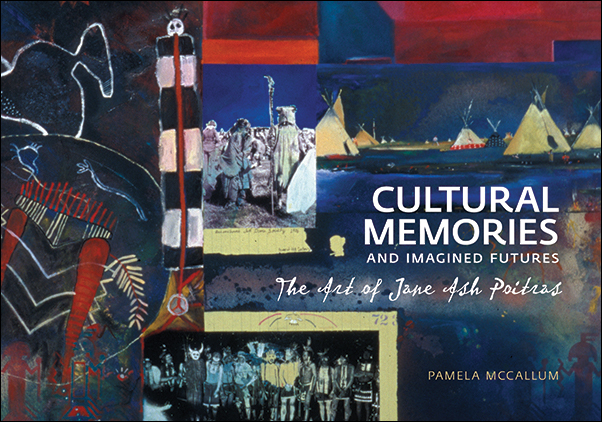 Cultural Memories and Imagined Futures: The Art of Jane Ash Poitras
---
Pamela McCallum
$34.95 CAD / $41.95 USD (T)
160 pages, 28 illustrations
10 x 7 inches
978-1-55238-271-4 (Paperback)
978-1-55238-506-7 (Institutional PDF)
August 2011
About the Book
The first book-length study of Indigenous Canadian artist Jane Ash Poitras, featuring full-colour illustrations and the most extensive bibliography of writings on Poitras to date.
In the past decade, Jane Ash Poitras, a First Nations woman from northern Alberta, has emerged as one of the most important Canadian artists of her generation.
Raised by a German widow who powdered her dark skin and tried to make her straight hair curl, Poitras did not begin to fully explore her indigenous roots until adulthood. Seeking out her extended family and participating in profound cultural experiences, she began to discover the side of herself that she was denied as a child. At the same time, she made a commitment to her art.
With the opportunity to pursue a masters degree at Columbia University in New York, Poitras was at the centre of the North American contemporary art scene. Together, these dual influences shaped Poitras unique style, one that combines representational strategies of postmodern art—collage, layering, overpainting, incorporation of found objects—with a deep commitment to the politics and issues common to indigenous peoples.
Cultural Memories and Imagined Futures situates Poitrass work in the national context of Canadian First Nations art during the late 1980s and early 1990s, the period when she began to receive wide recognition. It is the first book-length study to examine Poitrass career as a whole, recounting her development as an artist, participation in major exhibitions, and recognition as a significant Canadian and international artist. Along with detailed analyses of specific artworks, Pamela McCallum has also compiled the most extensive bibliography of writings on Poitras to date.
About the Author
Pamela McCallum is a professor of English at the University of Calgary. She was one of the founding members of the editorial group for Cultural Critique at the University of Minnesota.
Cultural Memories and Imagined Futures in the Media
Honours and New Exhibits for Celebrated Artist Jane Ash Poitras, Alberta Native News
Double Honours for Jane Ash Poitras Plus a Major Show of Her Art, Muscrat Magazine
Table of Contents

Acknowledgements

Introduction

Beginnings

Indigenous Arts and Traditions of Art History

"It was the right time"

Who Discovered the Americas

Living in the Storm Too Long

Indigena

A Sacred Prayer for a Sacred Island

Painting the Colonial Archive

Painting the Popular Culture Archive

Communities

Blackboards and Writing in Paint

The Artist and Spirituality

Works Cited and Consulted

Notes

Index