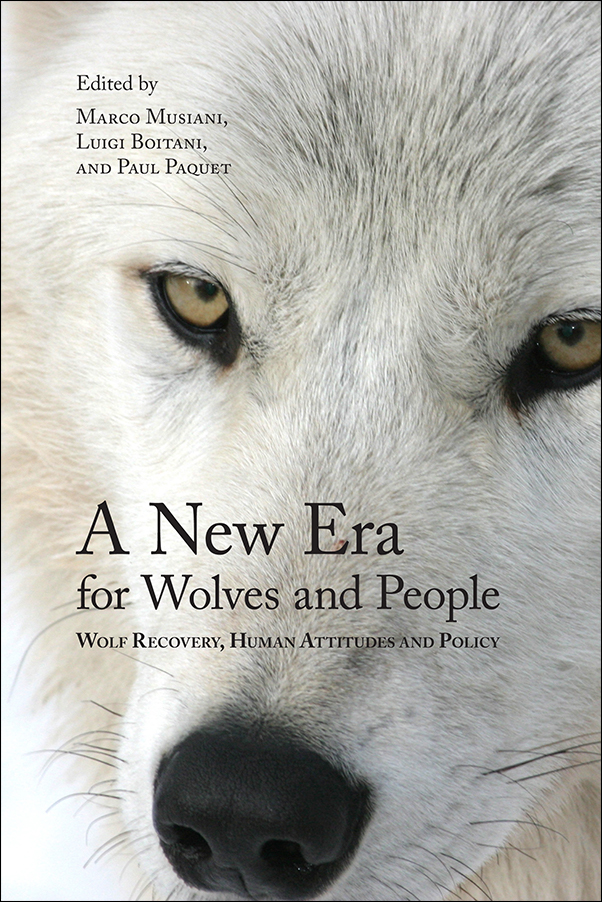 A New Era for Wolves and People: Wolf Recovery, Human Attitudes, and Policy
---
Edited by Marco Musiani, Luigi Boitani, and Paul Paquet
$29.95 CAD / $34.95 USD (S)
224 pages, 49 illustrations
6 x 9 Inches
978-1-55238-270-7 (Paperback)
978-1-55238-489-3 (Institutional PDF)
October 2009
About the Book
Wolf experts and scientists bring their expertise to this fascinating analysis of the human ethics, attitudes, and policy and their effects on the management of the wolf population in Europe and North America.
Wolves hold an almost mythical status in the cultural history of Europe and North America. For hundreds of years, they have been the subject of fairy tales and other lore, embodying mystery, cunning, and sometimes threat. People are drawn to their beauty, intrigued by their behaviours. Yet for those who live in close proximity to wolves, coexistence is fraught with many serious issues.
Wolf management is an excellent model of human-nature interaction and the challenges that come along with it. A New Era for Wolves and People analyzes the crucial relationship between human ethics, attitudes, and policy and the management of wolf populations in Europe and North America. The contributors to this volume assert that these human dimensions affect wolf survival just as much, if not more, than the physical environment.
Contributors include recognized scientists and other wolf experts who introduce new and sometimes controversial findings.
A New Era for Wolves and People includes colour photographs by David C. Olson and drawings by wildlife artist Susan Shimeld.
About the Editors
Marco Musiani is an associate professor of landscape ecology at the University of Calgary and is also affiliated with the University of Montana. He was born in Rome, the city of the famous she-wolf, and has conducted research and published internationally on wolf management.
Luigi Boitani is the head of the Department of Animal and Human Biology at the University of Rome and a leading authority on wolves. He has conducted an extended series of research and conservation projects on the Italian wolf population, which has recovered dramatically in the last thirty years. He has authored more than two hundred peer-reviewed scientific publications and eight books.
Paul Paquet is an adjunct professor with the faculties of Biology and Environmental Design at the University of Calgary. He has studied wolves for more than thirty-five years and is considered an authority on carnivore ecology with international research experience. He has published more than a hundred peer-reviewed articles.
With Contributions By: Ed Bangs, Alistair J. Bath, Marc Bekoff, Dean E. Beyer, Jr, Paolo Biucci, Juan Carlos Blanco, Luigi Boitani, Yolanda Cortes, John Erb, Camilla H. Fox, James H. Hammill, Mike Jimenez, Randle L. Jurewicz, Curt Mack, Steve Nadeau, Brian Roell, Carolyn Sime, Suzanne A. Stone, Denise Taylor, Timothy R. Van Deelen, David A. Weitz, Jane E. Wiedenhoeft, and Adrian P Wydeven
Praise for A New Era for Wolves and People
I recommend this book to anyone wanting to better understand current issues that wolf advocates face.
—Pat Goodmann, The Wolf Park News 
Table of Contents

List of Tables
List of Figures
Biographies of Editors, Contributing Authors, and Artists (drawings and photos of wild wolves only)
Acknowledgements

Introduction—Newly Recovering Wolf Populations Produce New Trends in Human Attitudes and Policy
Marco Musiani, Luigi Boitani, and Paul C. Paquet

Section I—Art and Science in Management Plans for Recovering, Recolonizing and Reintroducing Wolves

1.1 Wolf Management across Europe: Species Conservation without Boundaries
Luigi Boitani and Paolo Ciucci

1.2 Ecological and Social Constraints of Wolf Recovery in Spain
Juan Carlos Blanco and Yolanda Cortés

1.3 Grey Wolf Conservation in the Great Lakes Region of the United States
Adrian P. Wydeven, Randle L. Jurewicz, Timothy R. Van Deelen, John Erb, James H. Hammill, Dean D. Byer Jr., Brian Roell, Jane E. Widenhoeft, and David A. Weitz

1.4 The Art of Wolf Restoration in the Northwestern United States: Where to Now?
Ed Bangs, Mike Jimenez, Carolyn Sime, Steve Nadeau, and Curt Mack

Section II—Human Cultures and Ethics Influencing Recovering Wolves

2.1 Ethical Reflections on Wolf Recovery and Conservation: A Practical Approach for Making Room for Wolves
Camilla H. Fox and Marc Bekoff

2.2. Compensation and Non–lethal Deterrent Programs: Building Tolerance for Wolf Restoration in the Rockies
Suzanne A. Stone

2.3 Education as a Conservation Strategy: Exploring Perspective Transformation
Denise Taylor

2.4 Working with People to Achieve Wolf Conservation in Europe and North America
Alistair J. Bath

Literature Cited
Colour Photos
Index