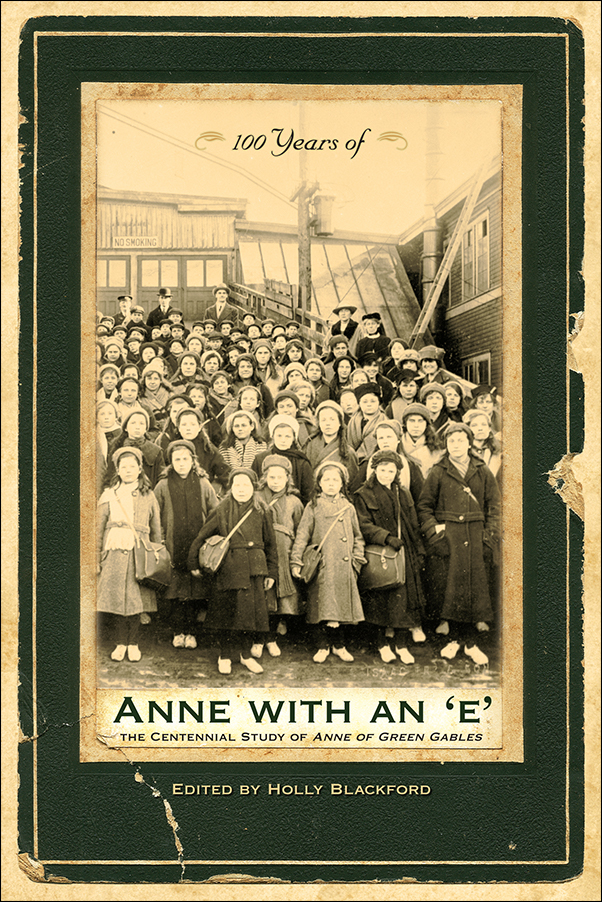 100 Years of Anne with an 'e': The Centennial Study of Anne of Green Gables
---
Edited by Holly Blackford
$29.95 CAD / $34.95 USD (S)
306 pages
6 x 9 Inches
978-1-55238-252-3 (Paperback)
978-1-55238-488-6 (Institutional PDF)
April 2009
About the Book
The centennial study of Anne of Green Gables, bringing together international, cross-disciplinary scholars to examine the lasting legacy and cultural impacts of the most famous girl from P.E.I.
"I cast 'moral' and 'Sunday School' ideals to the winds and made my 'Anne' a real human girl." – L. M. Montgomery
Anne fans everywhere celebrated the 100th birthday of Lucy Maud Montgomery's Anne of Green Gables in 2008. Though Anne has always been recognized as a Canadian classic, her story is loved the world over.
In 100 Years of Anne with an "e", Holly Blackford has brought together an international community of scholars who situate L. M. Montgomery's novel in its original historical and literary context, discuss its timeless themes, and explore its aesthetic and cultural legacy across time and place.
Blackford's collection certainly proves Anne's international appeal, gathering contributors from Australia, Canada, Germany, Ireland, and the United States. Their essays explore diverse themes such as L.M. Montgomery's career and writing practices, her influence on Canadian fiction, shifting views and definitions of childhood, domesticity, identity and place, and Anne on film.
This new look at the beloved red-headed orphan will appeal to any reader who just can't get enough of Anne.
About the Editor:
Holly Blackford is an associate professor of English and scholar of women's, children's, adolescent, and American literature at Rutgers University. She has published extensively on novels of youth and development by such authors as Louisa May Alcott, J. M. Barrie, Margaret Atwood, Lewis Carroll, Mark Twain, Henry James, and Harper Lee. Her first book, Out of this World: Why Literature Matters to Girls, is an ethnographic study of girls who find in literature a meaningful aesthetic experience.
With Contributions By: Joy Alexander, Hilary Emmett, Irene Gammel, Monika Hidler, Melissa Mullins, Eleanor Hersey Nickel, Sharyn Pearce, E. Holly Pike, Cornelia Remi, Laura, M. Robinson, Christiana R. Salah, and Theodore Sheckels 
Praise for 100 Years on Anne with an 'e': 
An invaluable aid to exploring some of the most important contextual and literary challenges and contributions of Montgomery's novels.
—Jane Mattison, British Journal of Canadian Studies
A useful contribution to the ever more crowded field of Mongomery Studies.
—Margaret Mackey, Children's Literature Association Quarterly
Table of Contents

 

Acknowledgments

Introduction

Anne with an "e": The Enduring Value of Anne of Green Gables
Holly Blackford

I. Writing and Placing Anne

1. Wildwood Roses and Sunshine Girls: The Making of Anne of Green Gables as a Popular Romance
Irene Gammel

2. L.M. Montgomery and Literary Professionalism
E. Holly Pike

3. Anne with Two "G"s: Green Gables and Geographical Identity
Joy Alexander

II. Romancing Anne: Language and Silence

4. Negotiating the Well-Worn Coin: The Shifting Use of Language in L.M. Montgomery's Anne of Green Gables
Melissa Mullins

5. "Mute Misery": Speaking the Unspeakable in L.M. Montgomery's Anne Books
Hilary Emmett

6. "The World Hasn't Changed Very Much": Romantic Love in Film and Television Versions of Anne of Green Gables
Elanor Hersey Nickel

III. Quoting Anne: Intertextuality at Home and Abroad

7. Anne to Her Ancestors: Self-Reflexivity from. Younge and Alcott to Montgomery
Laura M. Robinson

8. Anne of Green Gables, as Intertext in Post-1960 Canadian Women's Fiction
Theodore Sheckles

9. Interactions with Poetry: Metapoetic Games with Anne in Astrid Lindgren's Madicken
Cornelia Rémi

IV. Maturing Anne: Gender and Empire

10. A ministry of Plum Puffs: Cooking as a Path to Spiritual Maturity in L.M. Montgomery's Anne Books
Christina R. Salah

11. The Methods of Nature: Revisiting Domesticity in L.M. Montgomery's Anne of Green Gables
Monika Hilder

12. Constructing a "New Girl": Gender and National Identity in Anne of Green Gables and Seven Little Australians
Sharyn Pearce

Chronology of Important Events in the Life and Career of Anne's Creator: Lucy Maud Montgomery

About the Contributors

Index
Awards
SHORTLISTED, BPAA Alberta Book Publishing Award - Readers' Choice | 2009