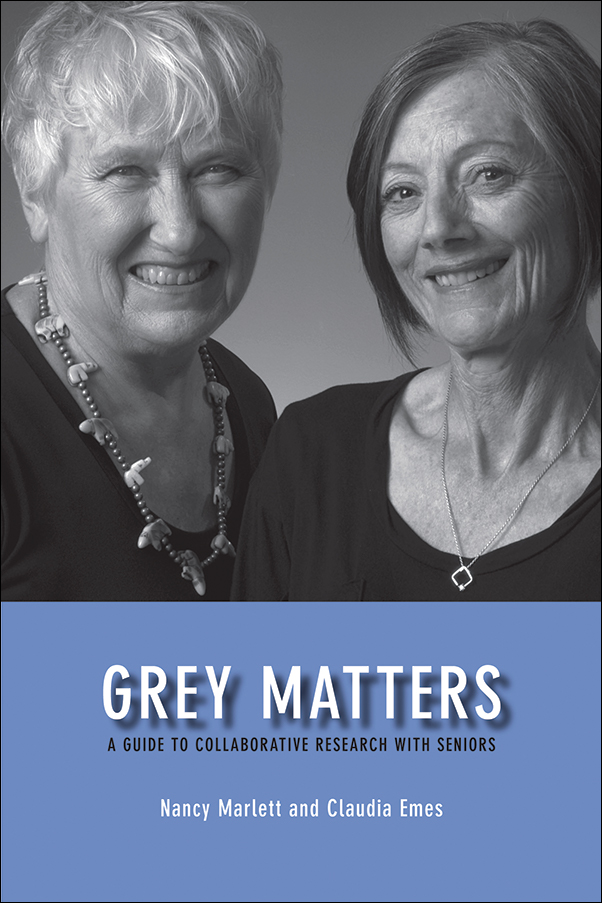 Grey Matters: A Guide for Collaborative Research with Seniors
---
Nancy Marlett and Claudia Emes
$24.95 CAD / $28.95 USD (T)
344 pages, 36 illustrations
6 x 9 inches
978-1-55238-251-6 (Paperback)
978-1-55238-487-9 (Institutional PDF)
978-1-55238-728-3 (ePub)
978-1-55238-927-0 (mobi)
October 2010
About the Book
This study marks a major step in making collaboration between seniors, academic researchers, and community researchers a reality. Many aging adults are motivated to undertake research projects in later life or even return to university after retirement. Grey Matters is the result of a pilot project developed to study the effectiveness of collaborative research involving seniors. Because the project was such a success, the authors were encouraged to make their model available both to seniors interested in undertaking their own research and to those hoping to involve seniors in collaborative research. This guide provides a helpful framework for making the most of research projects by and with seniors, including sections on such techniques as narrative interviews, focus groups, and surveys. Grey Matters is the inaugural Open Access book from the University of Calgary Press.
Nancy Marlett is the director of Community Rehabilitation & Disability Studies, an interdisciplinary unit of the Faculty of Education at the University of Calgary. Her research interests include the development of research models and program evaluation that facilitate shared expertise and new forms of knowledge.
Claudia Emes is a professor in the Faculty of Kinesiology at the University of Calgary. Her areas of expertise are adapted physical activity for children and adolescents with special needs, wellness and exercise for seniors, and curriculum design and learner-centred education
With Contributions By: Penny Jennett, Bob Stebbins, Joan Ryan, Dorothy Dooley, and Marianne Rogerson.
Table of Contents

Acknowledgements

The Kerby Centre of Excellence

Prologue: Senior's Collaborative Research Manual

Section 1: The Reason for the Book. How It Came to Be

1. Making Room for Seniors: Research with, for, and by Aging Adults

2. Resilience and Seniors: What We Did and What We Learned about Doing Research

Section 2: Research Methods Manual

3. Field Research

4. Interviews and Questionnaires

5. Focus Group Research

6. Narrative Research

Section 3: Conducting Inquiries and Research

7. READY: Setting the Agenda for Your Research

8. SET: Creating Your Research Proposal

9. GO: Conducting Research and Sharing Results

Further readings and resources

Appendices

Appendix 1. Resilience as Social Capital: Lessons from Older Adults
Appendix 2. Handout of Basic Principles of PAR

Appendix 3. Sites and Sources: Seniors and Resilience Research Proposal

Appendix 4. Observation Workbook for Field–Work

Appendix 5. Focus Group Training Notes

Appendix 6. An Example of a Structured Workbook Approach to Focus Groups

Appendix 7. Follow–Up Focus Group to Discuss Rural Resilience Findings

Appendix 8. Report of the Focus Group Meeting with CJCA Seniors Club

Appendix 9. Narrative Interview Guide

Appendix 10. Examining Social Problems

Appendix 11. Navigating the "Seven C's": Curiosity, Confirmation, Comparison, Changing, Collaborating, Critiquing, and Combinations

Appendix 12. Elder Self–Neglect: Project Description