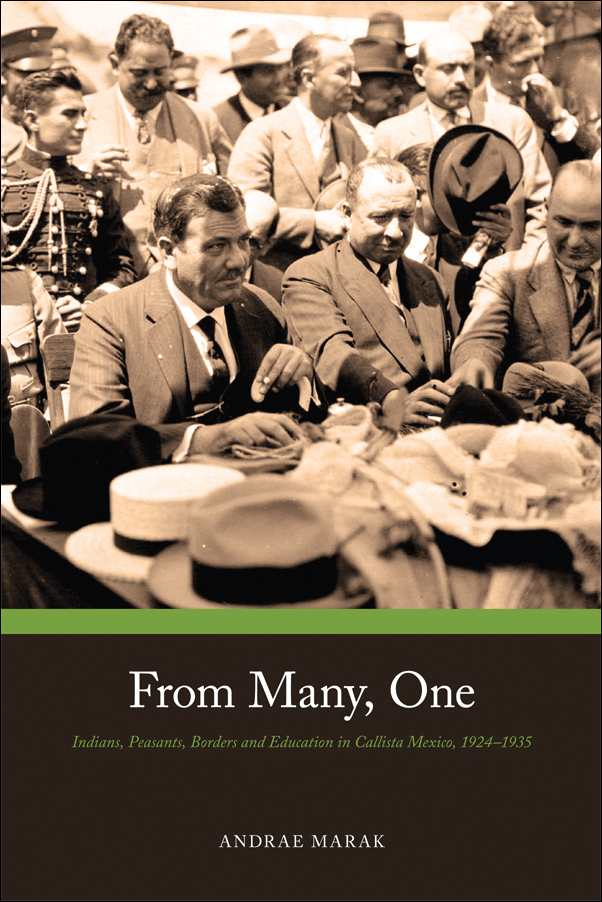 From Many, One: Peasants, Borders, and Education in Callista, Mexico, 1924-1935
---
Andrae M. Marak
$34.95 CAD / $39.95 USD (S)
256 pages, 12 illustrations
6 x 9 inches
978-1-55238-250-9 (Paperback)
978-1-55238-485-5 (Institutional PDF)
April 2009
About the Book
Plutarco El'as Calles implemented national educational policies with the goal of a prosperous, culturally unified Mexico. Andrae Marak explores these contentious policies and their effects on the rural and indigenous people they affected.
From Many, One looks at the educational policies and practices of the presidency of Plutarco El'as Calles in post-revolutionary Mexico. Andrae Marak examines attempts of the Calles government to centralize control over education in the U.S.-Mexican borderlands region and to transform its rural and indigenous inhabitants into more "mainstream" Mexicans.
During his presidency and the period known as the Maximato, Plutarco El'as Calles put in place a series of national educational policies with the goal of constructing an economically prosperous and culturally unified Mexico. Marak's analysis of the federal government's attempt to promote nationalism highlights the ways in which the federal government sought to incorporate and unify Mexico through centralization and assimilation as well as the ways in which it tried to define itself in relation to what was not Mexican, an especially prominent issue along the U.S.-Mexican border. Calles' new educational policies sparked a good deal of backlash among those affected.
Marak's study focuses on three main incidents which caused the most contention: the establishment of frontier schools along the border in order to promote nationalism and protect against the onslaught of U.S. cultural and economic imperialism; the takeover of state primary schools by government inspectors in Chihuahua; and the government's indigenous assimilation program, which aimed to integrate numerous culturally distinct groups into a monocultural Mexican nation.
About the Author
Andrae Marak is an assistant professor of history and political science at California University of Pennsylvania and an associate of the Center for Latin American Studies at the University of Pittsburgh.
Praise for From Many, One
Marak's arguments are solid and his work fills an important void in the scholarship of the revolutionary policies of the Calles administration.
—Monica A. Rankin, The American Historical Review
An anthropological history offering fascinating, beautifully researched indigenista microhistories. It also provides surprising insights into the melange of Callista educational politics at precisely the point where "nation" meant most to the regime and least to would-be citizens.
—Matthew Butler, Canadian Historical Review
Table of Contents

Preface

Acknowledgments
Introduction: The Role of the State and Educational Reform in Mexican Nation Building
1. The Callista Program
2. Federalization of Education in Chihuahua
3. The Tarahumara
4. The Seri
5. The Tohono O'odham
6. Frontier Schools
Conclusion
Notes
Bibliography
Index