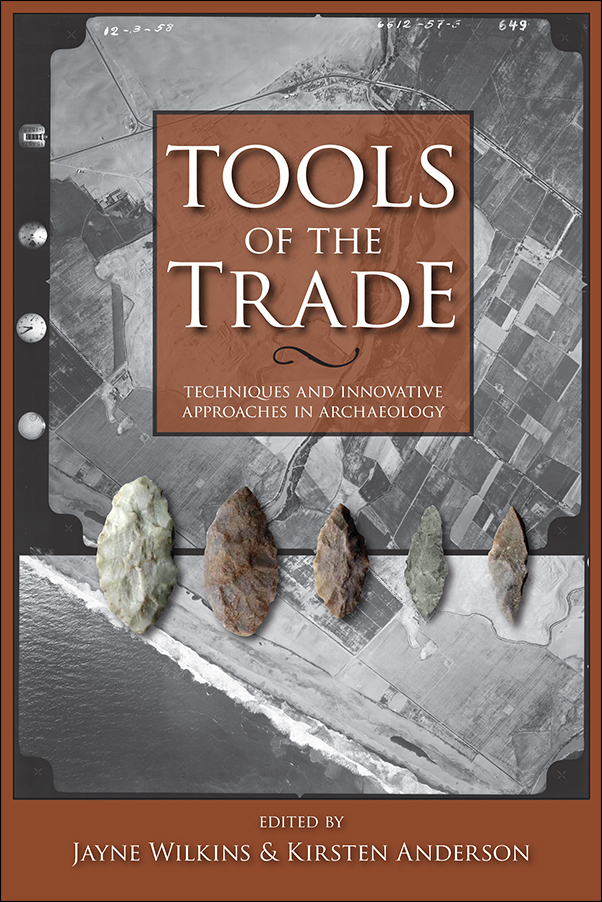 Tools of the Trade: Methods, Techniques and Innovative Approaches in Archaeology
---
Edited by Jayne Wilkins and Kirsten Anderson
$39.95 CAD / $40.95 USD
344 pages, 77 illustrations
978-1-55238-249-3 (Paperback)
978-1-55238-484-8 (Institutional PDF)
April 2009
About the Book
What does it mean to be us and how can we find out? Tools of the Trade is an impressive collection of essays from archaeologists, covering a diversity of geographic regions and periods.
Tools of the Trade presents a collection of academic papers from international archaeologists, senior professors, and students alike. Each chapter focuses on the discussion and application of unique and innovative 'tools' for archaeological analysis and interpretation, including micro- and macro-botanical analysis, experimental study, off-site survey, lithic use-wear, ceramic petrography, DNA analysis, chaëne opératoire, space syntax, and Geographic Information Systems.
As a collective volume, Tools of the Trade also covers an impressive diversity of geographic regions and time periods, such as Precolumbian Mesoamerica, Plio-Pleistocene Africa, prehistoric and historic North America, and ancient Polynesia. Finally, this volume provides a somewhat introspective look at the origins of tool use, technological development, and the means by which we have become the only species to ask the questions: What does it mean to be us and how can we find out?
About the Editors
Jayne Wilkins received her master's degree in Archaeology at the University of Calgary and her PhD in Anthropology at the University of Toronto. Her research interests include lithic analysis, hunter-gatherer archaeology, the African Stone Age, and modern human origins. She has participated in the excavation and analysis of archaeological sites in South Africa, Mozambique, and Alberta, Canada.
Kirsten Anderson studied in the Department of Archaeology at the University of Calgary. Her research focuses on prehistoric hunter-gatherers of the Canadian Plains and the use of three-dimensional spatial analysis for the identification of hearth-related activities.
With Contributions By: Jayne Wilkins, Kirsten Anderson, Susan Cachel, Pamela R. Willoughby, Nicholas Walker, Eugene M. Gryma, Purple Kumai, Jason Roe, Michael J. Shott, Meaghan M. Peuramaki-Brown, Leslie G. Cecil, Tobin C. Bottman, Maria Victoria Monsalve, Dongya Y. Yang, E. Gwyn Langemann, Leslie Main Johnson, Ryan T. Brady, Go Matsumoto, José Roberto Pellini, Joshua J. Wells, Ciler Kirsan, and Ruth Conroy Dalton
Praise for Tools of the Trade
Tools of the Trade will certainly appeal to geoarchaeologists and archaeological scientists.
—Kathleen Nicoll, Geoarchaeology
Table of Contents

Introduction
Jayne Wilkins and Kirsten Anderson

Great Ape Tool Use and the Oldowan
Amber E. MacKenzie

Natural History Intelligence and Hominid Tool Behaviour
Susan Cachel

Tempo and Mode in the Paleolithic: How to Understand the Origins of Culture
Pamela R. Willoughby

A Game of Inches: An Experimental Approach to Understanding How Atlatl Length Affects Performance
Nicholas Waher

Microscopic and Use-Wear Studies Plus Microblade Replication: Experiments with Raw and Heat-Treated Glass Buttes Obsidian
Eugene M. Gryba and Purple Kumani

Making and Understanding Embarras Bipoints: The Replication and Operational Sequencing of a Newly Defined Diagnostic Stone Tool from the Eastern Slopes of Alberta
Jason Roe

Systematic Properties of Stone Tool Reduction: Curation Analysis of Paleoindian Bifaces and Unifaces
Michael J. Shott

The Chaine Operatoire of Ceramic Manufacture and Ceramic Petrography: A Case Study from Rancho del Rio, Northwestern Honduras
Meghan M. Peuramaki-Brown

Archaeometric and Non-Archaeometric Techniques and Their Relevance to Understanding Human Behaviour
Leslie G. Cecil

Stable Isotope Analysis of Marine Shell to Determine Geographic Provenance: Implications for Prehistoric Trade Route Research
Tobin C. Bottman

Molecular Analysis of Ancient Cervid Remains rom Two Archaeological Sites: Banff National Park and Rocky Mountain House National Historic Site, Alberta
Maria Victoria Monsalve, Dongya Y. Yang and E. Gwyn Lagemann

Tools for Interpreting Past Plant Use by Subarctic and Northern Northwest Coast Peoples
Lesime Main Johnson

Variable Wetland Use at the Mono Lake: Basin, Eastern California: Perspectives from a Non-Site Approach
Ryan T. Brady

Fill in the Gap between Theory and Practice: Making a GIS-based Digital Map of Pachacamac
Go Matsumoto

Economy in Ancient Egypt: The Use of GIS for Understanding Different Spheres of Exhchange
Jose Roberto Pellini

A Space Syntax Analysis of Dohack and Range Phase Villages in the American Bottom
Joshua J. Wells

The Spatial Morphology of Deficient Samples: Applying 'Special String-Matching' Methods to an Incomplete Data of Vernacular Houses
Ciler Kirsan and Ruth Conroy Dalton

Contributors
Index