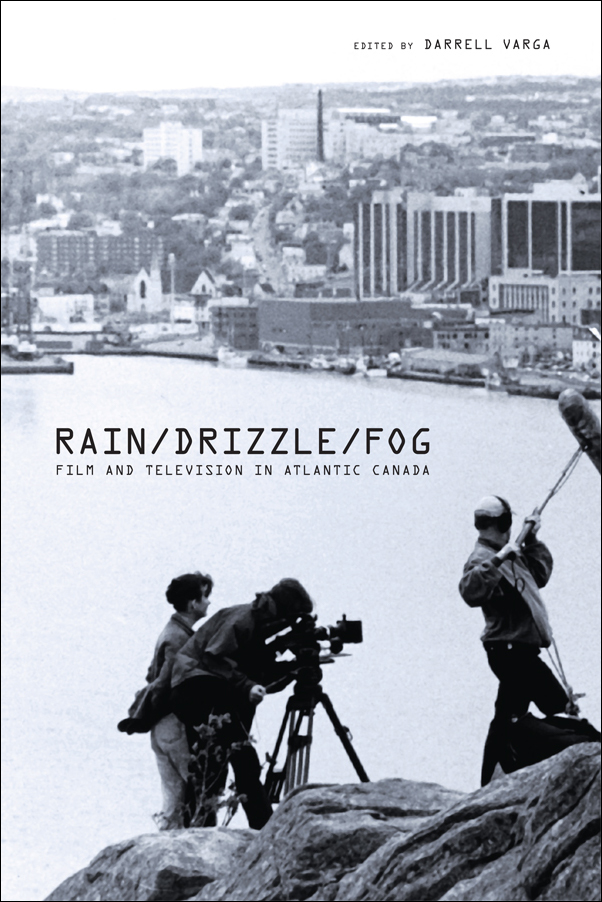 Rain/Drizzle/Fog: Film and Television in Atlantic Canada
---
Edited by Darrell Varga
$34.95 CAD / $39.95 USD
340 pages, 27 illsutrations
6 x 9 inches
978-1-55238-248-6 (Paperback)
978-1-55238-266-0 (Institutional PDF)
January 2009
About the Book
Rain/Drizzle/Fog is the first scholarly study of film and television in Atlantic Canada. With contributors from across the country, the book provides a broad historical overview of film and television in the region, as well as essays on specific topics in contemporary popular television (Trailer Park Boys), early television (Don Messer's Jubilee), and the work of filmmakers such as Bill MacGillivray, Andrea Dorfman, Thom Fitzgerald, and others.
This collection is informed by a critical perspective on prevailing stereotypes of culture in the Atlantic region, as well as by history and political-economy debates on the relationship between Atlantic and central Canada. It is also in large part a response to the continued marginalization of regional film and television within the field of Canadian film studies, which has traditionally been dominated by a critical and artistic canon from central Canada and Quebec.
Rain/Drizzle/Fog challenges the prevailing tendency to homogenize the complexity of Canadian cultural production and instead celebrates the regional distinctions that make Atlantic film and television unique.
Darrell Varga is Canada Research Chair in Contemporary Film and Media Studies at NSCAD University (Nova Scotia College of Art and Design), where he teaches courses in film history, documentary film, and Canadian cinema. He has published widely on Canadian cinema and is the co-editor of Working on Screen: Representations of the Working Class in Canadian Cinema.
With Contributions By: Darrell Varga, Colin Howell, Peter L. Twohig, Pierre Véronneau, Shana McGuire, Gregory Canning, Noreen Golfman, Malek Khouri, Jerry White, Jen Vanderburgh, John McCullough, Tracy Y Zhang, Bruce Barber, Andrew Burke, and Sylvia D Hamilton
Praise for Rain/Drizzle/Fog:
This is an exciting new collection sure to create ripples throughout Canadian film studies . . . an important new addition to the literature on Canadian screen culture.
—Zo' Druick, School of Communication, Simon Fraser University
Rain/Drizzle/Fog is fascinating reading for anyone intrigued by the international history of television
—James A. Cox, The Midwest Book Review
Table of Contents

Acknowledgements

Introduction: "Nothing Ever Happens Down There"
Darrell Varga

A Region on Film: Metropolitanism, Place, and Meaning in NFB Film
Colin Howell and Peter L. Twohig

A Journey Through Acadian Cinema
Pierre Veronneau, Translated by Shana McGuire

Moving Pictures at the Opera House: The Introduction of Motion Pictures to the Town of Turo, Nova Scotia, 1897-1914
Gregory Canning

Documenting the Seal Fishery: A Short History of Newfoundland Film
Noreen Golfman

A Parochial Newfoundland: Gordon Pinsent's Film Tale about Tradition, Progress, and Resistance
Malek Khouri

Guys with Brylcreem Discussing Fish Processing: Form, Community, and Politics in the NFB's Newfoundland Project
Jerry White

When the Jig Was Up: What Don Messer's Maritime Nostalgia Meant to the Nation
Jen Venderburgh

Imperialism, Regionalism, Humanism: Gullage's, Trailer Park Boys and Representations of Canadian Space in Global Hollywood
John McCullough

On the Fringe of the "Canadian State": Grassroots Film and Video Movements in Halifax, 1960s-1980s
Tracy Y. Zhang

Arbitrary Productions: Thom Fitzgerald's The Movie of the Week
Bruce Barber

Site Specific: Visualizing the Vernacular in Andrea Dorfman's Parsley Days
Andrew Burke

The Social Production of Place in Four Films About Artists
Darrell Varga

Searching for Portia White
Sylvia D. Hamilton

Select Bibliography
Contributors
Index