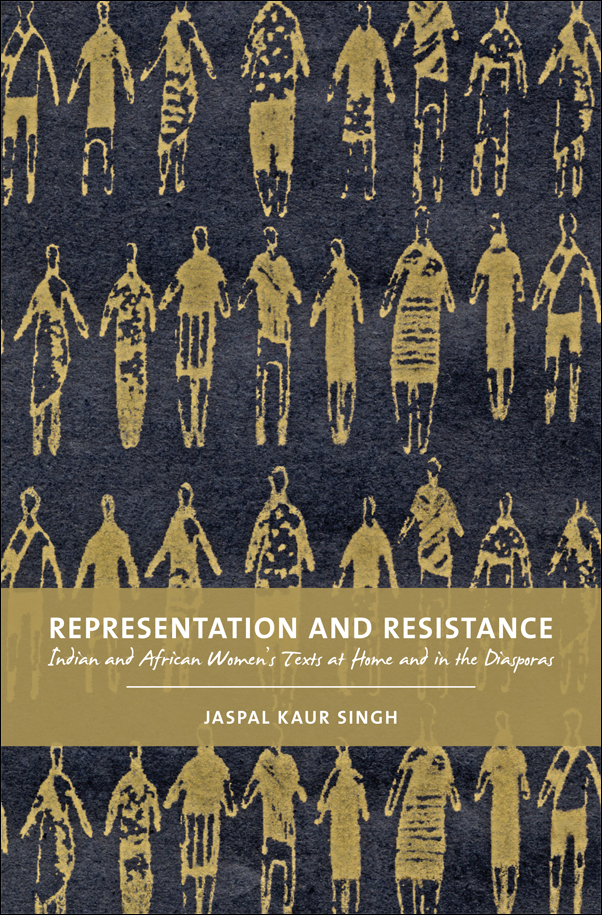 Representation and Resistance: South Asian and African Women's Texts at Home and in the Diaspora
---
Jaspal Kaur Singh
$34.95 CAD / $39.95 USD
246 pages, notes, bibliography, index
978-1-55238-245-5 (Paperback)
978-1-55238-267-7 (Institutional PDF)
November 2008
About the Book
Representation and Resistance: South Asian and African Women's Texts at Home and in the Diaspora compares colonial and national constructions of gender identity in Western-educated African and South Asian women's texts. Jaspal Kaur Singh argues that, while some writers conceptualize women's equality in terms of educational and professional opportunity, sexual liberation, and individualism, others recognize the limitations of a paradigm of liberation that focuses only on individual freedom.
Certain diasporic artists and writers assert that transformation of gender identity construction occurs, but only in transnational cultural spaces of the first world-spaces which have emerged in an era of rampant globalization and market liberalism. In particular, Singh advocates the inclusion of texts from women of different classes, religions, and castes, both in the Global North and in the South.
Jaspal Kaur Singh is a professor in the Department of English at Northern Michigan University, where she teaches courses in postcolonial and world literatures.
Praise for Representation and Resistance:
An in-depth critical analysis of transnational, cultural-diasporic spaces of resistance emergent in a globalized era and apparent in women writers', filmmakers', and artists' renditions of identification and homing.
—Anastasia Christou, Auto/Biography Studies
Table of Contents

Preface
Acknowledgments

Postcolonial Women Writers and their Cultural Productions

Dominant Epistemologies and Alterative Readings: Gender and Globalization

The Indian Diaspora and Cultural Alimentation in Bharati Mukherjee's Texts

Postcoloniality and Indian Female Sexuality in Aparna Sen's Film Parama

Educational Debates and the Postcolonial Female Imagination in Mariama Ba's So Long a Letter

The Diasporic Search for Cultural Belonging in Myriam Warner-Vieyra's Juletane

Maddening Inscriptions and Contradictory Subjectivities in Tsitsi Dangarembaga's Nervous Conditions

Globalism and Transnationalism: Cultural Politics and the Texts of Mira Nair, Gurinder Chadha, Agnes Sam, and Farida Karodia

Queering Diaspora in Shani Mootoo's Cereus Blooms and Night Nisha Ganatara's Chutney Popcorn and Deepa Mehta's Fire

Transnationalism and the Politics of Representation in the Texts of Meena Alexander, Gurinder Chadha, Zanib Ali, and Samina Ali

Conclusion: The Politics of Location and Postcolonial/Transnational Feminist Critical Practice

Notes
Bibliography
Index