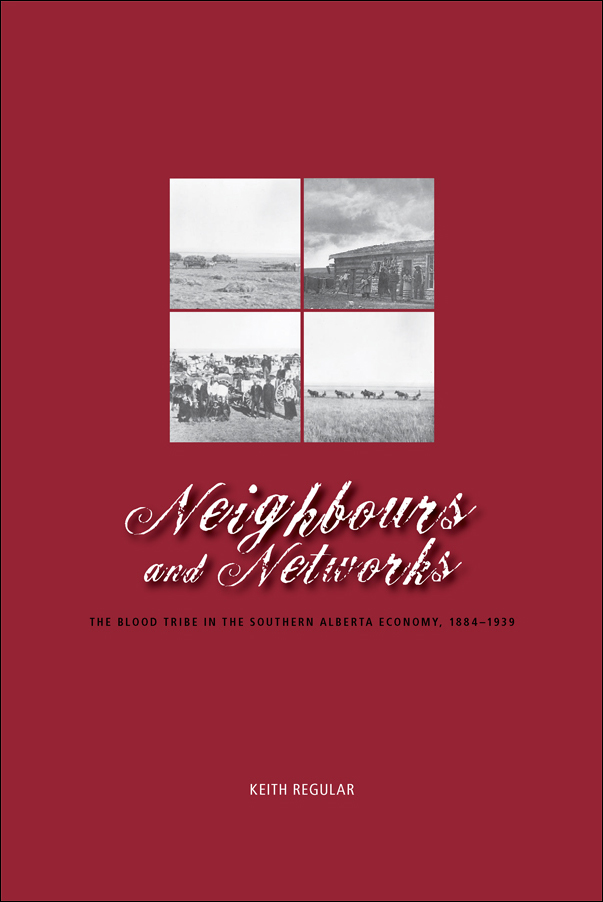 Neighbours and Networks: The Blood Tribe in the Southern Alberta Economy, 1884-1939
---
W. Keith Regular
$34.95 CAD / $35.95 USD
261 pages, 23 illustrations
6 x 9 inches
978-1-55238-243-1 (Paperback)
978-1-55238-483-1 (Institutional PDF)
February 2009
About the Book
Neighbours and Networks explores the economic relationship that existed between the Blood Tribe and settler-colonial inhabitants of Southern Alberta between 1884 and 1939.
The Blood Tribe, though living on a reserve, refused to be economically isolated. Instead, they became significant within the Southern Alberta economy. Their land was important to the ranching industry. Their products, especially coal and hay, were sought after. They were expert freighters and skilled labourers, crucial to the effective function of industry. Blood Tribe ties to the merchant economy, especially in Cardston and Fort Macleod, provided significant support for the settler-colonial communities.
This economic growth and success was built on the successful interactions of Indigenous and settler-colonial people, systems, and cultures. In Neighbourhoods and Networks Keith Regular fills the gap left by a Canadian historiography that largely ignores the economic associations between Indigenous and non-Indigenous people. He refutes the perception that Indigenous communities have played only a minor role in regional development, instead showing the development of a cross-cultural, cooperative, and mutually beneficial economic relationship in the post-Treaty period on the Canadian plains.
About the Author
Keith Regular teaches history and social studies at Elkford Secondary School, Elkford, British Columbia. He received a PhD in history from Memorial University of Newfoundland in 1999.
Priase for Neighbours and Networks:
Regular reveals . . . interesting strategies the Kainai developed for coping with economic change.
—Kenichi Matsui, The Canadian Historical Review
Table of Contents

Tables and Maps
Preface

1: Introduction

The Literature
Theoretical Considerations
The Locale
People
Structures of Movement: The Reserve
Systems of Control: The Reserve
The Rural Community
For McLeod
Cardston
Raymond
Conclusion

2: 'Free Range or Private Property:' Integrating Blood Reserve Land Into the non-Native Economy

Introduction Initial Arraignments: The Ranching Era
The Bloods Take Control
Mixed Farming Interlude
The Bloods' Continued Resistance
World War I and Greater Production
The Challenges of Lease
Depression and Drought
Conclusion

3: 'Selling to Outsiders:' Marketing Coal, Hay, and Freighting Services

Introduction
Market Activities
Coal
Hay
Freighting
The Special Efforts of Agent Wilson
The Market Responds
Conclusion

4: 'All the Indians have Gone to the Beet:' Blood Labour in the Raymond Sugar Field

Introduction
The Industry: Local Evolution
The Blood's Significance
Industry Problems
Retrospective and Conclusions

5: 'A Prospective Citizen of No Mean Importance:' The Bloods and the Business Community

Introduction
The Merchant Environment
The Business of Debt
Businesses Cry Foul
The Department of Indian Affairs: Explanation and Reaction
Depression
Conclusion

6: Conclusion: Change Over Time

Notes Select Bibliography
Manuscript Sources
Official Reports
Private Holdings
Manuscript Sources
Books, Articles, and Pamphlets
Newspapers
Index