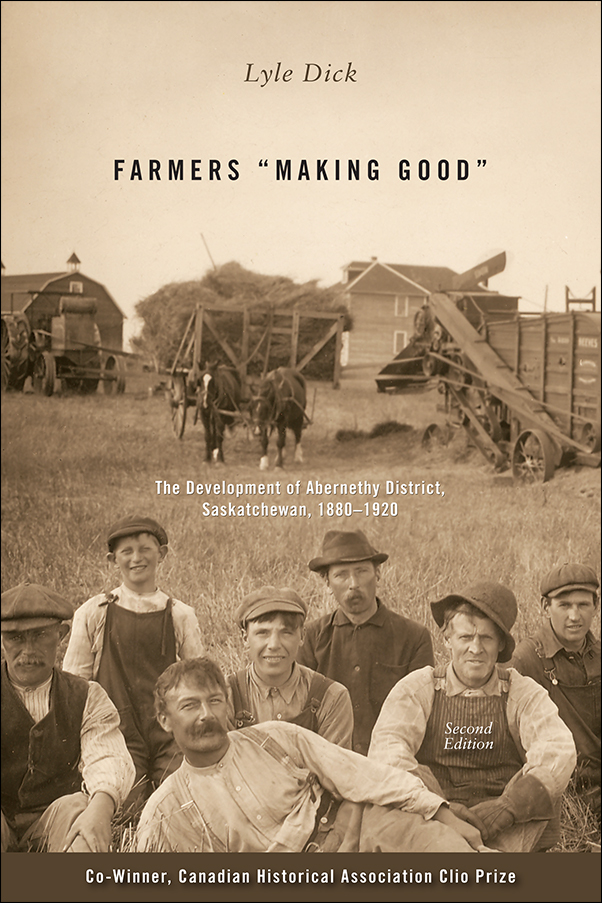 Farmers "Making Good": The Development of Abernethy District, Saskatchewan, 1880-1920
---
Lyle Dick
$34.95 CAD / $39.95 USD (S)
336 pages, 58 illustrations
6 x 9 inches
978-1-55238-241-7 (Paperback)
978-1-55238-265-3 (Institutional PDF)
April 2008
About the Book
In this newly revised edition of the widely praised original, published in 1989, Lyle Dick revisits the Abernethy district of Saskatchewan and his microhistorical analysis of the development of this prairie community.
Between 1882 and 1920, settlers from Ontario established social and economic structures at Abernethy, Saskatchewan. By virtue of hard work, perseverance, and the critical advantage of having arrived first, they transformed the Pheasant Plains into a prosperous farming community.
Using painstakingly collected qualitative and quantitative data, Farmers "Making Good" traces the area's political and economic development, daily life, and social structure and reinterprets the larger history of prairie agricultural settlement in light of Abernethy's remarkable experience.
About the Author
Lyle Dick is the West Coast Historian with Parks Canada in Vancouver, B.C. He has authored sixty-five publications in the fields of Arctic, Canadian, and American history and historiography. His Muskox Land: Ellesmere Island in the Age of Contact was awarded the Harold Adams Innis Prize by the Canadian Federation for the Humanities and Social Sciences in 2003 for the best English-language book in the social sciences.
Praise for Farmers "Making Good"
The writing of public history at its finest.
—Kenneth E. Koons, Journal of Social History
A wide-ranging effort to grapple with questions that remain largely unanswered.
—Ken Sylvester, The Canadian Historical Review 
[An] excellent monograph.
—Thomas D. Isern, Great Plains Quarterly 
Table of Contents

 

Acknowledgements
Preface
Abbreviations
Introduction to the Second Edition

1. The Settlement of Abernethy District
2. Estimates of Homesteading in the Settlement Era
3. Economic Development of the Abernethy District, 1880–1920
4. Work and Daily Life at the Motherwell Farm
5. Abernethy's Social and Economic Structure
6. Social Relationships of the Settlement Era
7. Abernethy's Social Creed
8. Agrarian Unrest in the Central Qu'Appelle
9. Conclusions

Appendix A. Research Design for the Quantitative Analysis of Abernethy Settlement History, By David Greenwood
Notes
Bibliography
Index

 
Awards
CO-WINNER, CHA Clio Prize - The Prairies | 1990