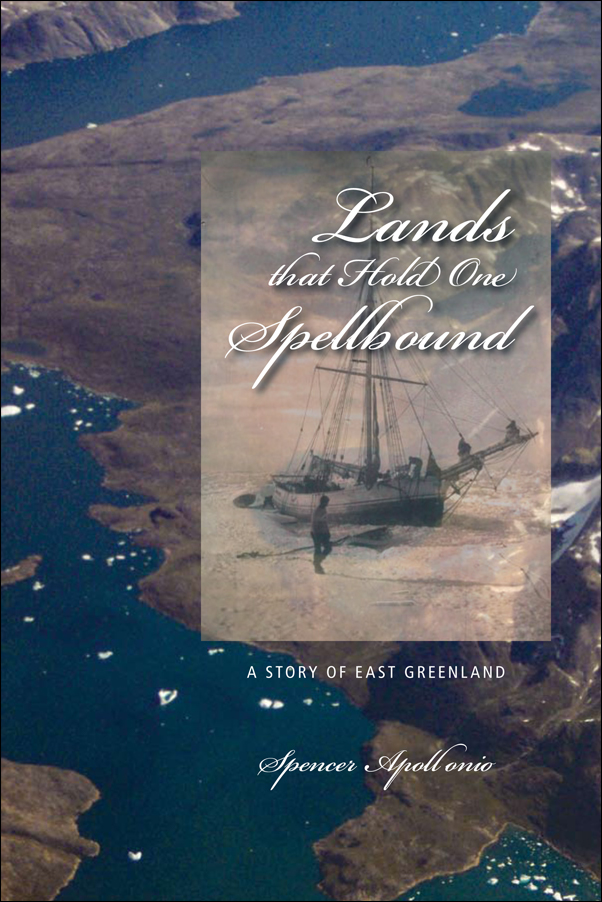 Lands that Hold One Spellbound: A Story of East Greenland
---
Spencer Apollonio
$34.95 CAD / $39.95 USD (S)
342 pages, 32 illustrations
6 x 9 inches
978-1-55238-240-0 (Paperback)
978-1-55238-264-6 (Institutional PDF)
August 2008
About the Book
The never-before-told history of East Greenland, tracing four millennia of Indigenous settlement to European and American exploration through the Second World War, in an exciting tale of great mountains, stranded ships, dramatic sledge journeys and more.
Far north, hidden behind grim barriers of pack ice, are lands that hold one spellbound. Gigantic imaginary gates, with hinges set in the horizon, seem to guard these lands. Slowly the gates swing open, and one enters another world where men are insignificant amid the awesome immensity of lonely mountains, fjords, and glaciers. —Louise Boyd, photographer, 1935
Lands that Hold One Spellbound is an informal history of East Greenland. Spencer Apollonio has written the only known overview of the history of this region, summarizing indigenous settlements over four millennia, and describing European explorations from the Norse period to recent years.
East Greenland, running from Kap Farvel in the south to Kap Morris Jesup in the north, is an immense land of great mountains and fjords, of glaciers and meadowlands, and contrasts of weather perhaps unique in the world. It has been colonized seven different times over 4,000 years by migrants from the west. Intrepid explorers returned year after year, attracted by this land which captivated and enthralled them. But its history has never before been told.
Here, each of the European and American expeditions are recounted, relying extensively on the explorers' original accounts, as well as on the author's often highly evocative narration. Apollonio details the struggles of vessels to reach the coast through the ice pack, the longest Arctic sledge journeys, the peculiar story of World War II in East Greenland, and the impact of centuries of exploration and change on Greenland's indigenous populations.
About the Author
Spencer Apollonio is a retired marine biologist and a fellow of the Arctic Institute of North America (AINA). He has made 14 trips to the Arctic and, in the 1960s, established AINA's Devon Island Research Station.
Praise for Lands that Hold One Spellbound
Fascinating . . . reads like a good story.
—Amazon 
Well put together.
—A.K. Higgins, Arctic
Table of Contents

List of Illustrations
List of Maps
List of Graphs
Foreword
Preface
Acknowledgements
Credits

Introduction: The Nature of the Land
Chapter 1: The Pioneers: Ancient People; First Europeans; Scoresby; Clavering; Graah; Koldewy
Chapter 2: Danish Pre-Eminence: Holm and Garde; Ryder; Nathorst: Peary; Amdrup; Mylius-Erichsen; Mikkelsen; Rasmussen; Koch; Mikklesen
Chapter 3: International Interest: Wordie; Koch; Wordie; Watkins; Boyd
Chapter 4: Exploration, Research, Politics, Sovereignty: Norway; the World Court; Koch; Rasmussen; Mikkelsen
Chapter 5: A Diversity of Expeditions and Interests: Rymill; Boyd: Lindsay/ Courtauld; Wager; Diversified Interests; Boyd
Chapter 6: Exploration Completed, Society Transformed: Knuth; War; Knuth; Simpson; Our Times; "Compulsory Civilization"

Afterword
Glossary
Bibliography
Index