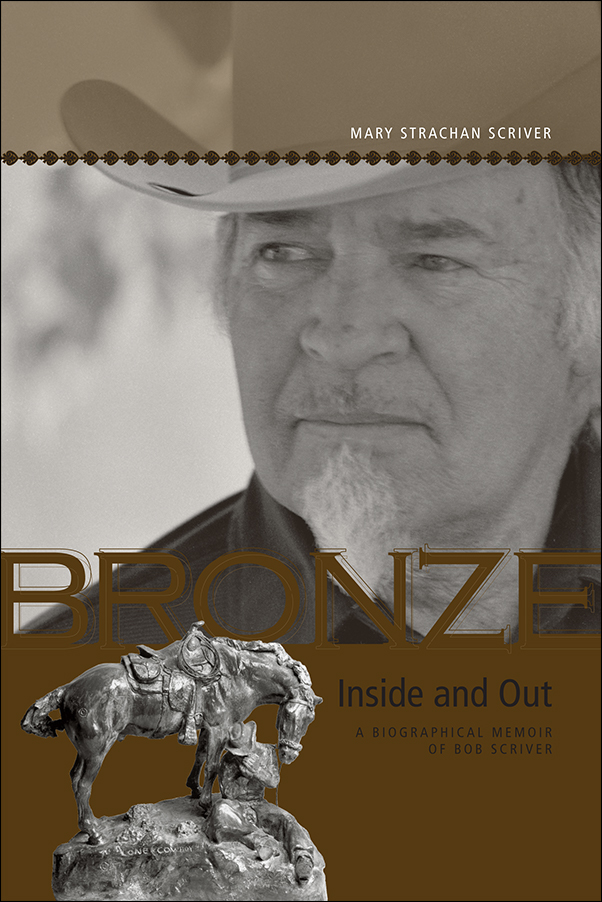 Bronze Inside and Out: A Biographical Memoir of Bob Scriver
---
Mary Strachan Scriver
$44.95 CAD / $44.95 USD (S)
392 pages, 65 illustrations
6 x 9 inches
978-1-55238-227-1 (Paperback)
978-1-55238-297-4 (Institutional PDF)
December 2007
About the Book
More than any other book that I can think of, Bronze Inside and Out puts a human face on Western art—indeed, all art. It invites us to ponder the very nature of the creative process. . . . from the foreword by Brian W. Dippie, University of Victoria
Bronze Inside and Out is a literary biography of sculptor Bob Scriver, written by his wife, Mary Strachan Scriver. Bob Scriver is best known for his work in bronze and for his pivotal role in the rise of "cowboy art." Living and working on the Montana Blackfeet Reservation, Scriver created a bronze foundry, a museum, and a studio – an atelier based on classical methods, but with local Blackfeet artisans. His importance in the still-developing genre of "western art" cannot be overstated.
Mary Strachan Scriver lived and worked with Bob Scriver for over a decade and was instrumental in his rise to international acclaim. Working alongside her husband, she became intimately familiar with the man, his work, and his process. Her frank, uncensored, and highly entertaining biography reveals details that give the reader a unique picture of Scriver both as man and as artist. Bronze Inside and Out also provides a fascinating look into the practice of bronze casting, cleverly structuring the story of Bob Scriver's life according to the steps in this complicated and temperamental process.
Mary Strachan Scriver lives in Valier, Montana, near the Blackfeet reservation, where she has worked as a teacher, a writer, and a Unitarian minister.
Praise for Bronze Inside and Out:
A richly illustrated narrative ingeniously paralleling the stages of [Bob Scriver's] life.
—Rohland Bohr, Manitoba History
How often do we have the chance to read a critic who participated in the creation and promotion of the works she studies? Mary Strachan Scriver brings to Bronze Inside and Out that personal connection, and thus is able to accurately recreate the western social and environmental contexts within which her husband, the sculptor Bob Scriver, worked.
—Martin Murie, Interdisciplinary Studies in Literature and Environment
Table of Contents

Foreward
Acknowledgements

Part One: Prelude

GENRE: AMERICAN BRONZES

Why we learned to cast bronze and what it is like
Browning, Montana, early Sixties
How I got to the Blackfeet Reservation and what it was like
Browning, Montana, 1961
History of the Blackfeet and how artists joined them
High northern prairie, 1600s forward
"Indian Days"
Browning, Montana, in the Sixties
The roots of American equestrian Bronzes
Washington, D.C., 1780s to the 1800s

PROVENANCE: FAMILY HISTORY

The importance of story: the quick–draw guy
Browning, 1968
Bob's genealogical roots and how his parents got to Browning
The Palatine to England to Quebec to Montana, 1600s to 1900s
Bob's Childhood
Browning, World War I and after
The white community and how Bob acquired an Indian "Mother"
Milk River Ridge, the Twenties
Artists on the Scene
Glacier Park, the Twenties
Earl Heikka, "crazy artist feller"
Great Falls, Twenties and Thirties

INSPIRATION: FROM MUSIC TO SCULPTURE

First career: leading prize–winning high school bands
1934–1950
Second career: successful taxidermist
Browning, 1950-1964
The Scriver Museum of Montana Wildlife
Browning, the Fifties
The earliest sculptures and the C.M. Russell Contest
Browning, the Fifties
Beginning to sell
Browning, late Fifties

PLASTILENE: THE EARLY YEARS

About the material and what it demands
Greenwich Village, the Forties
Malvina Hoffman's plastilene
Greenwich Village, the Forties
Platilene sculptures shelved
Browning, 1962
The miniature wildlife dioramas: a team effort
Browning, Spring 1962
Bob nearly goes blind
Browning, Summer 1962
Evelyn Cole
Chinook, Montana, 1967
My first hunting trips
The Rocky Mountain Front, Fall 1962

ARMATURE: FORMING STRUCTURE

About armatures
The armature of Bob's inner world
Browning, the sixties
The Buffalo Roundup: We both ride
Moiese, 1963
Organic armatures: skeletons
Bynum, Sun River, Moiese, Starr School, mix–Sixties
Broken ribcage
Browning, 1965

WASTE MOULD: SHARDS ON THE TABLE

Waste molds, made for destruction
Dick Flood
The northern prairie, Fifties and Sixties
Ace Powell
Hungry Horse, and Browning, 1928-1976
John Clarke
East Glacier, 1881–1970
The last full–mount: a moose
Browning, 1968
Eegie
Browning, 1968
Electric cowboys
Cut Bank Creek, 1965
Life in Browning
The Sixties
Drifters
Browning, mid–Sixties
Downhill
Hudson's Bay Divide, Late Sixties

PLASTER ORIGINAL: FIRST SUCCESS

About plaster originals: the key
George Grey
Browning, 1968
American Artist and Paul Juley
Browning 1964
True Magazine
Browning, 1965
New York Shows
Manhattan, 1963
Glenbow Foundation
Calgary, 1967
Christmas
Browning, 1964
Hunting in the Snow
East front of the Rockies, 1965

BLACK TUFFY: TROUBLES BEGIN

About flexible moulds
Browning, Fifties and foreward
The Big Flood
Blackfeet Reservation, 1964
Animals drive a wedge
Bob the conservative, Mary the activist
Browning, 1969
Keith Seele, James Willard Schultz, Lone Wolf and Paul Dyck
The Reservation 1966
Overwork and blow–ups
Browning 1969
Into the Wild, Bucky, and breaking points
The reservation, late Sixties
Hunting again, Sweetgrass Hills

MOTHER MOLD: WIVES AND OTHERS

About mother molds
Ellison Westgarth Macfie Scriver
Alice the high school kid
Browning and Malta, 1937–1943
Jeanette the firebrand
Edmonton and Browning, 1946–1959
Arlene the ideal
Browning, 1959–1962
Mary the English teacher
Browning, 1966–1970
Lorraine the widow
Browning and Vancouver Island, 1972–2002

LOST WAX: CRUCIFIX, PIETA, AND MARGARET

Maxing of a wax duplicate
Portrait of a polo player
Santa Rosa, Anacortes, 1967
Bob's daughter dies
Anacortes, 1967 and 1968
Maurice poses for Jesus
Browning, 1967 and 1968
Lost in grizzly country
St. Mary's, 1969

Part Two: Crescendo

INVESTMENT: NEW YORK CITY

Old–fashioned plaster investment
To Tell the Truth and Malvina Hoffman
New York City, 1965
A Moose hunt
Swan Hills, Alberta 1969

CASTING BRONZE: THE BUFFALO BILL HISTORICAL CENTER

Casting bronze: a review
Browning, Montana, 1932–1999
One hundred bronzes
Browning and Cody, 1969
Harry Jackson
Cody and Browning, 1969
A jubilant hunting trip
East Front of the Rockies, 1969

MOLTEN BRONZE: COWBOY HALL OF FAME

Moment of truth
The Western art boom
C.M. Russell Museum Benefit Auction
Great Falls, Montana, 1970 to the present
Dean Krakel, cowboys and Indians
Oklahoma City, 1965 to the end
Bill Lindermana
Denver and Browning, 1967–1970
The National Rodeo Finals
Oklahoma City, 1970
Asger Mikkelson
Browning,1970–1975
Meltdown of a marriage

Part Three: Diminuendo

CHASING: THE THUNDER PIPE BUNDLE

How to "chase"a bronze
Blackfeet religious ceremonies
Browning, 1963 to 1999
Blackfeet ceremonial objects
Bob cuts the rawhide
Browning, 1963
Cree hauling ceremony, Blackfeet bundle opening
Browning, 1967 to 1999
The Thunder Pipe Bundle transfer
Browning, 1969
Countin Coup
Browning and Edmotnon, 1976–1990
The million–dollar artifact collection
Browning and Edmonton, 1990 to present
he Badger Lodge
Browning and Two Medicine, 1971

TORCH: THE PRINCE OF PEACE

Welding bronze
Browning, 1963 foreward
Losing family members
1976 forward
The Prince of Peace
1982 forward
Trying to rekindle the flame
Browning, 1985 forward

COOLING: LEWIS AND CLARK

The journey slows
Fort Benton and Great Falls, 1974 foreward
Lewis and Clark begin
Fort Benton, 1974 forward
Distinguished Achievements
Great Falls 1990
Long quiet days in the shop
Browning, 1988 forward
Facing Death
Browning, late Ninties
Death on Bob's terms
Browning, 1999
"The Man in Buckskin"
Valier, 2002

PATINA: OVERVIEW

How patinas are formed
What is a "great artist"
The artist as customer
The Flatiron Ranch
Browning, 1980
The last visit and goodbye
Browning, 1998
Four Sculptors, four destinies
Browning, 1929

Notes
Bob Scriver Timeline
Biblography