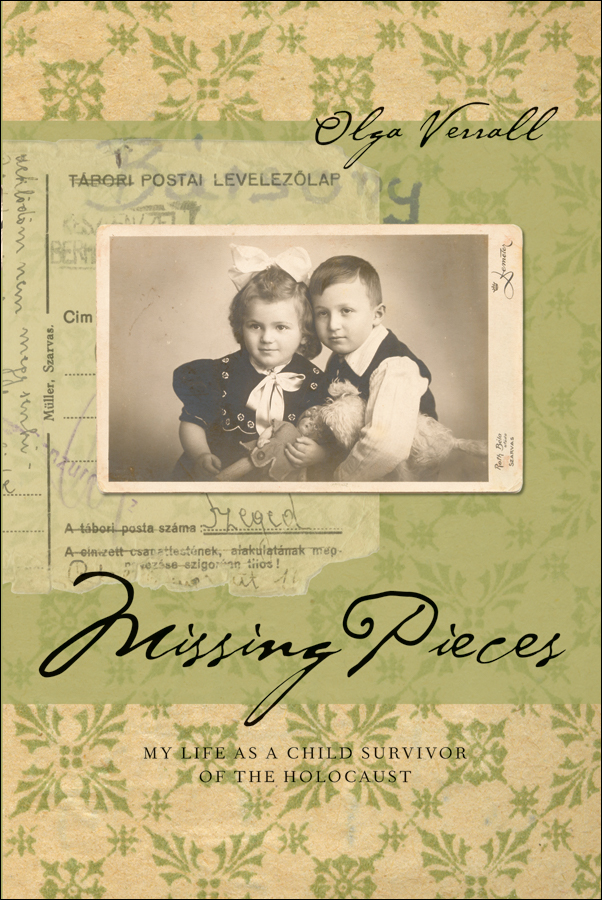 Missing Pieces: My Life as a Child Survivor of the Holocaust
---
Olga Verrall
$24.95 CAD / $28.95 USD
272 pages, 15 illustrations
6 x 9 inches
978-1-55238-220-2 (Paperback)
978-1-55238-404-6 (Institutional PDF)
June 2007
About the Book
Olga Barsony Verrall tells her story of survival, from the destruction of her idyllic childhood by the Nazi invasion of 1944 through labour camps and Communist oppression, through immigration to Canada and addiction, emptiness and anger in a memoir of tragedy, healing, and hope.
Until age seven, Olga Barsony Verrall lived an idyllic life in Szarvas, a small town in Hungary, surrounded by her doting, observant Jewish family. After the Nazi invasion in 1944, Olga found herself, along with most of her family, interned in the Auspitz (Hustopece) labour camp. Eventually reunited after the war, the family returned to Szarvas, only to face a different kind of oppression at the hands of the new Communist government.
After immigrating to Winnipeg in 1957, Olga met and married Orland Verrall, the cantor at Rosh Pina synagogue. Together they built a new life in Canada and soon welcomed two daughters, Judy and Lesley. Yet Olga continued to be haunted by her past. Though she was very young during her time in the camp, Olga had vivid and painful memories of the horrifying things she had seen and experienced there. A nagging sense of emptiness and anger stayed with her all her life. After her beloved husband Orland passed away, her emotional state became increasingly fragile, and she became dependent on prescription drugs to numb her pain.
A long journey of physical and mental healing, along with the support of her family, helped Olga piece her life back together. For Olga, writing her memoir was a catharsis. For her readers, it will be an inspiration.
About the Author
Olga Verrall was born in Szarvas, Hungary in 1936. She immigrated to Winnipeg and married in 1957. She has two daughters and two grandsons and currently lives in Toronto.
Praise for Missing Pieces
Her story adds to the growing literature related to individual life stories of Holocaust survivors. There is much we can learn from her book.
—Benjamin Schlesinger, Professor Emeritus, University of Toronto
Table of Contents

Forward
Robert Barsony

Preface

Acknowledgements

Chapter 1: Birth, Love, Tradition

Chapter 2: Playful Years End in Tears

Chapter 3: Rude Awakening

Chapter 4: Return to Szarvas

Chapter 5: Budapest: My Teenage Years

Chapter 6: Leaving Hungary

Chapter 7: Coming to Canada

Chapter 8: The Cantor's Wire

Chapter 9: From Winnipeg to Toronto

Chapter 10: Strength, Courage, and Faith

Chapter 11: Life Must Go On

Chapter 12: Return to Hungary