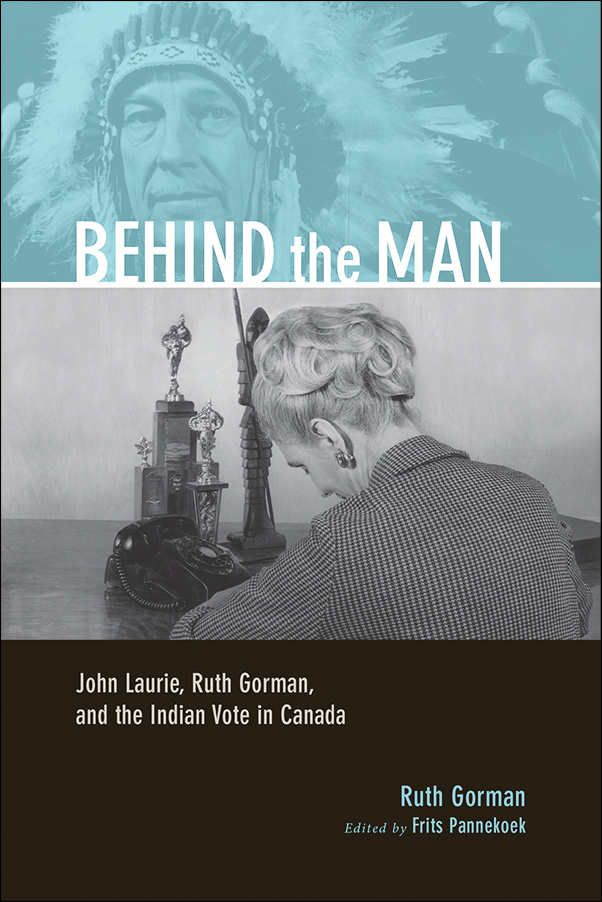 Behind the Man: John Laurie, Ruth Gorman, and the Indian Vote in Canada
---
Ruth Gorman, Edited by Frits Pannekoek
$39.95 CAD / $39.95 USD (S)
324 pages, 19 illustrations
6 x 9 inches
978-1-55238-218-9 (Paperback)
February 2007
About the Book
Both a biography of John Lee Laurie and an autobiography of Ruth Gorman, this is a unique exploration of Alberta's fascinating historical figures and their work challenging inequity and creating change.
Behind the Man is a unique biography of Alberta political figure John Lee Laurie, a key proponent of Indigenous rights in the 1940s and 1950s. Before 1961, Indigenous people were allowed to vote in Federal elections only if they agreed to give up their treaty rights and leave behind their homes and families. Laurie was instrumental in securing amendments to the Indian Act which allowed Indigenous people to access the unfettered vote.
Ruth Gorman worked tirelessly alongside Laurie during these years, and was herself a major force in mobilizing public opinion. Gorman did not lay claim to these efforts, but remained a passionately vocal supporter of John Laurie. She began work on a book about Laurie but as she neared the end of her life became overwhelmed by the project's scope. She reached out to Dr. Frits Pannekoek to assist her in the book's completion.
As Dr. Pannekoek sorted through Gorman's extensive material, he quickly realized that her project was both a biography and an autobiography—the story was as much Gorman's as it was Laurie's. In the tradition of her time, she had taken the position of "the woman behind the man," but in telling Laurie's story she had found a way to tell her own.
Behind the Man introduces Ruth Gorman as one of Alberta's fascinating historical figures—a heroine struggling to balance work and home while facing the inequitable gender and power structures that surrounded her and reminding us that there is always more than one view on history.
Ruth Gorman was the editor and publisher of the magazine My Golden West. Throughout her life she was an advocate for Indigenous rights and a staunch volunteer for those in need.
Frits Pannekoek is the president of Athabasca University. He has published extensively in the areas of western Canadian, Aboriginal, and Métis history, as well as information and communications studies.
Table of Contents

Acknowledgements
Introduction by Frits Pannekoek
Notes to Introduction
Author's Introduction

1. The Mountain
2. The Stars Shone Bright. 3. Strange Omission
4. The Winds of Change Blow across the World
5. An Angry Young Man
6. Laurie Finds the Right Place
7. A Horse Did It
8. Laurie Finds a Family
9. A History Teacher Studies around the Campfire
10. A History Teacher Studies History in Books
11. A Red Métis Meets a White Métis
12. The Department and Enfranchisement
13. The Harsh Reality of Enfranchisement
14. Laurie and the Indians Find Me
15. The Buckskin Curtain
16. Department of Indian Affairs and the IAA
17. New Act and the "Man Behind the Throne"
18. I Take the Case
19. The First Hobbema Hearing, 1951
20. After the Hobbema Hearing / I Go Pubic
21. The Appeal
22. Senatorship
23. Laurie's Death
24. Laurie's Funeral
25. Laurie's Magnificient Record of Chainge
26. The Brief / I Go North
27. I Go to Parliament
28. The Vote

Epilogue
Appendix I: Timeline of events concerning Ruth Gorman and John Laurie's involvement with the Aboriginal people of Canada
Notes
Index