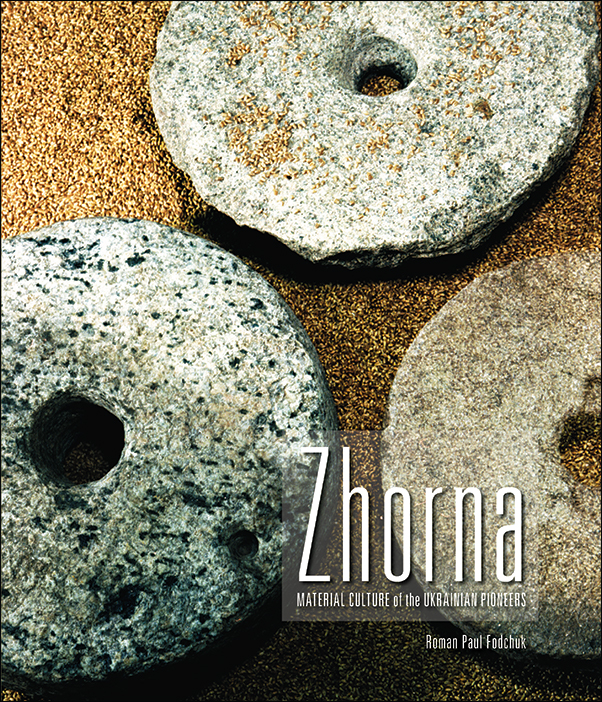 Zhorna: Material Culture of the Ukrainian Pioneers
---
Roman Fodchuk
$34.95 CAD / $39.95 USD
180 pages, 155 illustrations
978-1-55238-197-7 (Paperback)
Out of Print
About the Book
"Zhorna" is the Ukrainian word for a stone mill that was used to grind grain into flour. The zhorna stands as the perfect symbol for the Ukrainian-Canadian pioneers who settled in western Canada. The patience, strength, and tenacity required to transform rough grains into fine flour are exactly the characteristics with which these pioneers approached their life and work. Zhorna celebrates the material culture of Ukrainian settlers in western Canada: their folk architecture, household items, and tools they used to make their living.
While at first glance these objects may seem mundane, they tell the story of a hard-working and resourceful people with a strong sense of practical aesthetics and a close relationship to the earth and nature. Throughout the text, Roman Fodchuk has included vignettes of his childhood on an Alberta farm. His early life on a pioneer homestead, along with his work as a District Agriculturist in the Ukrainian settlement area in the 1950s, provided first-hand experience of the last days of the pioneer era in western Canada. His recollections are illustrated with photographs and fine line drawings of tools, clothing, buildings, and interiors. His knowledge, respect, and passion combine to create a unique tribute to the spirit of the early Ukrainian community in Canada.
Roman Fodchuk has worked extensively as a planning and landscape design professional for Parks Canada, the National Capital Commission, Ontario Parks, and national historic parks and national parks across Canada. His firm initiated the planning and design for the Ukrainian Cultural Heritage Village, a historic park in Alberta.
Praise for Zhorna:
Valuable reading for students of Ukrainian culture, folklore, and also a wider audience interested in pioneer life on the Canadian Prairies.
—Svitlana P. Kukharenko, Great Plains Research
The universal conditions of exile, survival, and adaptation and the author's deeply felt engagement with the things and values of his community will resonate with all readers within the boundaries and memories of our own nostalgic past.
—John Fleming, University of Toronto Quarterly
Table of Contents

Acknowledgments
Preface

Introduction: Part One
Robert Klymasz

Introduction: Part Two
John C. Lehr

Chapter 1: The Journey
Leaving the Homeland
The Voyage
Arrival and Settlement
What. Difference a Generation Makes

Chapter 2: Surviving
The Initial Years
The Necessities
Bags and Baggage
Chests—Tools and Clothing
Tools and Speciality Services
The End of an Era

Chapter 3: Building the Little House on the Prairies
Temporary Housing
Temporary Housing Interior Design
A Permanent Pioneer Home—Khata
Permanent House Interior Design—Khata

Chapter 4: One Hundred and Sixy Acres
Homesteading
Making Hay While the Sun Shines
Threshing
Gardening
Livestock

Chapter 5: Other Tasks
Fencing
Pressing Oil
Sewing/Spinning/Weaving
Roads, Bridges, and Municipal Services

Chapter 6: Food/Celebration
Toloka
Celebrations
Miscellaneous Rituals

Conclusion

Epilogue: A Letter to My Grandchildren

Appendix 1
From Idea to Concept to Reality: The Planning and Design of the Ukrainian Cultural Heritage Village

Appendix 2
Religious History Pertinent to the Ukrainian Settlers in Canada by Stan Homenuk

Glossary
References
Notes
Index
Colour Photographs
Awards
SHORTLISTED, UCFTS Kobzar Literary Award | 2008