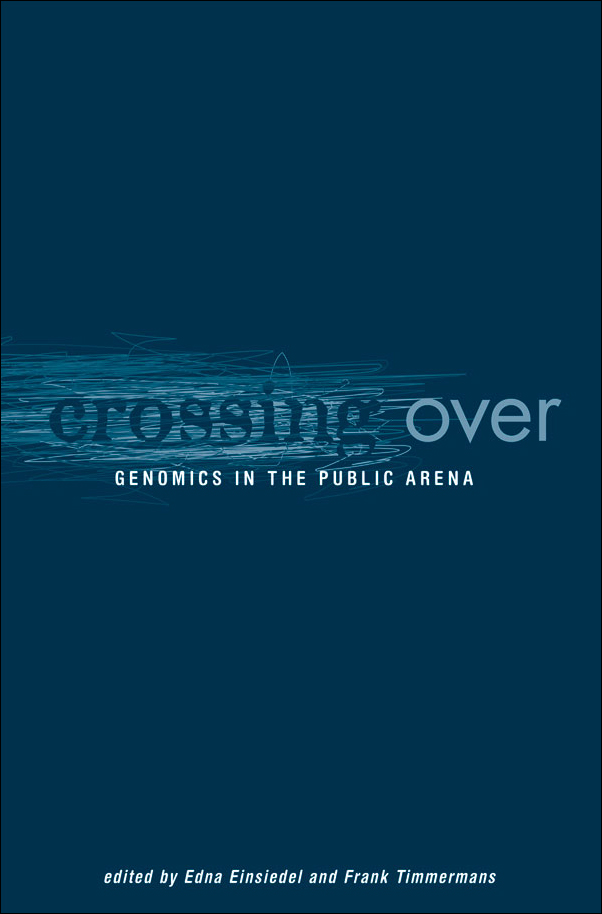 Crossing Over: Genomics in the Public Arena
---
Edited by Edna Einsiedel and Frank Timmermans
$39.95 CAD / $39.95 USD (S)
268 pages, 29 illustrations
6 x 9 inches
978-1-55238-191-5 (Paperback)
978-1-55238-322-3 (Institutional PDF)
December 2005
About the Book
A wide-ranging collection that addresses key questions about issues of ethics, sustainability, media, government, and regulation around the new biology, particularly genomics and biotechonology.
Technologies of the life sciences offer tremendous possibilities but also numerous challenges. Crossing Over looks at the social and ethical issues around the new biology, particularly genomics and biotechnology. It examines the world of biotechnology from different perspectives, including economics, law, communications, the sciences, and bioethics.
The contributors to this volume respond to questions such as: How will we ensure technologies adopted in genomics research are not just economically beneficial but also socially and environmentally sustainable? What is the impact of the media on the development of these technologies? What are the ethical implications? What governance arrangements are appropriate? How are citizens and consumers expected to participate?
Crossing Over's interdisciplinary approach to the analysis of biotechnology in society will ultimately contribute to our overall understanding of this hot-button issue and will help us make better-informed choices for the future.
About the Editors
Edna Einsiedel is University Professor and Professor of Communications Studies in the Department of Communication and Culture at the University of Calgary. She has been a member of numerous policy committees and written on biotechnology for the Canadian government.
Frank Timmermans is a research assistant at the University of Calgary.
With Contributions By: Wiktor Adamowicz, Gardar Árnason, Tania M. Bubela, Michael M. Burgess, Timothy Caulfield, Celeste M.Condit, Robin Downey, Edna Einsidel, Usher Fleising, Rose Geransar, Béatrice Godard, Linda Goldenberg, Wuyang Hu, Anne Hünnemeyer, Lyne Létorneau, Charles Mather, Michael D. Metha, Peter W.B. Phillips, Helge Torgersen, Jon Turney, and Michelle Veeman
Table of Contents

Introduction

Edna Einsiedel

Part 1: The Financial Pipeline

The Challenge of Creating, Protecting, and Exploiting Networked Knowledge

Peter W.B. Phillips

From Bank to Bench to Pharmacy Shelf: Biotechnology and the Culture of Finance

Usher Fleising and Charles Mather

Part 2: Policies and Publics

Agricultural Biotechnology in Europe at the Crossroads

Helge Torgersen

Angels of Vision: Stakeholders and Human Embryonic Stem Cell Policy Development

Robin Downey, Rose Geransar, and Edna Einsiedel

Part 3: From Public Percetpion to Public Participation – Consumer Choice and Dicision–Making

Involving Communities: A Matter of Trust and Communication

Béatrice Godard

Canadian Attitudes to Genetically Modified Food

Michelle Veeman, Wiktor Adamowicz, Wuyang Hu, and Anne Hünnemeyer

Part 4: Framing the Gene – The Media Sphere

Media Representations of Genetic Research

Tania M. Bubela and Timothy Caulfield

Lay People Actively Process Messages About Genetics

Celeste M. Codit

Telling Technological Tales: The Media and the Evolution of Biotechnology

Edna Einsiedel

Part 5: Second Thoughts – Ethical Issues

Ethical Analysis of Representation in the Governance of Biotechnology

Michael M. Burgess

The Regulation of Animal Biotechnology: At the Crossroads of Law and Ethics

Lyne Létourneau

Second Thoughts on Biobanks: The Icelandic Experience

Gardar Árnason

Part 6: Reflections Beyond the Here and Now

In Search of Nanoscale Economics: Intellectual Property and Nano–Mercantilism in the Pre–Assembler and Assembler Stages of Nanotechnology

Michael D. Metha and Linda Goldenberg

Inhuman, Superhuman, or Posthuman?

Jon Turney

Part 7: Conclusions

The Future of Genomics

Peter W.B. Phillips and Edna Einsiedel

Contributors

Index