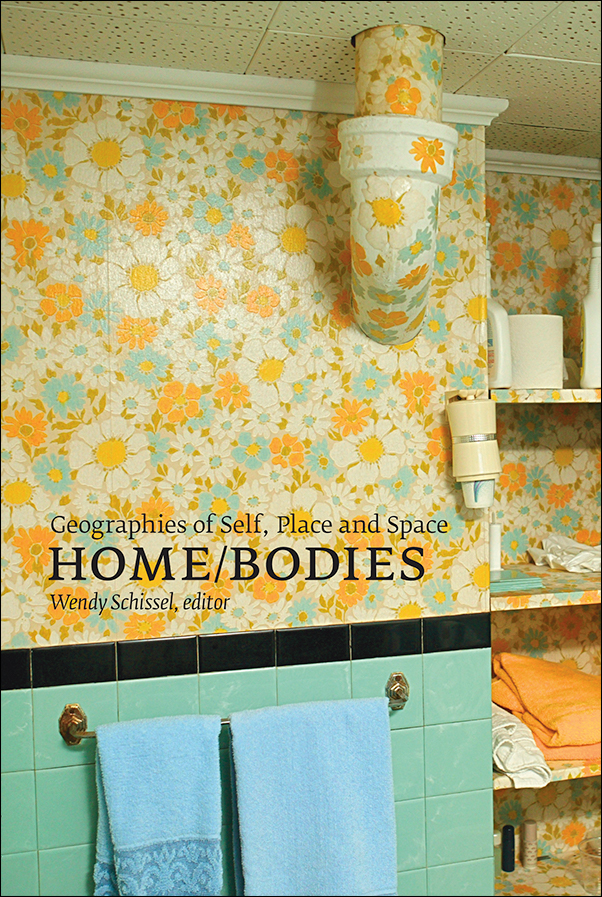 Home/Bodies: Geographies of Self, Place, and Space
---
Edited by Wendy Schissel
$34.95 CAD / $39.95 USD (S)
216 pages
6 x 9 inches
978-1-55238-184-7 (Paperback)
978-1-55238-364-3 (Institutional PDF)
September 2006
About the Book
Bringing together diverse voices, research methods, and scholarships, Home/Bodies is an examination of the metaphorical geographies of bodies, places, and spaces as an exploration of concepts of home, gender, and identity.
With Home/Bodies, Wendy Schissel brings together a diverse range of voices which explore the concepts of home, gender, and identity.
The metaphorical geographies of bodies, places, and spaces are the backdrop for such topics as: transgendered identities; young people and sexual health; kinetic art and disability; adolescent girls and consumer society; palliative care for dying loved ones; women and social activism; and aboriginal and multicultural perspectives.
Qualitative research methods are referenced throughout, including interviews, case studies, focus groups, and narrative research. Home/Bodies includes contributions by several new-generation feminist scholars and researchers, along with established teachers, researchers, and activists in the academy and the community.
About the Editor
Wendy Schissel is the Dean of Humanities at Mt. Hood Community College in Gresham, Oregon, and an adjunct professor at the University of Saskatchewan.
With Contributions By: J. Maria Pedersen, Tabassum Ruby, Coralee Drechsler, Sandra Jarvie, Ellen Whiteman, Allison M. Williams, Maureen G. Reed, Kim Morrison, Denise J. Larsen, Jennifer A. Boisvert, Jocelyn Lock, Tikker Percey, Dian Priebe, Linda Vaudan, Mary Rucklos Hampton, Barb McWatters, Bonne Jeffery, Pamela Smith, Donna L. Goodwin, Joan Krhon, and Arvid Kuhnle
Praise for Home/Bodies
Home/Bodies showcases a wealth of women's lived experiences, challenging readers to consider the contemporary complexity and diversity of gendered identity, embodiment, and belonging in place.
—Deborah Cowen, University of Toronto Quarterly
Table of Contents

Acknowledgments

Introduction

Wendy Schissel

Part 1: Compound Fractures

Oppression and Indigenous Women: Past, Present, and Future—An Australian Kimberly Aboriginal Perspective

J. Maria Pedersen

Who Am I and Where do I Belong? Sites of Struggle in Crafting and Negotiating Female Muslim Identities in Canada

Tabassum Ruby

"Transgendered" Perspectives as a Challenge to Sex, Gender, and Sexuality

Coralee Dreschler

Part 2: Ruptured Sutures

Silent, Denigrated, and Rendered Invisible: Mothers Who Lost Their Babies to Adoption in the 1960s and 1970s

Sandra Jarvie

tell–me–what–I–want.com: Adolescent Girls, Consumer Society, and Information Technologies

Ellen Whiteman

The Impact of Palliation on Familial Space: Home Space from the Perspective of Family Members who are Living (and Caring) for Dying Loved Ones at Home

Allison M. Williams

Spinning Yarns of Women's Activism in Support of Industrial Forestry on Canada's West Coast

Maureen G. Reed

Part 3: Habitats for/of Humanity

Crafting Selves: The Impact of Idenity on Intercultural Friendships among Women

Kim Morrison

Women's Professional Mentorship in Psychology and the Academy: One Group's Stories of Quilting and Life

Denise J. Larsen and Jennifer A. Bosivert with Jocelyn Lock, Tikker Percey, Diane Priebe, and Linda Vaudan

Sexual Health of Young Women: Context and Care Make a Difference

Mary Rucklos Hampton, Barb McWatters, Bonne Jeffery, and Pamela Smith

Voices of Dancers with Mobility Impairments

Donna L. Goodwin, John Krohn, and Arvid Kuhnle

References