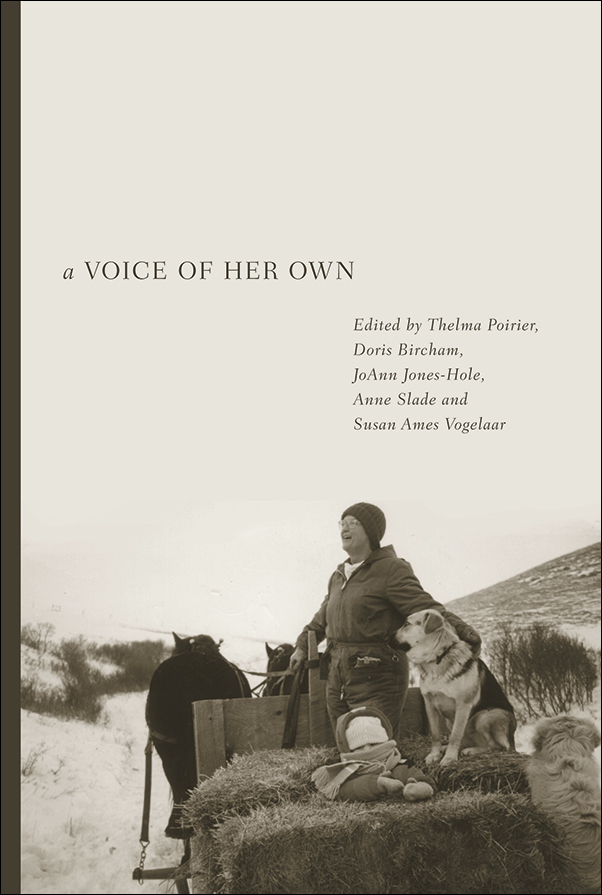 A Voice of Her Own
---
Edited by Thelma Poirier, Doris Bircham, JoAnn Jones-Hole, Anne Slade, and Susan A. Vogelaar
$34.95 CAD / $39.95 USD (S)
512 pages, 51 illustrations
5 x 7.5 Inches
978-1-55238-180-9 (Paperback)
978-1-55238-472-5 (Institutional PDF)
November 2005
About the Book
A Voice of Her Own profiles fifty-two ranch women from Western Canada. With this book, the editors have brought to light a little-discussed aspect of ranching: the valuable contributions of women in an industry traditionally thought of as the domain of men. These women range in age from their teens to their nineties, and across three provinces, but they have in common a deep commitment to the land, to their families and communities, and to the ranching way of life. To them, the ranch means many things; it is a business, a home, and a place to raise their children. In their own words, they share their experiences, their successes, and their hardships and clearly demonstrate the important role women have played, and continue to play, in the history and economy of the ranching industry in Canada.
Thelma Poirier grew up on a ranch twelve miles south of Far Mountain, Saskatchewan. She is the editor of four ranch books, including Beyond the Range, and Wood Mountain Uplands.
Doris Bircham was born in Maple Creek, Saskatchewan, and grew up in the Cypress Hills. Along with a career in nursing, Doris organized the Maple Creek Cowboy Poetry Gathering, taught First Aid, CPR, and worked with Saskatchewan Home Care.
JoAnn Jones-Hole hails from Calgary. Her writing has appeared in Tapetstry and Cowgirls: 100 Years of Writing the Range.
Anne Slade is the author of Denim, Felt & Leather, and the co-author of Pastures, Ponies & Pals.
Susan A. Vogelaar is an instructor at Lethbridge Community College and a cattle producer east of Pincher Creek, Alberta.
With Contributions By: Vernice Wearmouth, Edith Wearmouth, Heather McCuaig, Irene Edge, Beryl Sibbald, Cheryl Nixdorff, Ruth Hunt, Cheryl Morison, Catherine Chalack, Leta Wise, Eileen McElroy Clayton, Kimberly Taylor, Pat Kerr, Helen Cyr, Alice Streeter, Doris Burton, Virginia Delinte, Anne Stevick, Joan Lawrence, Heather Beierbach, Heidi Bierbach, Christa Lawrence, Pansy White-Brekhus, Mary Guenther, Ann Saville, Mary Jane Saville, Erin Bircham, Dena Weiss, Lou Forsaith, Robin Wolfater, Lyn Sauder, Rajanne Wills, Carley Cooper, Delores Noreen, Hilda Krohn, Gayle Kozroski, Clare Kozrokski, Marjorie Linthicum, Lousie Popescul, Linda Froshaug, Tammy Burgess, Ruth Pritchard, Sherri Grant, Sandy Hordenchuk, Jill Mastad, Diane Catley, Marilyn Jahnke, Marilyn Ramsay, Robin Ramsay, Doris Fenton, Judy Fenton, Rose Bibby, Thema Poirier, Doris Bircham, JoAnn Jones-Hole, Anne Slade, and  Susan Ames Vogelaar
Praise for A Voice of Her Own: 
Some of the contributors here are very young and ambitious, while others are older but still ambitious, including some in their 90s. What they also share is a deep commitment to their work, the ranch tradition, their families and their rural communities. Many are concerned about whether theirs will be the last generation of independent ranchers on their plains and foothills, and whether their efforts, which appear to be never-ending and rigorous, will be enough to even keep their families on the ranch in the next year. Although the narratives focus on the women, it is clear they are convinced keeping the ranch involves working as a team, keeping the faith with their kith and kin, and getting everything done even if they rarely sleep or even have a few moments to themselves
–Reference & Research Book News 
Table of Contents

Introduction

Rocky Mountain View
Vernice Wearmouth
Edisth Wearmouth
Heather McCuaig
Irene Edge
Beryl Sibbard
Cheryl Nixdorff
Ruth Hunt
Cheryl Morison
Catherine Chalack
Leta Wise
Eileen McElroy Clayton
Kimberly Taylor

West of the Rockies, Kamloops
Pat Kerr

Southwest Alberta Foothills
Helen Cyr
Alice Streeter
Doris Burton
Virginia Delinte
Anne Stevic

Cypress Hills
Joan Lawrence
Heather Beierbach
Hedid Bierbach
Christa Lawrence
Pansy White–Brekhus
Mary Guenther
Anne Saville
Mary Jane Saville
Erin Bircham
Dena Weiss
Lou Forsath
Robin Wolfater
Lyn Sauder

Rajanne Wills
Carley Cooper
Delores Noreen
Hilda Krohn
Gayle Kozroski

Clare Kozorski

Wood Mountain Uplands
Marjorie Linthicum
Louise Popescul
Linda Froshaug
Tammy Burgess
Ruth Pritchard
Sherri Grand

Sandy Hordenchuck
Jill Mastad

Prairie to Parklands
Diane Catley
Marilyn Jahnke
Marilyn Ramsay
Robin Ramsay
Doris Fenton
Judy Fenton
Rose Bibby

About the Editors Appendix
Glossary