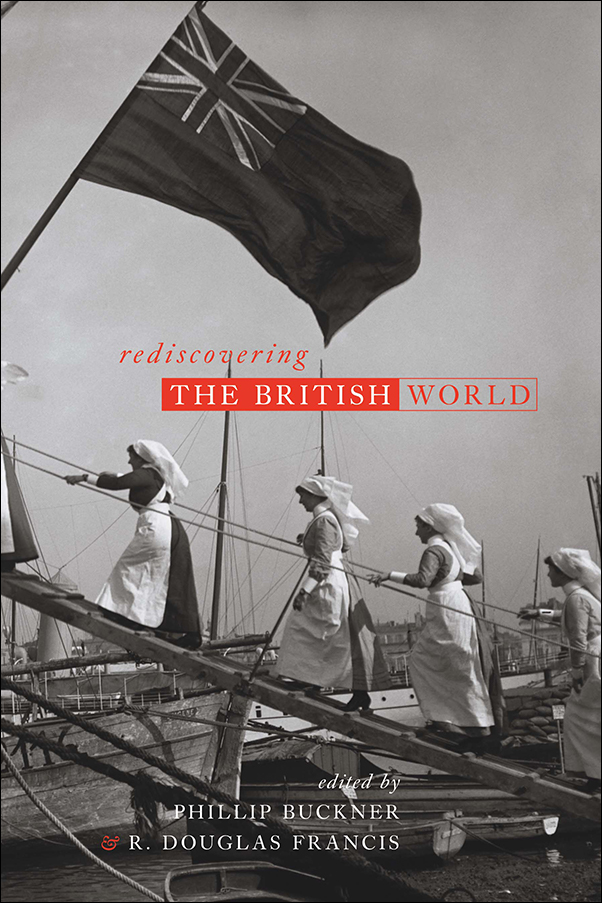 Rediscovering the British World
---
Edited by Phillip Buckner and R. Douglas Francis
$54.95 CAD / $56.95 USD
446 pages
6 x 9 inches
978-1-55238-179-3 (Paperback)
978-1-55238-438-1 (Institutional PDF)
January 2006
About the Book
The British Empire shaped the world we know today. Placing the colonies of settlement at the center of British Imperial History, this book rejects nostalgia to explore the complexities and lasting impacts of the British diaspora overseas.
Rediscovering the British World is one part of an ongoing attempt to approach British Imperial history from a different viewpoint, placing the colonies of settlement at the centre. Editors Phillip Buckner and Douglas Francis have included nineteen essays from expert scholars in the field, which cover a broad range of cultural, social, and intellectual topics in British imperial history from the mid-nineteenth to the mid-twentieth century.
Contributions focus on the history of Britain and the Empire, with considerable emphasis on the self-governing dominions of Canada, South Africa, Australia, and New Zealand. They attempt to show the centrality of the Empire in the history of the nations created by the British diaspora overseas, while at the same time calling into question the extent of the existence of a "British World." The goal is not to wax nostalgic, but rather to re-examine the complex phenomenon of this far-reaching empire and to shed light on the ways in which it has shaped our world.
About the Editors
Phillip Buckner is a Senior Research Fellow at the Institute for Commonwealth Studies at the University of London. He is also professor emeritus of History at the University of New Brunswick.
R. Douglas Francis is a Professor of History at the University of Calgary and has written extensively on many aspects of Canadian intellectual, social, and cultural history.
With Contributions By: Phillip Buckner, R. Douglas Francis, Catherine Hall, James Belich, Elizabeth Elbourne, Paul Pickering, Douglas Lorimer, Bettina Bradbury, Adele Perry, Frank Bongiorno, Jeffrey Grey, Patrick H. Brennan, Paul Ward, John Lambert, Satadru Sen, Wendy Webster, R. Scott Sheffield, David Lowe, Stuart Macintyre, and Stuart Ward
Praise for Rediscovering the British World
A commendable mix of articles.
—Bridget Theron, South African History Journal
Rediscovering the British World is much more than a repackaging of traditional imperial history.
—Elizabeth Jane Errington, University of Toronto Quarterly
Table of Contents

Introduction
Philip Buckner and R. Douglas Francis

Chapter 1. What Did a British World Mean to the British? Reflections on the Nineteenth Century
Catherine Hall

Chapter 2. The Rise of the Angloworld: Settlement in North America and Australasia, 1784-1918
James Belich

Chapter 3. Indigenous Peoples and Imperial Networks in the Early Nineteenth Century: The Politics of Knowledge
Elizabeth Elbourne

Chapter 4. Loyalty and Rebellion in Colonial Politics: The Campaign Against Convict Transportation in Australia
Paul Pickering

Chapter 5. From Victoria Values to White Virtues: Assimilation and Exclusion in British Racial Discourse, . 1870-1914
Douglas Lorimer

Chapter 6. Colonial Comparisons: Rethinking Marriage, Civilization, and Nation in the Nineteenth-Century White Settler Societies
Bettina Bradbury

Chapter 7. Interlocuting Empire: Colonial Womanhood, Settler Identity, and Frances Herring
Adele Perry

Chapter 8. The Long Goodbye: English Canadians and the British World
Philip Buckner

Chapter 9. Fabian Socialism and British Australia, 1890-1972
Frank Bongiorno

Chapter 10. War and the British World in the Twentieth Century
Jeffrey Grey

Chapter 11. The Other Battle: Imperialist Versus Nationalist Sympathies within the Officer Corps of the Canadian Expeditionary Force, 1914-1919
Patrick H. Brennan

Chapter 12. Empire and Everyday: Britishness and Imperialism in Women's Lives in the Great War
Paul Ward

Chapter 13. Britishness, South Africanness, and the First World War
John Lambert

Chapter 14. The Migrant's Empire: Loyalty and Imperial Citizenship at the League of Nations
Satadru Sen

Chapter 15. The Empire Answers: Imperial Identity on Radio and Film, 199-1945
Wendy Webster

Chapter 16. Rehabilitating the Indigene: Post-War Reconstruction and the Image of the Indigenous Other in English Canada and New Zealand, 194-1948
R. Scot Scheffield

Chapter 17. Australia's Cold War: Britishness and the English-Speaking Worlds Challenged Anew
David Lowe

Chapter 18. History Wars and the Imperial Legacy in the Settler Societies
Stuart Macintyre

Chapter 19. Worlds Apart: Three "British" Prime Ministers at Empire's End
Stuart Ward

Notes on Contributors
Index