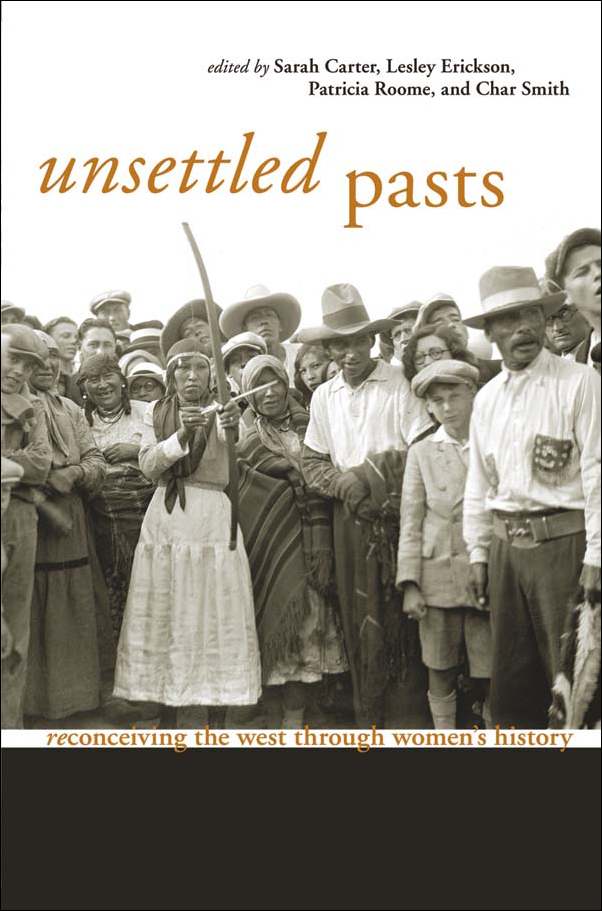 Unsettled Pasts: Reconceiving the West through Women's History
---
Edited by Sarah Carter, Lesley Erickson, Patricia Roome, and Char Smith
$44.95 CAD / $44.95 USD
432 pages, 41 illustrations
6 x 9 inches
978-1-55238-177-9 (Paperback)
978-1-55238-470-1 (Institutional PDF)
December 2005
About the Book
An interdisciplinary offering of the most innovative approaches to Western Canadian Women's History, complicating traditional narratives and contesting historical generalizations.
The mythology of Western Canada is dominated by male images: the fur trader, the Mountie, the missionary, the miner, the cowboy, the politician, the Chief. Unsettled Pasts re-examines the West through women's eyes, bringing together contributions from researchers, scholars, academics, and community activists to create dialogues that cross geographic, cultural, and disciplinary boundaries.
Ranging from scholarly essays to poetry, this collection offers today's most innovative approaches to Western Canadian women's history. Unsettled Pasts complicates traditional narratives of the West by contesting historical generalizations, transcending the myths and frontier legacies that emerged from imperial and masculine priorities and perspectives.
About the Editors
Sarah Carter is the Henry Marshall Tory Chair Professor of History at the University of Alberta. She has written extensively in the areas of women's, aboriginal, and Western history.
Lesley Erickson holds a doctorate in history from the University of Calgary. Her research interests include women's and gender history, western Canadian history, and the history of crime and punishment.
Patricia Roome is a member of the Humanities Department at Mount Royal University, where she teaches history and women's studies.
With Contributions By: Sarah Carter, Lesley Erickson, Patricia Roome, Graham A. Macdonald, Cora J. Voyageur, Kristin Burnett, Muriel Stanley Venne, Mary Leah De Zwart, Nadine I. Kozak, Christine Georgina Bye, Olive Stickney, Aritha van Herk, Cheryl Foggo, Florence Melchior, Siri Louie, and Elaine Leslau Silverman
Praise for Unsettled Pasts
With its postcolonial and intersectional feminist analyses of the past and its underlying commitment to social justice in the present, Unsettled Pasts is a meaningful contribution to the field of women's history in Canada.
—Patricia Barkaskas, BC Studies
The book, with its new research, makes a valuable contribution to the literature on women, their history, and their lived experiences in western Canada.
—Wendee Kubik, Great Plains Quarterly
Table of Contents

Acknowledgments

Introduction
Sarah Carter, Lesley Erickson, and Patricia Roome

Completing Categories: Women as Cultural Mediators

"Bury Our Sorrows in the Sacred Heart": Gender and the Metis Response to Colonialism—The Case of Sara and Louis Riel, 1848-83
Lesley A. Erickson

"From One Whose Home Is Among the Indians": Henrietta Muir Edwards and the Aboriginal Peoples
Patricia A. Roome

Clare Sheridan's Western Interlude: The Importance of Being Well-Connected
Graham A. Macdonald

A Conversation with Senator Thelma Chalifoux
Cora J. Voyageur

Colonial Projects and their Legacies

Aboriginal and White Women in the Publications of John Maclean, Egerton Ryerson Young, and John McDouglall
Kristen Burnett

The "S" Word: Reclaiming the "Esquao" for Aboriginal Women
Muriel Stanley Venne

White Sauce and Chinese Chews: Recipes as Postcolonial Metaphors
Mary Leah de Zwart

Family, Region, Nation

"Complicated and Clouded": The Federatl Administration of Marriage and Divorce Among the First Nations of Western Canada, 1887-1906
Sarah Carter

Advice Ideals and Rural Prairie Realities: National and Prairie Scientific Motherhood Advice, 1920-29
Nadine I. Kozak

"I Think So Much of Edward": Family, Favouritism, and Gender on a Prairie Farm in the 1930s
Christine Georgina Bye

From the Inside Looking Out: Femininity and the "Frontier"

My Mother's Trunk
Olive Stickney

Washtub Western
Aritha van Herk

Delicious Moments: Uncovering the Hidden Lives of Western Canada's Black Pioneer Women
Cheryl Foggo

Nursing Students and Medicine Hat General Hospital, 1894-1920
Florence Melchior

Negotiating Constraints: On Leaders and Leadership

Peak Potentials and Performance Anxieties: Gender, Mountaineering, and Leadership in the Canadian West, 1906-40
Siri Louie

Lena Hanen and the Conflicts of Leadership in the Twentieth Century
Elaine Leslau Silverman

They Called Her Chief: A Tribute to Fort McKay's Indominable Leader, Dorothy McDonald
Cora J. Voyageur

Conclusion

Unsettled Futures: Will Our Stories Be Forgotten?
Elaine Leslau Silverman

Contributors
Bibliography
Index