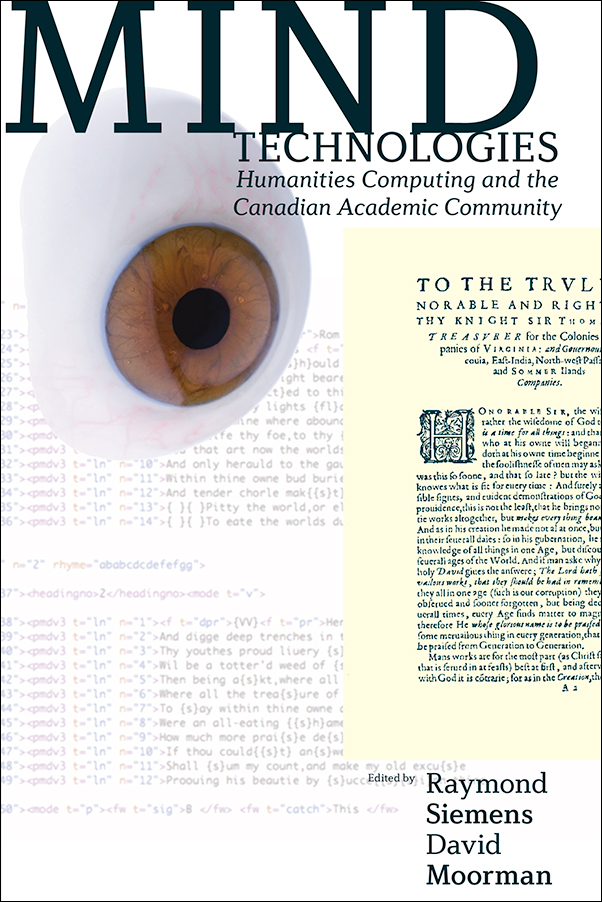 Mind Technologies: Humanities Computing and the Canadian Academic Community
---
Edited by Raymond Siemens and David Moorman
$44.95 CAD / $46.95 USD
360 pages, 45 illustrations
6 x 9 inches
978-1-55238-172-4 (Paperback)
978-1-55238-403-9 (Institutional PDF)
October 2006
About the Book
The application of computing technology to the arts and humanities has been a topic of increased focus in the post-secondary environment. With growing understanding of how these applications can serve the ongoing mission of humanities research, teaching, and training, technology is playing a larger role than ever before in these disciplines.
Arising in part from a joint venture between the Consortium for Computers in the Humanities / Consortium pour ordinateurs en sciences humaines (COCH/COSH; now SDH/SEMI, the Society for Digital Humanities / Société pour l'étude des médias interactifs) and the Social Sciences and Humanities Research Council (SSHRC), Mind Technologies is the first volume to broadly document the internationally significant work of the Canadian academic community in the area of humanities computing.
Raymond Siemens is Canada Research Chair in Humanities Computing and Distinguished Professor in the Faculty of Humanities at the University of Victoria. He is the founder of the electronic scholarly journal Early Modern Literary Studies.
David Moorman is a Senior Policy Advisor with the Social Sciences and Humanities Research Council of Canada. His responsibilities include developing policies and support programs for research infrastructure. Dr. Moorman holds a PhD in History from the University of Ottawa.
With Contributions By: David Moorman, David Strangway, Ray Siemens, Christian Vandenorpe, Ian Lancashire, Patricia Clements, Michael Best, Susan Brown, Renée Elio, Isobel Grundy, Murray McGillivray, Lisa Charlong, Alan Burk, Stephen R. Reimer, James Chartrand, Nicholas Griffin, Elaine G. Toms, France Martineau, Robert Good, Paul A. Fortier, Karen McCloskey, Russon Wooldridge, John Bonnett, Andrew Mactavish, Geoffrey Rockwell, Sean W. Gouglas, Stéfan Sinclair, Aimée Morrison, Alan Burk, Terry Butler, Scott Gerrity, Peter Liddell, and R.G. Siemens.
Priase for Mind Technologies:
The best contributions to this book reach beyond the impressive range of Canadian accomplishments to the core problematic of the field: what the mechanical has to do with the humanistic
—Willard Mccarty, University of Toronto Quarterly
Table of Contents

Preface: Canadian Humanities Scholarship and Computing

David Moorman

Foreword: Mind Technologies

David Strangway

Introductions

Canadian Humanities Computing and Emerging Mind Technologies

Ray Siemens and Christian Vandendorpe

Text Analysis and Research Innovation

Ian Lancashire

Ink and Air: Computing and the Research Culture of the Humanities

Patricia Clements

Papers

Forswearing Thin Potations: The Creation of Rich Texts Online

Michael Best

Between Markup and Delivery; or, Tomorrow's Electronic Text Today

Susan Brown with Patricia Clements, Renee Elio, and Isobel Grundy

Digitizing Sir Gawain: Traditional Editorial Scholarship and the Electronic Medium in the Cotton Nero A.x. Project

Murray McGillivray

The Canadian Poetry Collection: University of New Bunswick and CHadwyck-Healy Electroic Editions

Lisa Charlong and Alan Burk

A Perspective on. Humanities Computing and Texutal Studies

Stephen R. Reimer

Bertrand Russell's Letters on the Web

James Chartrand and Nicholas Griffin

Building Infrastructure for Access to, and Preservation of, Research Data in Canada

David Moorman

From Physical to Digital Humanities Library—Designing the Humanities Scholar's Workbench

Elaine G. Toms and Natasha Flora

Modular Research Programs on Ancient French

France Martineau

Schema-Independent Retrieval from Heterogeneous Structured Text

Robert Good and Charles Clarke

Textual Analysis: You Can Get There from Here

Paul A. Fortier

Using SATORBASE for Literary Analysis: Reading Jealousy in Claude Crebillon's Works

Karen McCloskey

Online Scholarship

Russon Wooldrige

Mediating the Past in 3D, and How Hieroglyphs Get in the Way: The 3D Virtual Building Project

John Bonnett

Multimedia Education in the Arts and Humanities

Andrew Mactavish and Geoffrey Rockwell

Coding Theory: Balancing Technical and Theoretical Requirements in a Graduate-Level Computing Program

Sean W. Gouglas, Stefan Sinclair, and Amee Morrison

The Canadian Arts and Humanities Computing Centre: Past, Present, and Possible Futures

Alan Burk, Terry Butler, Scott Gerrity, Peter Liddell, Geoffrey Rockwell, and R.G. Siemens

Afterword

TAPoR: Building a Portal for Text Analysis

Geoffry Rockwell

Contributors

Index