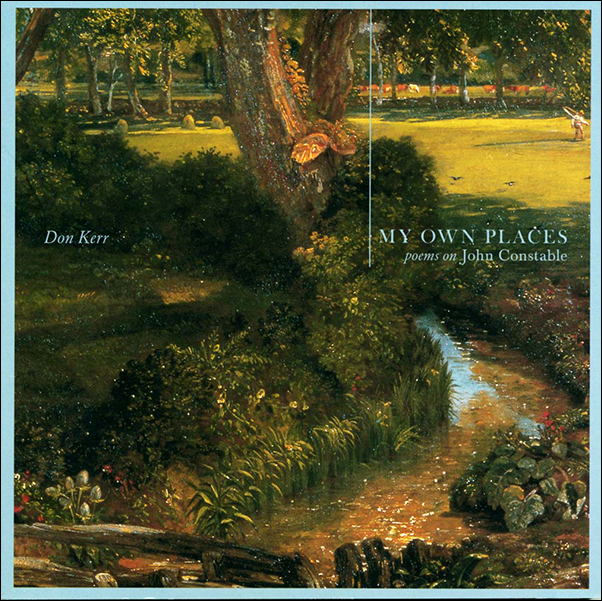 My Own Places: Poems On John Constable
---
Don Kerr
$24.95 CAD / $24.95 USD
128 pages, 8 illustrations
978-1-55238-170-0 (Paperback)
May 2006
About the Book
Prolific Western Canadian writer Don Kerr draws on British painter John Constable for inspiration in this unusual book of poetry that brings together two artists, two regionalists—two kindred spirits— who find inspiration outside the back door.
But I should paint my own places best. Painting is but another word for feeling. I associate my careless boyhood to all that lies on the banks of the Stour. They made me a painter… October 23, 1821, John Constable to John Fisher
My Own Places is a collection of poems inspired by the works of British landscape painter John Constable (1776-1837). Constable's well-known reluctance to travel far from his home gave his paintings a distinctly regional character that is reflected in the nostalgic and pastoral qualities of his work. Poet Don Kerr is also best known as a regionalist, who throughout his career has written on the history and culture of the prairie west.
The selections included here range from short, imagistic lyric poems to extended narratives, and act both as a biography of the artist and an exploration of his character and his work. Kerr includes references to Constable's influences, such as Gainsborough and the seventeenth-century Dutch landscape painters, as well as his patrons, friends, and contemporaries. Yet Kerr comes full circle, back to his own places, the western cities and plains that he knows so well.
In Kerr's words, this is one regionalist discovering another—two different kinds of artists, two kindred spirits, who discovered their inspiration outside their own back doors.
About the Author
Don Kerr is a prolific western Canadian writer who has published plays, poetry, history, and short stories, in addition to editing the literary magazines GRAIN and NeWest Review. He is professor emeritus of English at the University of Saskatchewan.
Awards
SHORTLISTED, Saskatchewan Book Award - Poetry | 2006