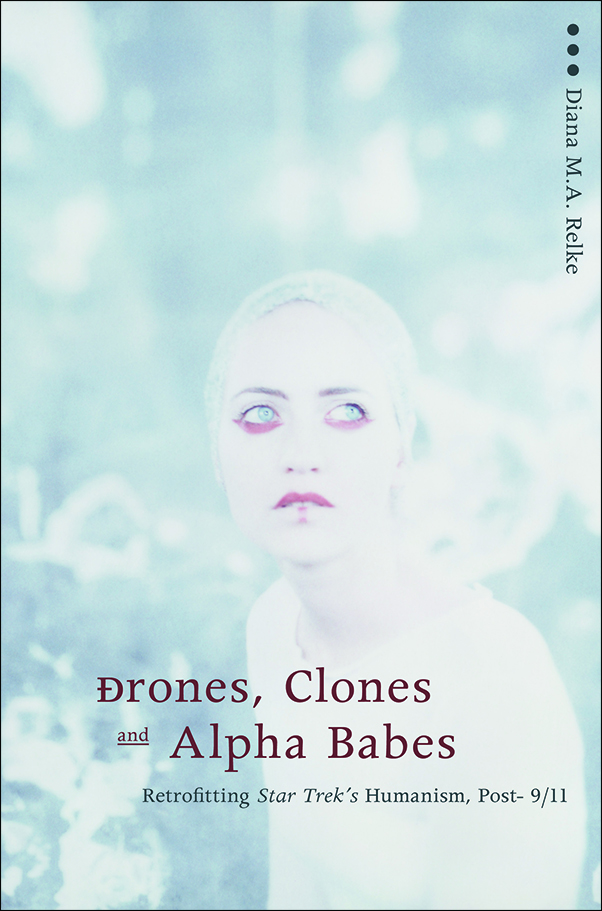 Drones, Clones, and Alpha Babes: Retrofitting Star Trek's Humanism, Post-9/11
---
Diana M.A. Relke
$29.95 CAD / $34.95 USD (S)
190 pages
6 x 9 inches
978-1-55238-164-9 (Paperback)
978-1-55238-330-8 (Institutional PDF)
April 2006
About the Book
A detailed and intelligent examination of Star Trek, its portrayals of sociopolitical and sociocultural landscapes, and its roots in a uniquely American liberal humanism.
The Star Trek franchise represents one of the most successful emanations of popular media in our culture. The number of books, both popular and scholarly, published on the subject of Star Trek is massive, with more and more titles printed every year. Very few, however, have looked at Star Trek in terms of the dialectics of humanism and the posthuman, the pervasiveness of advanced technology, and the complications of gender identity.
In Drones, Clones and Alpha Babes, Diana Relke sheds light on how the Star Trek narratives influence and are influenced by shifting cultural values in the United States, using these as portals to the sociopolitical and sociocultural landscapes of the United States, pre- and post-9/11.
From her Canadian perspective, Relke focuses on Star Trek's uniquely American version of liberal humanism, extends it into a broader analysis of ideological features, and avoids a completely positive or negative critique, choosing instead to honour the contradictions inherent in the complexity of the subject.
About the Author
Diana M.A. Relke is founding member and professor in the Department of Women's and Gender Studies at the University of Saskatchewan, where she teaches courses in feminist theory, science fiction, and popular culture. Having served five years in the Canadian Navy as a communications specialist, Relke is drawn to Star Trek's kinder, gentler version of Anglo-American Naval tradition and intrigued by its imaginative projection of communications technologies into the future.
Praise for Drones, Clones, and Alpha Babes
Sharp and engaging . . . Relke takes a detailed and intelligent approach to Star Trek
—Duncan Barrett, University of Toronto Quarterly
Table of Contents

Acknowledgments

Introduction: Why Treck? Why Now?

Alpha Babes in the Delta Quad: Postfeminism and the Gendering of the Borg

1. Modernism/Postmodernism

2. Regendering Command

3. Phallic Mothers

4. Techno–Modernism

5. Queen Bees

Drones, Clones and Starship Captains: Encounters with the Posthuman

6. Humanism/Transhumanism

7. Cyborg Emergencies

8. Extropia of Borg

9. Holographic Love

10. Time, The Final Frontier

Aftarword

Works Cited

Index