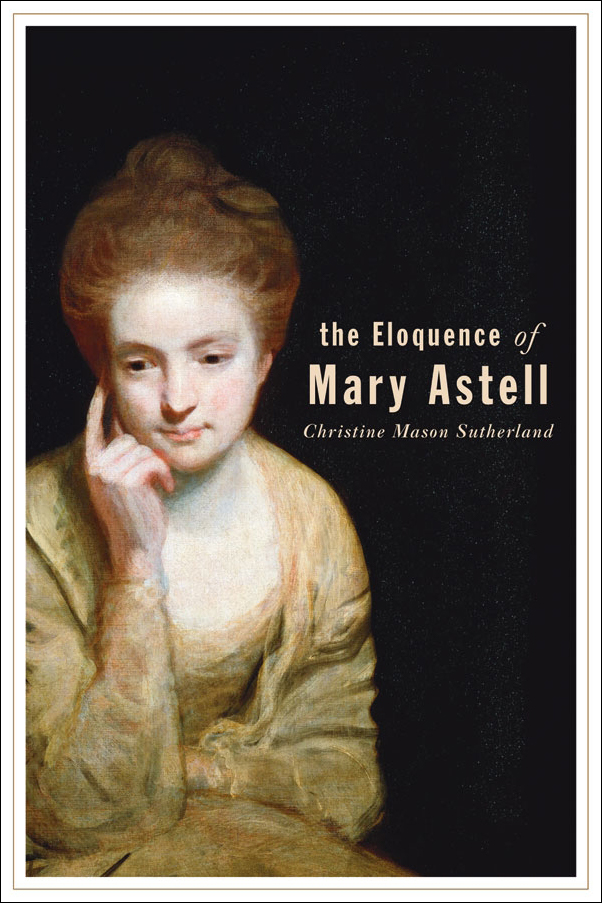 The Eloquence of Mary Astell
---
Christine M. Sutherland
$44.95 CAD / $44.95 USD
224 pages
6 x 9 inches
978-1-55238-153-3 (Paperback)
978-1-55238-459-6 (Institutional PDF)
January 2006
About the Book

The contributions of women to the rhetorical tradition have largely gone ignored. This in-depth study celebrates the work of Mary Astell, offering a detailed view of her rhetorical practice, one that serves as a model of eloquence for those working today.

The Eloquence of Mary Astell makes an important contribution to the knowledge and understanding of the important role that women, and one woman in particular, played in the history of rhetoric.
Mary Astell (1666-1731) was an unusually perceptive thinker and writer during the time of the Enlightenment. Here, author Christine Sutherland explores her importance as a rhetorician, an area that has, until recently, received little attention. Astell was widely known and respected during her own time, but her influence and reputation receded in the years after her death.
As a skilled theorist and practitioner of rhetoric, Astell wrote extensively on education, philosophy, politics, religion, and the status of women. She showed that it was possible for a woman to move from the semi-private form of rhetoric represented by conversation and letters into full public participation in philosophical and political debate.
About the Author
Christine Sutherland is professor emerita in the Department of Communication and Culture at the University of Calgary. She has written extensively on women in the history of rhetoric.
Praise for The Eloquence of Mary Astell:
Spare and elegant . . . With admirable dexterity and economy, Sutherland sets out women's loss of ideological status in the Reformation and Renaissance.
—Regina Janes, University of Toronto Quarterly
Table of Contents

Acknowledgements


Part 1: Mary Astell's Context

1. The Problem of Ethos
2. Mary Astell and the Problem of Ethos

Part 2: Mary Astell's Rhetorical Practice

3. Letters Concerning the Love of God
4. A Serious Proposal to the Ladies, Part I
5. A Serious Proposal to the Ladies, Part II
6. Some Reflections Upon Marriage
7. The Christian Religion
8. Political Pamphlets

Part 3: Mary Astell's Rhetorical Theory

9. Rhetorical Theory, I
10. Rhetorical Theory, II

Conclusion

Appendix A
Appendix B
Bibliography
Notes
Index