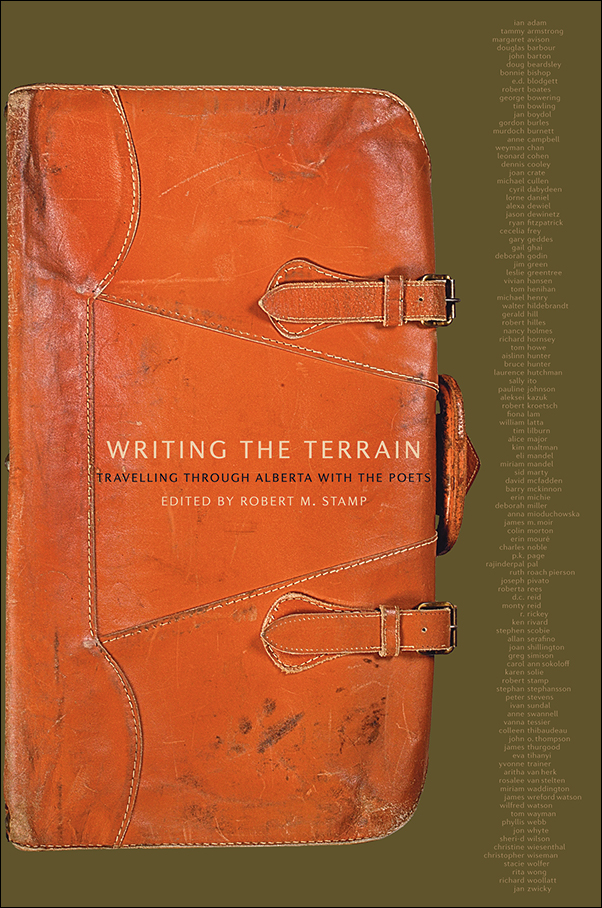 Writing the Terrain: Travelling Through Alberta with the Poets
---
Edited by Robert Stamp
$29.95 CAD / $34.95 USD
302 pages, 11 maps
978-1-55238-136-6 (Paperback)
978-1-55238-482-4 (Institutional PDF)
August 2005
About the Book
Take a trip through Alberta with some of Canada's finest established and emerging poets as your guides.
Writing the Terrain is the first anthology dedicated solely to the poetry of the Alberta landscape and cityscape, by authors who have travelled the main roads, back roads, and gravel roads of this vast province.
This collection offers a series of poetic journeys through Calgary and Edmonton, through the foothills, the badlands, the Rockies, the central parklands, and the northern boreal forests. Following in the Canadian literary tradition of "preoccupation with place" these are poems that demonstrate a response to the landscape and ponder its effect on the body, mind, and spirit.
Robert M. Stamp is a Calgary author who has published both prose and poetry. He earned a master's degree in history from the University of Toronto and a PhD from the University of Western Ontario.
With Contributions By: Ian Adam, Tammy Armstrong, Margaret Avison, Douglas Barbour, John Barton, Doug Beardsley, Bonnie Bishop, E.D. Blogett, Robert Boates, George Bowering, Tim Bowling, Georg Bowring, Jan Boydol, Gordon Burles, Murdoch Burnett, Anne Campell, Weyman Chan, Lenoard Cohen, Dennis Cooley, Joan Crate, Michael Cullen, Cyril Dabydeen, Lorne Daniel, Alexa DeWeil, Jason Dewientz, Ryan Fitzpatrick, Cecelia Frey, Garry Geddes, Deborah Goden, Jim Green, Leslie Greentree, Vivian Hansen, Tom Heinihan, Michael Henry, Walter Hildebrant, Gerald Hill, Robert Hilles, Nancy Holmes, Richard Hornsey, Rom Howe, Bruce Hunter, Aislinn Hunter, Laurence Hutchman, Sally Ito, Pauline Johnson, Aleksi Kazuk, Robert Kroetch, Fiona Lam, William Latta, Tim Lilburn, Alice Major, Kim Maltman, Eli Mandel, Miriam Mandel, Sid Marty, David McFadden, Barry McKinnon, Erin Michie, Deborah Miller, Anna Midochowska, James M. Moir, Colin Morton, Erin Mouré, Charles Noble, P.K. Page, Rajinderpal Pal, Joseph Pivato, Roberta Rees, D.C. Reid, Monty Reid, James Rewford Watson, r. rickey, Monty Reid, Ken Rivard, Ruth Roach Pierson, Stephen Scobie, Allan Serafino, Joan Shillington, Greg Simison, Caron Sokoloff, Karen Solie, Robert Stamp, Stephan Stephansson, Peter Stevens, Ivan Sundal, Anne Swanell, Vana Tessier, Eva Thianyi, Coleen Thibadeau, John O. Thompson, James Thurgood, Yuvonne Trainer, Aritha van Herk, Rosalee van Stelten, Miriam Waddington, Wilfrid Watson, Phyllis Webb, John Whyte, Sheri-D Wilson, Christopher Wiesman, Christine Wisenthal, Stacie Wolfer, Richard Wollatt, Rita Wong, Tom Wyman, and Jan Zwicky
Table of Contents

Introduction

1. Writing the Province

Barry McKinnon, Untitled
Dennis Cooley, labiarinth
Joan Shillington, I Was Born in Alberta
Nancy Holmes, The Right Fame of Mind
George Bowering, it's the climate
Charles Noble, Mnemonic Without Portfolio
John O. Thompson, Fuel Crisis
Robert Stamp, Energy to Burn

2. Writing Calgary

Ian Adam, In Calgary These Things
George Bowering, calgary
Murdoch Burnett, Boys or the River
Anne Campbell, Calgary City Wind
Weyman Chan, Written on Water
Ryan Fitzpatrick, From the Ogden Shops
Cecelia Frey, Under the Louise Bridge
Gail Ghai, On a Winter Hill Overlooking Calgary
Deborah Godin, Time / Lapse Calgary as Bremen
Vivian Hansen, Wolf Willow against the bridge
Robert Hilles, When Light Transforms Flesh
Nancy Holmes, Calgary Mirage
Bruce Hunter, Wishbone
Pauline Johnson, Calgary of the Plains
Robert Kroetsch, Horsetail Sonnet
Erin Michie, The Willows at Weaselhead
Deborah Miller, Pictures from the Stampede
James M. Moir, This City by the Bow
Colin Morton, Calgary '80
Erin Mouré, South-West, or Altadore
Roberta Rees, Because Calgary
Robert Stamp, A City Built for Speed
Yvonne Trainer, 1912
Aritha van Herk, Quadrant Four – Outskirts of Outskirts
Wilfred Watson, In the Cemetery of the Sun
Christopher Wiseman, Calgary 2 a.m.
Rita Wong, Sunset Grocery

3. Writing Southwestern Alberta & The Foothills

D.C. Reid, Drying Out Again
Ian Adam, The Big Rocks
George Bowering, high river alberta
Cecelia Frey, Woman in a potato field north of Nanton
Sheri-D Wilson, He Went by Joe
Charles Noble, Props64
Stacie Wolfer, Lethbridge
Karen Solie, Java Shop, Fort Macleod
Sid Marty, Death Song for the Oldman
Michael Cullen, wind down waterton lakes
Ian Adam, Job Description
Jan Boydol, Color Hillcrest Dead
Aislinn Hunter, Frank Slide, Alberta
r. rickey, this way crowsnest
Ken Rivard, Turner Valley
Allan Serafino, Hay Rolls Near Millarville
Miriam Waddington, Mountain Interval ii

4. Writing Southeastern Alberta & The Badlands

Joan Crate, Gleichen
Walter Hildebrandt, Brooks Aqueduct
John Barton, This Side of the Border
Tim Lilburn, Now, Lifted, Now
Jan Zwicky, Highway 879
Monty Reid, Writing-on-Stone
Tim Lilburn, Kill-site
Yvonne Trainer, What can Anybody See?
Sid Marty, Medicine Hat
Karen Solie, Suffield
Monty Reid, Bonebed: Dinosaur Provincial Park
Kim Maltman, Ice Fishing Cessford Lake
Tim Bowling, Midday, Midsummer
Cecelia Frey, Wind at Oyen, alta.
Richard Woollatt, Highway 9, East of Hanna
Jason Dewinetz, Badlands
Christine Wiesenthal, Avian specimen
Bruce Hunter, Slow Learner

5. Writing the Bow Corridor: Calgary to Banff

Tom Henihan, Bow ValleyPal, trustErin Mour., SeebeYamnuskaThe Three Sisters
Robert Hilles, Progress
Colin Morton, at bankhead
Ian Adam, Trip to Banff
Margaret Avison, Banff
Gordon Burles, Reunion
Cyril Dabydeen, By Lake Minnewanka
Lorne Daniel, Winter at the Banff School
Richard Hornsey, The Rocky Mountain Summer Movie
William Latta, Heat Near Banff
Sid Marty, The Sand Pile
Erin Mour., Cardiac Grizzlies
Charles Noble, Banff : Space / Time Swindle
Ruth Roach Pierson, Up Tunnel Mountain Trail
Christopher Wiseman, In the Banff Springs Hotel

6. Writing the Mountains: Banff to Jasper

Fiona Lam, Departure (Highway to Lake Louise )
Jim Green, Power Line to Sunshine
Vanna Tessier, Stone Jack)
Jon Whyte, Wenkchemna)
Jon Whyte, Mind Over Mountains)
Carol Ann Sokoloff , Great Divide)
Tammy Armstrong, Columbia Ice Field)
Sid Marty, Saskatchewan Crossing Caf. )
Douglas Barbour, in Maligne Canyon
David McFadden, Mountain Air
Doug Beardsley, Jasper Bears
Tom Wayman, A Reason
Sid Marty, Yellowhead

7. Writing the Western Parklands

Rosalee van Stelten, Didsbury Auction
Tim Bowling, Cemetery at Olds
Alice Major, Near Red Deer
Stephan Stephansson, My Region
Lorne Daniel, Season of Leaving
Bruce Hunter, Meditations on the Improbable History of a Small Town
Gerald Hill, Sisters of the Garden
Ken Rivard, Gull Lake Alphabet
Monty Reid, The Alumni Game at Lacombe Arena
Sally Ito, At the Reynolds Museum, Wetaskiwin, Alberta
John O. Thompson, Coal Lake
Erin Mouré, Westerose

8. Writing the Eastern Parklands

Richard Woollatt, North of Three Hills, the Parklands Begin
Bonnie Bishop, The Rumsey Moraine
Richard Woollatt, North & West
Alice Major, South of Stettler
Richard Woollatt, Roads to Buffalo Lake
Robert Kroetsch, Seed Catalogue
Bruce Hunter, For My Brother Daniel
Tim Lilburn, Hearing
Alexa DeWiel, Two Hills
Monty Reid, The Road Back and Forth to Ryley
Anna Mioduchowska, Tawayik Lake on the First Sunday in March

9. Writing Edmonton

Douglas Barbour, Edmonton October Poem
Tim Bowling, A Cup of Coff ee in Solitude
Leonard Cohen, Edmonton, Alberta, December 1966, 4 a.m.
Lorne Daniel, Fort Edmonton Park
Cecelia Frey, Th e Old Edmonton Public Library
Gary Geddes, Last Tango in Edmonton
Leslie Greentree, Fargo's, Whyte Avenue
Gerald Hill, On Line
Laurence Hutchman, Record Cold
Alice Major, Persephone on 129 Street
Eli Mandel, Edmonton's Streets Are Numbered
Miriam Mandel, Edmonton, May 23, 1978
Erin Mour., alta, granite marble & stone co. edmonton
P.K. Page, Skyline
Joseph Pivato, Edmonton s.p.q.r.
Stephen Scobie, February Edmonton
Peter Stevens, November Edmonton
Ivan Sundal, Edmonton, 2000, Summer
Anne Swannell, At the Ice Palace
John O. Thompson, Stucco'd (Edmonton-
James Thurgood, smash the window
Phyllis Webb, Edmonton Centre, Sept. 23 /80

10. Writing Northeastern Alberta & The Boreal Forests

Tom Wayman, Highway 2 North of Edmonton, Alberta
E.D. Blodgett, margins of Morinville
Stephen Scobie, Songs on the Radio
E.D. Blodgett, Returning to Busby, Alta.
Robert Boates, Late September
Richard Hornsey, Testing the Spring Run
Monty Reid, 73l 23 2 79
Stephen Scobie, On the Road to Bonnyville
Colleen Thibaudeau, All My Nephews Have Gone to the Tar Sands
Eva Tihanyi, Elk Lake Imperative
Tim Bowling, Final Night in Fort Chipewyan

11. Writing Northwestern Alberta & The Peace River Country

Eli Mandel, Wabamun
Michael Henry, Pilgrimage to Lac Ste. Anne
Jan Zwicky, Passing Sangudo
Rajinderpal Pal, solstice
Greg Simison, Grouard Cemetery
Erin Mour., Grande Prairie: So Far From Poland
Tom Howe, Prosser's House
James Wreford Watson, The Northlands, Peace River: Alta.
Aleksei Kazuk, Walking Into the Mandala: Fort Vermillion
Miriam Waddington, Waiting in Alberta
Awards
WINNER, BPAA Alberta Publishing Award for Cover Design | 2006