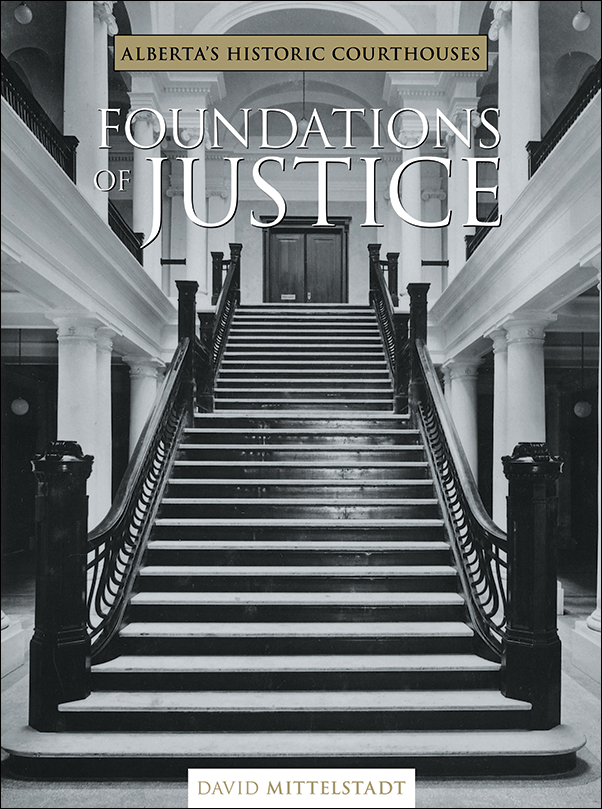 Foundations of Justice: Alberta's Historic Courthouses
---
David Mittelstadt
$39.95 CAD / $39.95 USD (S)
384 pages, 130 illustrations
8 x 11 inches
978-1-55238-123-6 (Hardback)
978-1-55238-345-2 (Institutional PDF)
August 2005
About the Book
Discover the rich and colourful history of Alberta's historic courthouses in this fascinating exploration of their history, their position as landmarks, and of their symbolic importance as places of cultural and social ideals.
Based on original research, this exhaustive volume provides a rich background to Alberta's historic courthouses. Covering in detail all of Alberta's historic courthouses built between 1874 and 1950, this book considers many facets of these unique and significant structures.
Using the backdrop of the major political periods in Alberta history, this study considers the influence of local and provincial politics on courthouse construction in addition to the cultural and economic milieu of the time. As part of the overall historical context, the book also presents some of the more colourful aspects of Alberta's little-known legal history, as well as an account of the evolution of the court system.
Most courthouses have a rich and detailed history, and as landmarks they are important not only for their functional requirements but as symbols of the cultural ideals that they reflect in our society.
About the Author
David Mittelstadt is a writer and historian currently working as a heritage consultant on numerous projects.
Table of Contents

Foreword

Preface and Acknowledgements

Legal Archies Society of Alberta

Introduction: The Courthouse—General Themes and History

Part One: The Territorial Courthouses

The North–West Territories to 1905
The Territorial Courts
The Territorial Supreme Court
Courthouse Policy—The Conservatives
Courthouse Policy—The Liberals
Architecture and Design

Calgary
Calgary—The Early Days
The Courts in Calgary
A Temporary Solution
The Courthouse of 1890
The First Decade—Some Modification
Epilogue

Lethbridge
Lethbridge—The Early Days
The Courts—And Courtrooms—of Early Lethbridge
Courthouses or Public Buildings?
Epilogue

Medicine Hat
Medicine Hat—The Early Days
A Temporary Courthouse
The Territorial Courthouse
Epilogue

Fort Macleod

Macleod—The Early Days

Macleod and the Courts

The First Courthouse

An Unwanted Courthouse

The Dream Becomes Reality

Epilogue

Edmonton: The Courthouse that Never Was
Edmonton—The Early Years
Edmonton's First Courtrooms
Distractions
Robertson Hall
The Resident Judge
A New Home—The Sandison Block
The Chourthouse that Never Was
The Resident Judge—Again

Red Deer
Red Deer—The Early Years
The Courts in Red Deer
A Liberal's Courthouse
Epilogue

Conclusion

Part Two: The First Provincial Couthouses—The Liberals Reign 1905 to 1921

The Provincial Courts
Courthouse Policy, Part One: Rutherford
Courthouse Policy, Part Two: The Sifton Years
Patronage and Politicking
Architecture and Design

Cardston
Cardson—The Early Years
Cardston and the Courts
The Courthouse
Courthouse or Community Hall?
Conclusion

Wetaskiwin
Wetaskiwin—The Early Years
Courts and Courthouses
Design and Construction
Epilogue

Edmonton
A New Era and a Temple of Justice
Fort Saskatchewan
Construction
An Anticlimax
An Inadequate Design
Epilogue

Lethbridge
Lethbridge in the New Era
Finding the Perfect Spot
A Less than Successful Design
Epilogue
The Taber Courthouse

Calgary
Calgary in a New Era
A Long Wait
Jeffers' Last Hurrah
Not Without Incident
The Long–Awaited Hall of Justice
Epilogue

Medicine Hat
Medicine Hat in the New Era
The First Attempt
The Second Attempt
The Third Attempt
Construction
Epilogue

Conclusion

Pat Three: A New Regime: The UFA Years

The Courts
Courthouse Policy
Architecture and Design

Blairmore
Blairmore—The Early Days
The Chourts in Blairmore
The Courthouse
Epilogue

Grande Prairie
Grande Prairie—The Early Days
Grande Prairie and the Courts
Campaigning for a Courthouse
The 1929 Courthouse
Epilogue

Hanna
Hanna—The Early Days
The Courts in Hanna
The Courthouse
Epilogue
Drumheller

Red Deer
The Promised Courthouse
The Jeans Factor
Stettler's Schoolhouse
The Depression Courthouse
Epilogue

Vegreville
Vegreville—The Early Days

The Law Comes to Vegreville
Design
Opening Day
Epilogue

Conclusion

Epilogue: The Alberta Courthouse Since World War II

Notes
Bibliography
Index