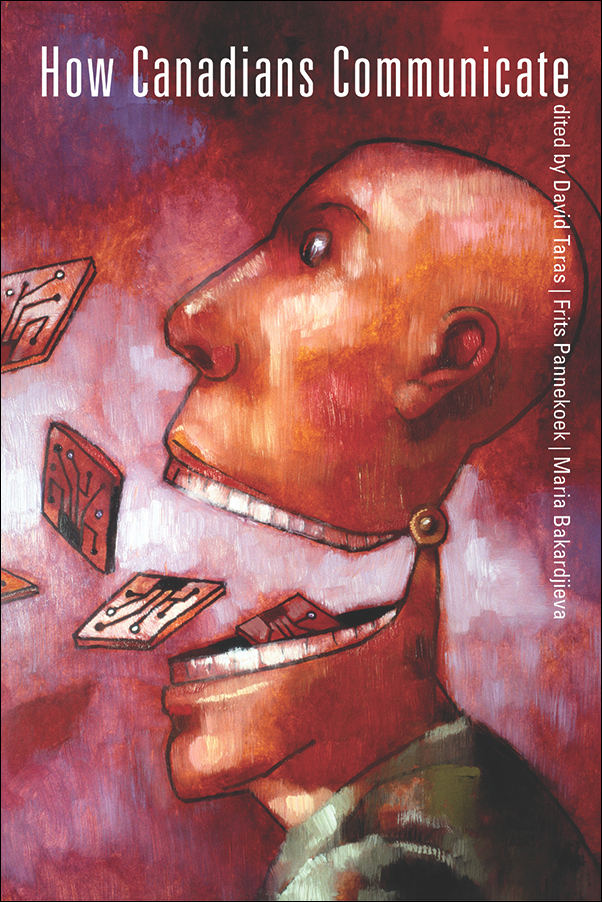 How Canadians Communicate, Vol. 1
---
Edited by David Taras, Frits Pannekoek, and Maria Bakardjieva
$34.95 CAD / $39.95 USD (S)
332 pages, 20 illustrations
6 x 9 inches
978-1-55238-104-5 (Paperback)
978-1-55238-367-4 (Institutional PDF)
July 2003
About the Book
From the rise of the internet to disruption in the way television, movies, and media are produced and viewed, the twenty-first century has seen extraordinary changes to cultural and communications industries.
How Canadians Communicate chronicles the extraordinary changes that are shaking the foundations of Canada's cultural and communications industries in the twenty-first century.
With essays from some of Canada's foremost media scholars, this book discusses the major trends and developments that have taken place in government policy, corporate strategies, creative communities, and various communication mediums: newspapers, films, cellular and palm technology, the Internet, libraries, TV, music, and book publishing.
volume addresses many issues unique to Canada in a broader framework of global communications. Specifically, it looks at new media communications in Indigenous communities, the changing role of the state in cultural institutions, the conglomeratization of the media, the threat of American and global communications to Canadian voices, and the struggle to retain and reclaim local and national identities in the face of globalization.
With articles from academics and professionals across Canada, How Canadians Communicate provides insightful perspectives on communication in Canada in a rapidly changing world of technology and global communication.
About the Editors
David Taras is the Ralph Klein Chair in Media Studies at Mount Royal University. He is the author of The Newsmakers: The Media's Influence on Canadian Politics and Power and Betrayal in the Canadian Media.
Frits Pannekoek is president of Athabasca University.
Maria Bakardjieva is a professor in the Department of Communication and Culture at the University of Calgary. Her research focuses on the interaction between communication technology and society. She is particularly interested in studying the ways in which Internet use is intertwined with daily practices in various areas of life.
With Contributions By: David Taras, Richard Schultz, Vincent A. Carlin, Frits Pannekoek, Christopher Dornan, Aritha van Herk, Rebecca Sullivan, Bart Beaty, Cora Voyageur, Malek Khouri, Will Straw, Maria Bakardjieva, M.A. Herbert, P.A. Jennett, R.E. Scott, and Barbara A. Crow
Praise for How Canadians Communicate
In its extensive range of topics, this book will make a good textbook for students in media or communication studies… it is a worthy and earnest contribution to the field.
—Sara-Jane Finlay, University of Toronto Quarterly
Table of Contents

Introduction: The New World of Communications in Canada

David Taras

Government and Corporate Policies

From Master to Partner to Bit Player: The Diminishing Capacity of Government Policy
Richard Schultz

No Clear Channel: The Rise and Possible Fall of Media Convergence
Vincent A. Carlin

Canadian Memory Institutions and the Digital Revolution: The Last Five. Years
Frits Pannekoek

Canadian Media and Canadian Identity

Printed Matter: Canadian Newspapers
Christopher Dornan

Publishing and Perishing with No Parachute
Aritha van Herk

Canadian Television: Industry, Audience, and Technology
Rebecca Sullivan and Bart Beaty

In from the Cold: Aboriginal Media in Canada
Cora Voyageur

Film and Film Culture in Canada: Which Way Forward
Malek Khouri

No Future? The Canadian Music Industries
Will Straw

New Media and Canadian Society

"Unhyping" the Internet: At Home with a New Medium
Maria Bakardjieva

Telehealth in Canada
M.A. Herbert, P.A. Jennett, and R.E. Scott

From the "Electirc Cottage" to the "Silicon Sweatshop": Social Implications of Telemediated Work in Canada
Graham D. Longford and Barbara A. Crow