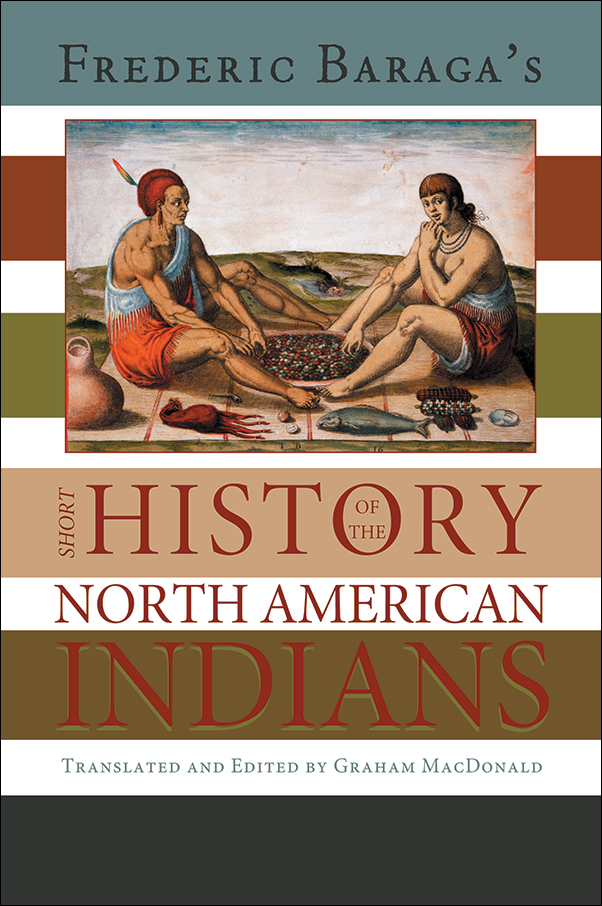 Frederick Baraga's Short History of the North American Indians
---
Edited and Translated by Graham A. MacDonald
$34.95 CAD / $34.95 USD (S)
244 pages, 37 illustrations
6 x 9 inches
978-1-55238-102-1 (Paperback)
978-1-55238-347-6 (Institutional PDF)
April 2005
About the Book
Originally published in 1837 in Europe in German, French, and Slovenian editions, and appearing here in English for the first time, Frederic Baraga's Short History of the North American Indians is the personal, first-hand account of a Catholic missionary to the Great Lakes area of North America.
When Frederic Baraga (1797 – 1868), a young Roman Catholic Priest from Slovenia, arrived on the upper Great Lakes frontier in 1831, his objective was to bring Christianity to the Native peoples of that quarter, particularly those of the Ottawa and Ojibwa (Chippewa) tribes. His travels to many outposts of the old fur trade, to Native communities, and to the new mining camps of the region, became legendary, earning for him the nickname "the snowshoe priest."
Frederic Baraga's Short History of the North America Indians is the account of his first years in Michigan Territory. It was composed for the enlightenment of his supporters in Europe, particularly the membership of his sponsoring agency, the Leopoldine Society of Vienna. This detailed account sheds light on the nature of mid-nineteenth century Catholic missions to the New World and includes observations of Native communities on the Lake Superior frontier, including hunting techniques, tools, and cultural features of these tribes.
About the Editor and Translator
Graham MacDonald has worked as a historian, teacher, librarian, and park planner. He is the author of A Good Solid Comfortable Establishment: An Illustrated History of Lower Fort Garry, and Where the Mountains Meet the Prairies: A History of Waterton Country
Table of Contents

List of Maps
List of Illustrations
Preface
Acknowledgements
A Note on the Translation

Editor's Introduction

Piety, Perception, and Justice: Frederic Baraga in the New World

Introduction
1. Manners and Customs of the North American Indians
2. Dress of the Indians
3. Habitations and Food of the North American Indians
4. Arts of the North American Indians
5. Hunting Practices of the North American Indians
6. On Hunting (Sequel)
7. Fisheries of the North American Indians
8. Marriage and Education of the Young Amount the North American Indians
9. Religion of the North American Indians
10. On Religion (Sequel)
11. Warfare of the North American Indians
12. Form of Government against the North American Indian
13. Diseases and Cures of the North American Indians
14. Mortuary Customs of the North American Indians

Notes
Bibliography

Index