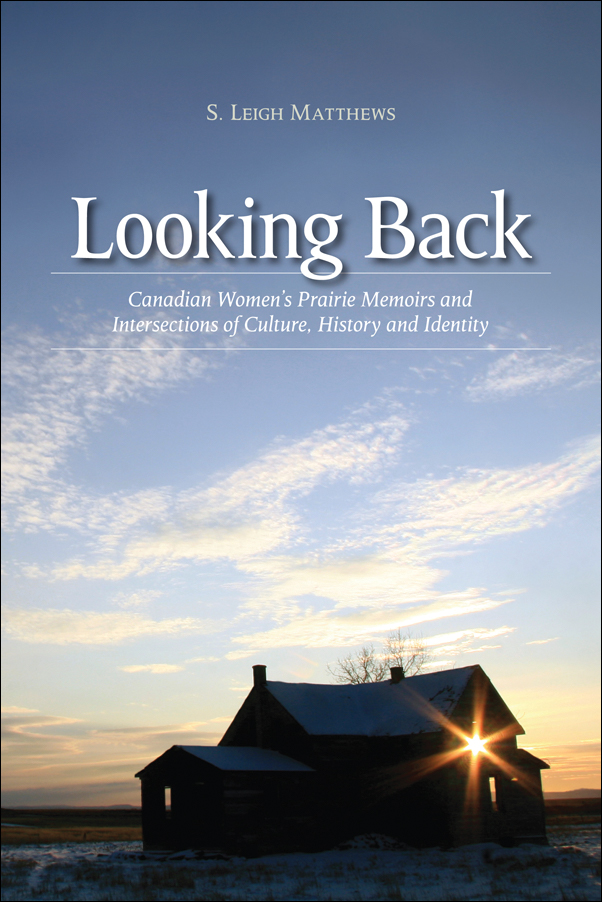 Looking Back: Canadian Women's Prairie Memoirs and Intersections of Culture, History, and Identity
---
S. Leigh Matthews
$39.95 CAD / $40.95 USD
428 pages, 2 illustrations
6 x 9 inches
978-1-55238-096-3 (Paperback)
978-1-55238-509-8 (Institutional PDF)
978-1-55238-597-5 (ePub)
October 2010
About the Book
A ground-breaking study that shows how a critical approach to the life-writing of individual women can deepen our understanding of the settlement era in the Prairie West.
When we think about women settlers on the Prairies, our notions tend to veer between the nostalgic image of the "cheerful helpmate" and the grim deprivation of the "reluctant immigrant." In this ground-breaking study, Leigh Matthews shows how a critical approach to the life-writing of individual prairie women can broaden and deepen our understanding of the settlement era.
Reopening for examination a substantial body of memoirs published after 1950 but now largely out of print, Matthews engages critical and feminist theory to close the gap between our polarized stereotypes and the actual lived experiences of rural prairie women. Addressing both the limitations and possibilities of life writing, Matthews presents a sound, well-developed and well-written case for memoir as reconciling female experience to the dominant historiography of the prairie west.
Reading for "failures and incoherences," the memoirs considered here reveal women's voices that probe a community's most cherished values and beliefs, reveal its conflicts and contradictions, and call leaders to account.
About the Author
S. Leigh Matthews is a lecturer in the Department of English and Modern Languages at Thompson Rivers University in Kamloops, British Columbia. She specializes in nineteenth- and twentieth-century Canadian literature, children's literature, life writing, eco-criticism, and the literary treatment of animals.
Praise for Looking Back
Matthews effectively demonstrates how memoirs can be used to gender (or re-vision) the Euro-Canadian (and American) settlement process.
—Lori Ann Lahlum, Great Plains Quarterly
[Matthews] has brought much needed attention to the role of women in the settlement of the prairies.
—Graeme Voyer, Prairie Fire Review of Books
Table of Contents

Acknowledgements

Chapter 1: Introduction: "Untilled Fields"

Chapter 2: "Seemingly Trivial:" Re-Visioning Historical Narratives of Western Settlement

Chapter 3: "Dauntless Optimisim"/"Perverse Endurance:" Re-Visioning Literary Narratives of Settler Women

Chapter 4: The "Precarious Perch" of the "Decent Woman:" Re-Visioning the Space(s) of Western Settlement

Chapter 5: "The landscape behind it:" Re-Visioning Some "Other" Subjects of Agriculture

Chapter 6: Conclusions: "The Ragged Garment of Memory"

Bibliography
Index