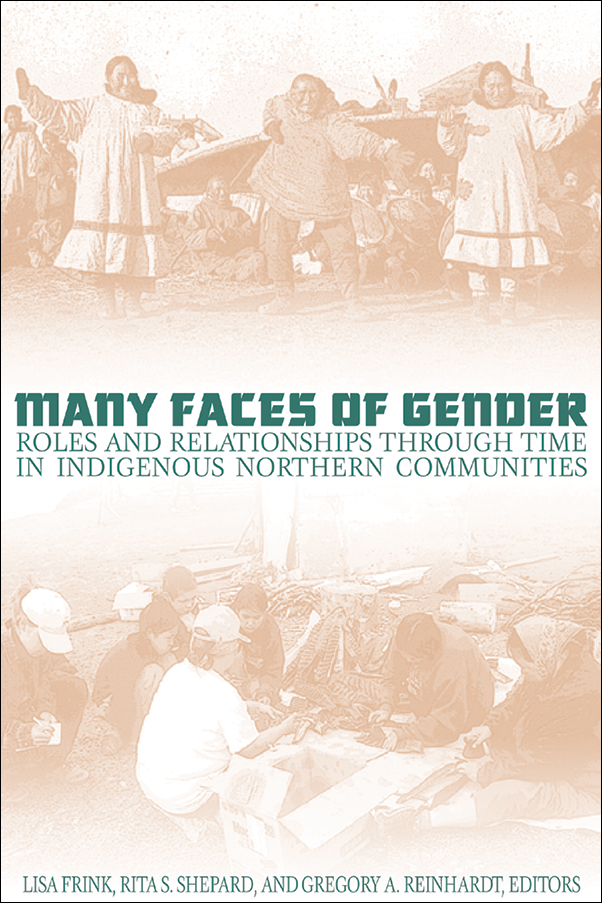 Many Faces of Gender: Roles and Relationships through Time in Indigenous Northern Communities
---
Edited by Lisa Frink, Rita S. Shepard, and Gregory A. Reinhardt
$29.95 CAD / $29.95 USD
269 pages, 42 illustrations
6 x 9 inches
978-1-55238-093-2 (Paperback)
978-1-55238-397-1 (Institutional PDF)
December 2002
About the Book
Many Faces of Gender is an interdisciplinary volume that addresses the dearth in descriptions and analyses of gender roles and relationships in Native societies in North America's boreal reaches. This collection complements existing conceptual frameworks and develops new methodological and theoretical approaches that more fully articulate the complex nature of social, economic, political, and material relationships between indigenous men and women in this region.
The contributors challenge the widespread notion that Native women's and men's roles are frozen in time, a concept precluding the possibility of differently constructed gender categories and changing power relations and roles through time. By examining the prehistorical, historical, and modern records, they demonstrate that these roles are not fixed and have indeed gradually transformed. Many Faces of Gender is ideal for anthropologists and archaeologists interested in cross-disciplinary studies of gender, households, women, and lithics.
Many Faces of Gender is co-published with the University Press of Colorado
Lisa Frink is a member of the Anthropology department at the University of Nevada, Las Vegas.
Rita S. Shepard is co-ordinator of education outreach and a research associate at the Costen Institute of Archeology at UCLA.
Gregory A. Reinhardt is professor of anthropology at the University of Indianapolis.
With Contributions By: Lillian A. Ackerman, Jetty Jo Brumbach, Barbara A. Crass, Lisa Frink, Brian W. Hoffman, Roberta Jarvenpa, Carol Jolles, Gregory A. Reinhardt, Rita S. Shepard, Harry Stewart, Jennifer Ann Tobey, and Peter Whitridge
Praise for Many Faces of Gender:
Fascinating to read . . . the mix of archaeological and ethnographic studies makes it a fine example of anthropology's holistic approach.
—Alice B. Kehoe, Alaska Journal of Anthropology
Table of Contents

List of Illustrations
Acknowledgements

Many Faces: An Introduction to Gender Research in Indigenous Northern North America
Lisa Frink, Rita S. Shepard, and Gregory A. Reinhardt

Contemporary Research

Kipijuituq in Netslik Society; Changing Patters and Gender and Patterns of Changing Gender
Henry Stewart

Gender Quality in a Contemporary Indian Community
Lilian A. Ackerman

Celebration of a Life: Remembering Linda Womkon Badten Ypik Educator
Carol Zane Jolles

Historical and Ethnoarchaeological Approaches

Changing Residence Patterns and Intradomestic Role Changes: Causes and Effects in Nineteenth-Century Wester Alaska
Rita S. Shepard

Re-peopling the House: Household Organization within Deg Hit'an Villages, Southwest Alaska
Jennifer Ann Tobey

Fish Tales: Women and Decision Making in Western Alaska
Lisa Frink

Material and Spatial Analysis

Child and Infant Burials in the Arctic
Barbara A. Crass

Puzzling Out Gender-Specific "Sides" to a Prehistoric House in Barrow, Alaska
Greogry A. Reinhardt

Broken Eyes and Simple Grooves: Understanding Easter Aleut Needle Technology through Experimental Manufacture and Use of Bone Needles
Brian W. Hoffman

Gender, Households, and the Material Construction of Social Difference: Metal Consumption at a Classic Thule Whailing Village

Peter Whitridge

Synthesis and Projections for Indigenous Northern Gender Research

Gender Dynamics in Native Northwestern North America: Perspectives and Prospects
Jetty Jo Brumbach and Robert Jarvenpa

Notes
References
Contributor
Index