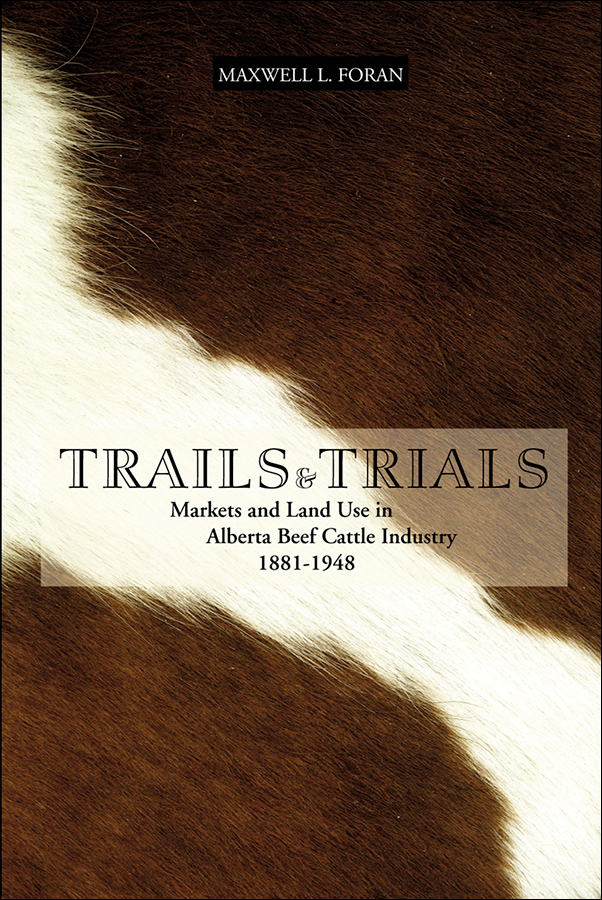 Trails and Trials: Markets and Land Use in the Alberta Beef Cattle Industry, 1881-1948
---
Maxwell L. Foran
$34.95 CAD / $39.95 USD
332 pages, 59 illustrations
6 x 9 inches
978-1-55238-089-5 (Paperback)
978-1-55238-462-6 (Institutional PDF)
June 2003
About the Book
Trails and Trials is a story of struggle, victories, and defeats, as a romanticized industry struggled to survive and mature in the real world.

Alberta's ranching heritage occupies an important place in the province's historical consciousness. Trails and Trials documents the development of the beef cattle industry in Alberta from its open-range ranching phase to the beginnings of the modern era. This narrative history documents how the beef cattle industry responded to the challenges following the end of the open-range era through two world wars and the Great Depression and provides a new case study of Canada's economic development and settlement history.
About the Author
Maxwell L. Foran has been working in the field of Western Canadian history for over thirty years and has published widely on various urban, rural, and cultural topics. He is a professor in the Department of Communication and Culture at the University of Calgary.
Praise for Trails and Trials
Trails and Trials does a superb job of filling a conspicuous gap in Alberta's agricultural history . . . timely and thought-provoking.
—Ian MacLachlan, Great Plains Research
Table of Contents

Dedication
Introduction

The Legacy of the Ranching Era, 1881-1907

Land Tenure Factors
Climactic Variables and Ranching Prices
Mixed Faming Operations
Feeding and Finishing
Markets
The Export Market
The British Embargo and Canadian Store Cattle
Conclusion

The Agricultural Frontier, 1900-1

Agriculture and its Impact on the Cattle Industry
Impact on the Livestock Industry
Cattle Feeding
Markets
The Chilled Beef Initiatives
Land Use
Mixed Use Farming
Recovery
Conclusion

Mixed Blessing, 1914-20

The Export Market
The American Market
The British Market
Positive Impacts
Mixed Blessings
The Dominance of Ranching
The End of Prosperity
Land Issues

Change Out of Necessity, 1921-30

Markets
The Export Market
The American Market
Battling the Tariff
Federal Disinterest
The British Market
Removal of the Embargo
The Federal Government and the British Market
The Japanese Market
Feeding and Finishing
The Domestic Market
Conclusion
Land Use
Leasehold Tenure
The Community Pasture Issue
Range Degradation
Rising Production Costs
Overall Land Use
Conclusion

The Depression Years, 1930-39

The Export Market
The Domestic marketing Problem
Feeding and Finishing
Cattle Quality
Solutions to the Marketing Problem
Land Issues
Financial Miseries
Leasehold Tenure
Land Reclamation and Irrigation
Range Management

Extraordinary Times, 1934-49

Marketing
The Closure of the American Market
The Impact of Price Controls
The British and American Markets
The Domestic Market
Feeding and Finishing
Other Marketing Issues
Breeding Implications
"Dwarfism"
Grading
Land use
Leasehold Tenure
Conclusion

Conclusion

Tables
Maps
Notes
Select Bibliography
Index