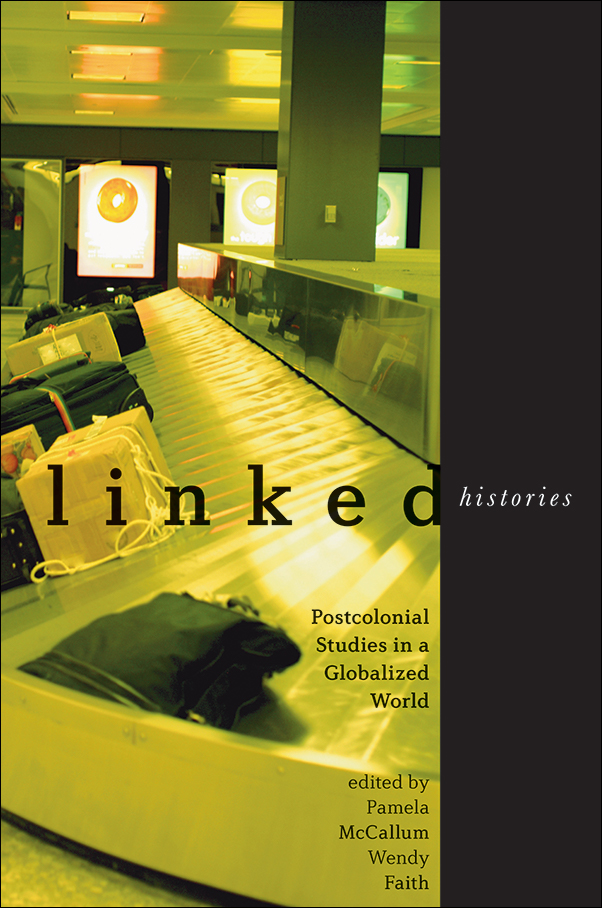 Linked Histories: Postcolonial Studies in a Globalized World
---
Edited by Pamela McCallum and Wendy Faith
$34.95 CAD / $39.95 USD (S)
268 pages
6 x 9 inches
978-1-55238-088-8 (Paperback)
978-1-55238-389-6 (Institutional PDF)
March 2006
About the Book
Bringing together some of the most pressing issues in postcolonial studies this collection assembles a group of established and upcoming scholars to "think through" this fast-growing discipline.
During the past two decades, postcolonial studies has proven to be one of the fastest growing fields of critical inquiry. Postcolonialism has established itself as an important specialist field within literature disciplines, and it has strong resonances across other disciplines (history, sociology, anthropology, geography, cultural studies) and is a field which has inspired genuinely interdisciplinary research.
These essays take up some of the most pressing issues in postcolonial debates: the challenges which new theories of globalization present for postcolonial studies, the difficulties of rethinking how "marginality" might be defined in a new globalized world, the problems of imagining social transformation within globalization.
The editors' goal in bringing together this collection of articles is not to provide any definitive statement on these urgent questions; rather, it is to assemble a group of essays which "think through" the issues and which therefore has the potential to move the discipline forward. The contributors represented include a balance of senior scholars with international reputations and scholars who represent the next generation.
About the Editor
Pamela McCallum is a Professor of English at the University of Calgary.
Wendy Faith is currently pursuing PhD studies in the Department of English at the University of Calgary.
With Contributions By: Pamela McCaullum, Wendy Faith, Rey Chow, Rob Cover, Monika Flundernick, Revathi Krishnaswamy, Vijay Mishra, Kalpana Sheshadri-Crooks, Mary Lawlor, Bill Ashcroft, Victor Li, and Wang Ning
Praise for Linked Histories
McCallum and Faith offer a glimpse of what a globalized post-colonial studies might look like . . . [Their] volume fulfills the promise of its title.
—Lily Cho, University of Toronto Quarterly
Table of Contents

Acknowledgments

Introduction: The Linked Histories in a Globalized World
Pamela McCallum and Wendy Faith

The Fascist Longings in our Midst
Rey Chow

Queer With Class: Absence of Third World Sweatshop in Lesbian/Gay Discourse and a Reticulation of Materialist Queer Theory
Rob Cover

Cross-Mirrorings of Alterity: The Colonial Scenario and Its Psychological Legacy
Monika Flundernik

Mythologies of Migrancy: Postcolonialism, Postmodernism, and the Politics of (Dis)location
Revathi Krishnaswamy

Postcolonial Different: Diasporic Narratives of Salman Rushdie
Vijay Mishra

At the Margins of Postcolonial Studies
Kalpana Sheshadri-Crooks

Keeping History at Wind River and Acoma
Mary Lawlor

Modernity's First Born: Latin America and Postcolonial Transformation
Bill Ashcroft

Toward Articulation: Postcolonial Theory and Democratic Resistance
Victor Li

Postcolonial Theory and the "Decolonization" of Chiniese Culture
Wang Ning

Notes on Contributors
Index