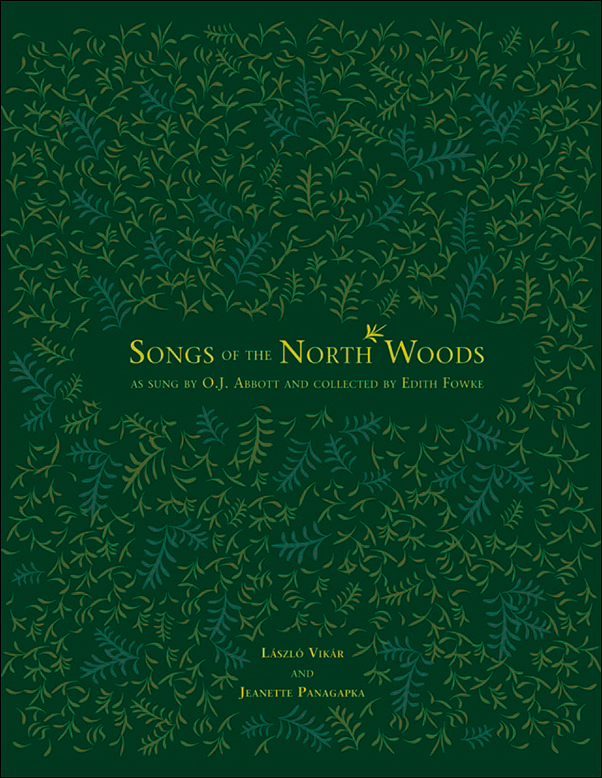 Songs of the North Woods as sung by O.J. Abbott and collected by Edith Fowke
---
Lászl- Vikár and Jeanette Panagapka
$34.95 CAD / $39.95 USD
126 pages, 5 illustrations
978-1-55238-077-2 (Paperback)
978-1-55238-452-7 (Institutional PDF)
December 2004
About the Book
A never-before published collection of the songs of O.J. Abbott, renowned Canadian folk singer who recorded multiple albums for Smithsonian Folkways and performed with folk heroes like The Travellers and Peete Seeger as recorded by Canadian folklorist Edith Fowke.
Edith Fowke (1913-1996) was a renowned Canadian folklorist, folk song collector, researcher, writer, and teacher who during her long career recorded nearly two thousand songs. Awarded the Order of Canada in 1978 and named a Fellow of the Royal Society of Canada in 1983, Fowke's legacy is recognized by folk singers and scholars alike as the most comprehensive work in its field. Producing radio programs for the CBC throughout the 1950s and 1960s, she was responsible for discovering such eminent singers as LaRena Clark, Tom Brandon, and O. J. Abbott.
O. J. Abbott was one of Fowke's most prolific singers, as she collected and recorded over 120 of his songs, 66 of them transcribed for this collection. The songs, mostly of Irish origin, were popular among settlers to the Ottawa valley and in the lumber camps of northern Ontario in the late 1800s. Born in England in 1872, Abbott worked throughout Ontario and Quebec in lumber camps before settling in Hull, Quebec. He recorded numerous records for the Folkways label and performed with such folk heroes as The Travellers, Ian and Sylvia, and Pete Seeger.
This never-before-published collection includes a detailed musical analysis that outlines the meter, scale, and range of each song, an index that indicates where each song can be found on the original source tapes, and extensive field notes, interviews, and recording details.
About the Author
Lászl- Vikár is an eminent ethnomusicologist, scholar, and retired teacher from the Folk Music Department of the Institute for Musicology, Hungarian Academy of Sciences, Budapest.
Jeanette Panagapka is a retired teacher and music educator from Waterloo, Ontario. She is the founding president and life member of the Kodály Society of Ontario, and edited its journal Alla Breve from 1992-1996. Currently, she owns a bed and breakfast in Gibsons, British Columbia.
Table of Contents

Foreword Preface I
Preface II
Acknowledgements
Introduction
Songs
Song Analysis
Edith Fowke
O.J. Abbott
Interview with Frank Fowke
Interview with Richard Johnson

Appendix A: Stories of O.J. Abbott
Books and Recordings by Edith Fowke
Bibliography
Discography
Index of Songs
Alphabetical Index
Index of First Lines
Abstract
Songs Sung by O.J. Abbott
Notes
Awards
SHORTLISTED, BPAA Alberta Book Publishing Award for Cover Design | 2005
SHORTLISTED, BPAA Alberta Book Publishing Award - Publisher of the Year | 2005