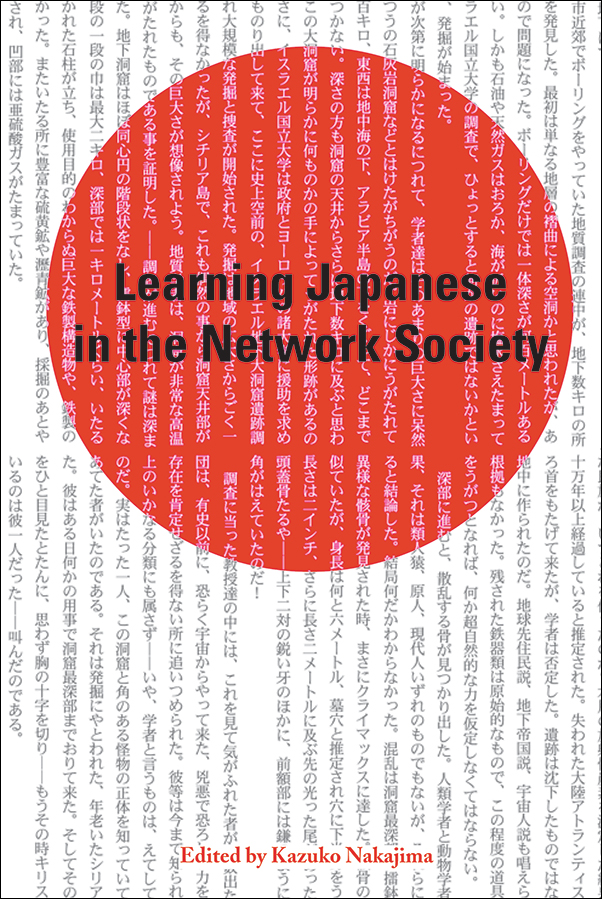 Learning Japanese in the Network Society
---
Edited by Kazuko Nakajima
$39.95 CAD / $45.95 USD
223 pages, 95 illustrations
6 x 9 inches
978-1-55238-070-3 (Hardback)
978-1-55238-383-4 (Institutional PDF)
March 2002
About the Book
Japanese is one of the most difficult languages to learn for English-speaking students, but emerging technologies are making revolutionary changes that help to ease the learning curve. Learning Japanese in the Network Society addresses current issues of computer-assisted language learning (CALL) shared by language-teaching professionals in the new global network society.
Focussing on teaching and learning Japanese as a second language, this collection emerged from previously unpublished presentations by leading Japanese scholars at the International Conference on Computer Technology and Japanese Language Education held at the University of Toronto. This book is a comprehensive resource on the current status of CALL and is essential reference material for any language-instruction course.
Kazuko Nakajima is a professor in the Department of East Asian Studies at the University of Toronto.
Praise for Learning Japanese in the Network Society:
Having a wide range of information on computer application in Japanese language education in one book is of great use and benefit.
—Hiroko K. Sherry, University of Toronto Quarterly
Table of Contents

Acknowledgements

Introduction
Kazuko Nakajima

Part I: Language Learning in the Network Society

Using Multimedia in the Network Society
Kanji Akahori

Developing CALL Software
Michio Tsutsui

Part II: Database-Supported Language Education

A Gradual Approach to Technology-Based Instruction
Hilofumi Yamamoto

Analyzing Japanese Textbooks Using the Vocabulary and Kanji Level Checker
Yoshiko Kawamura

Internet-Based Self-Assessment for Language Skills
Yasu-Hiko Tohsaku and HIlofumi Yamamoto

Part III: Learner Autonomy and Academic Language Learning

Learning Through Target Language Texts


Jim Cummins

Audio Tapes for Shinsho Library: Self-Study Reading Materials
Yoko Suzuki, Hiroko Chinen Quackenbush, and Yuri Shimizu

Teaching Heritage Language: Individualized Learning
Masako O. Douglas

Part IV: Collaboration and Copyright

Copyright in Japan and the Distribution of the CASTEL/J Database
Akifumi Oikawa

Contributors
Index