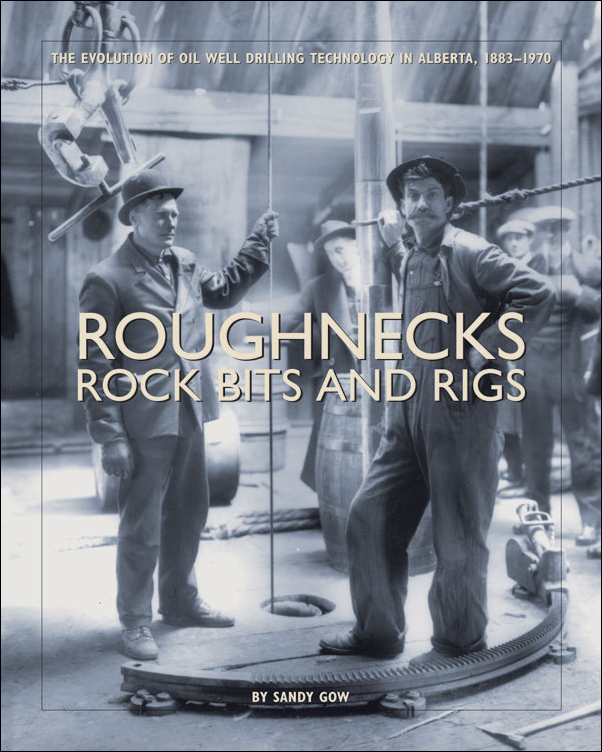 Roughnecks, Rock Bits, and Rigs: The Evolution of Oil Well Drilling Technology in Alberta, 1883-1970
---
Sandy Gow
$44.95 CAD / $51.95 USD
464 pages, 156 illustrations
978-1-55238-067-3 (Paperback)
978-1-55238-444-2 (Institutional PDF)
December 2005
About the Book
Roughnecks, Rock Bits, and Rigs is a detailed study of an important and little-documented area of the history of oil and gas in Alberta. It is the first comprehensive study to focus on the technologies that made Alberta's oil industry viable.
Author Sandy Gow provides an in-depth look at the evolution of oil well drilling technology from 1883 through 1970, the era of conventional oil exploration in the province. During the early exploration years, the individuals working in the oilfield developed and adapted technologies, such as drill bits and power sources, to suit their specific needs, largely through trial and error. This spirit of innovation and ingenuity is captured in accounts of the evolution of drilling processes and equipment, as well as in the personal stories of those who worked on the rigs.
Gow puts the technology of the oilfield into context with an overview of the history and geology of oil and gas in Alberta, as well as a look at the human side of this vital provincial industry.
Sandy Gow is a professor of history at Concordia University College of Alberta.
Praise for Roughnecks, Rock Bits, and Rigs:
Roughnecks, Rock Bits, and Rigs is a thoroughly researched and detailed account of the evolution of oil and gas drilling technology from the last quarter of the nineteenth century until the 1970s. This modest description, however, only begins to scratch the surface, because Gow's research investigates the interrelationship between the evolution of technology and the economic and social changes that have occurred in the Canadian oil and gas industry.
—Paul Chastko, The Canadian Historical Review
Table of Contents

Foreword
Acknowledgments

The Development of the Oil Business and Oil Well Drilling in Alberta, 1883-1970

The Discovery of Petroleum in Canada to 1913 The Turner Valley Field
The Incidence of Oil and Gas in Other Alberta Fields, 1913-46
Leduc
Redwater
The Banner Years, 1949-53
Pembina
The Smaller Fields of the Mid-1950s
1957-59: The Beaverhill Lake Zone Devonian Reef Discoveries
The Dry Spell: 1959-64
The Spell is Broken: 1964-67
From Langevin to Rainbow Lake-Zama, 1883-1969
The Impact of the Oil Business upon Life in Alberta 1947-70

Finding Oil

The Origin and Nature of Petroleum
Petroleum Geology
The Geology of Some Alberta Fields
Searching for Alberta Oil

The Handmaidens of the Alberta Oilfields

The Small Investors
The Oil Companies
Oil Company Drilling Departments and Drilling Contractors
The Crews
The Driller—An Aristocrat Among the Labouring Elite
The Purveyors of Technology and the Maintenance of Machinery: The Research Laboratories, the Oilfield Supply Houses, and the Machine Shops

The Standard Cable Tool Rig and Associated Development in Alberta Drilling Technologies

The Early History of the Standard Cable Tool Rig
The Component Parts of the Standard Cable Tool Rig
Steam Main Movers
Equipment on the Cable Tool Rig Floor
Cable Tool Bits
The Efficacy of Cable Tool Coring
Casing

The Standard Cable Tool Rig, Spudding-in Ceremonies, and Related Development in Alberta Drilling Technologies

Spudding-in the Well
Drilling the Cable Tool Hole
Cementing the Hole
Under-reaming
The Cable Tool Driller's Technique
Cable Tool Well Completions
Cable Tool Well Stimulation
The Decline of the Standard Cable Tool Rig
The Combination Rig: A Transitional Technology

The Rotary Rig

Rotary Drilling: The Idea, Its Early Evolution, and Its Arrival in Alberta
The Rotary Crew: An Evolving Group of Specialists
Rotary Drilling Procedures
The Rotary Rig and Its Components
Rotary Derricks and Masts
Prime Movers
Power Transmission
The Hoisting Systems
Drilling Lanes, Crown Blocks, Travelling Blocks, Elevators, and Tongs
Rotating Equipment

The Drill String and Innovations in Rotary Drilling Methods and Equipments

The Drill String
The Turbo Drill
Diamond Drilling
Slim Hole Drilling
Air Drilling
Directional Drilling

The Fluid Circulating System

The Fluid Circulating System
The Control of Solids
Common Mud Problems

Well Instruments, Formation Evaluation, Well Logs, Well Simulation, and Rotary Well Completion

The Function of Well Instrumentation
Drilling Control Instruments
Formation Evaluation
Well Logs
Well Stimulation
Rotary Well Completion
Running and Cementing Casing

Some of the Problems Involved in Drilling in the Alberta Oilfields to 1970

The Nature of the Drilling Problems
Terrain
Geology
Weather
Fishing

The Hazards of Alberta Drilling

The Dangers of Working on a Drilling Rig
Hazards, Deaths, and Injuries in the Alberta Oilfields
Rigging Up and Tearing Down
Rig Blowovers
Rig Pull-Ins
Blowouts
Rig Fires
Death by Hydrogen Sulphide
Rig Safety Equipment
An Overview of Accidents in the Early and Mid-1950s
Government of Alberta Safety Regulation
The Attitude of the Drilling Contractors and Oil Companies Towards Safety Issues

Conclusion
Appendices
Glossary
Select Bibliography
End Notes
Index
Awards
WINNER, Petroleum History Society of Canada Book of the Year | 2005